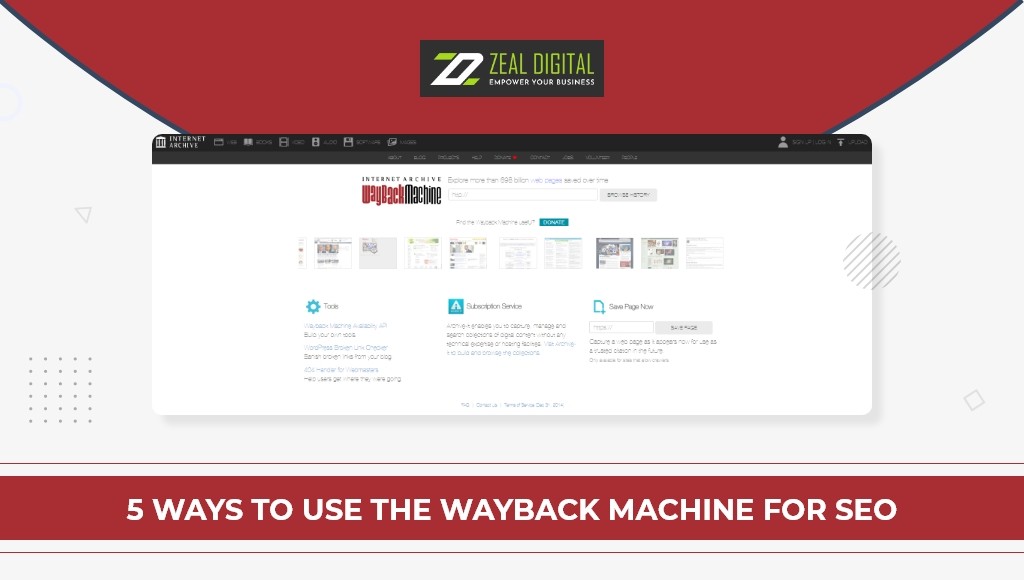 5 ways to use the Wayback Machine for SEO
A basic technique can sometimes provide tremendously strong insights.One such tool is the Wayback Machine for SEO. The Wayback Machine is a public database that captures and stores historical snapshots of websites. Anyone can access previous versions of pages or entire websites using the Wayback Machine.
Smart methods to make use of the Wayback Machine in your SEO efforts.
Legacy URLs from previous versions of the site can be found here.
Finding historical URLs that have never been redirected is one of the most useful uses of the Wayback Machine.Throughout the years, the Wayback Machine collects information about your site. As a result, it may have access to URL data from more than a decade ago.
This is especially critical for older websites. The Wayback Machine for SEO can come in handy in this situation. Old URLs that were never redirected to active versions can be quickly found.
Get the content from the previous page
The content of a website evolves with time. This occurs for a number of reasons. Any content modification, especially if it's large, comes with an inherent danger.
This is when the Internet Archive's Wayback Machine comes in handy.
If you notice significant drops in rankings after updating content, you can use the Wayback Machine for SEO in Sydney to find older versions of pages. Restoring the information to its original state may aid in regaining lost visibility.
Locating an older robots.txt file
Another fantastic way to use the Wayback Machine is to see how your robots.txt has changed over time. If your robots.txt file has changed and you don't have a copy of the original file, this can be especially useful during a site migration.
The Wayback Machine for SEO, fortunately, crawls robots.txt files frequently.The Wayback Machine can be a very useful tool for finding old versions of your robots.txt file. This is particularly beneficial if the data was lost during a site migration.
What sections do your competitors' pages have?
Sites in competitive markets add or update material on a regular basis. Your competitors are making frequent adjustments to their pages for your most important keywords in order to boost their exposure. Unfortunately, it is difficult to keep track of these developments.
Fortunately, the Wayback Machine allows you to see what types of content upgrades your competitors are making.When conducting a competitive analysis, this is incredibly useful information to have. These modifications can now be used to inform the editorial strategy we use on our own page.
What is the frequency with which your competitors update their content?
Use the Wayback Machine for SEO to see how often your competitors' content is updated. This is especially handy if you're competing in a SERP where content freshness is important for ranking. Because technology moves at such a rapid pace, freshness is likely to be important for phrases like "best Android phones," as items change regularly.
As a result, we may want to investigate how frequently we need to update our own material in order to remain competitive. We can create a timeline of how frequently CNET updates these articles using the Wayback Machine.