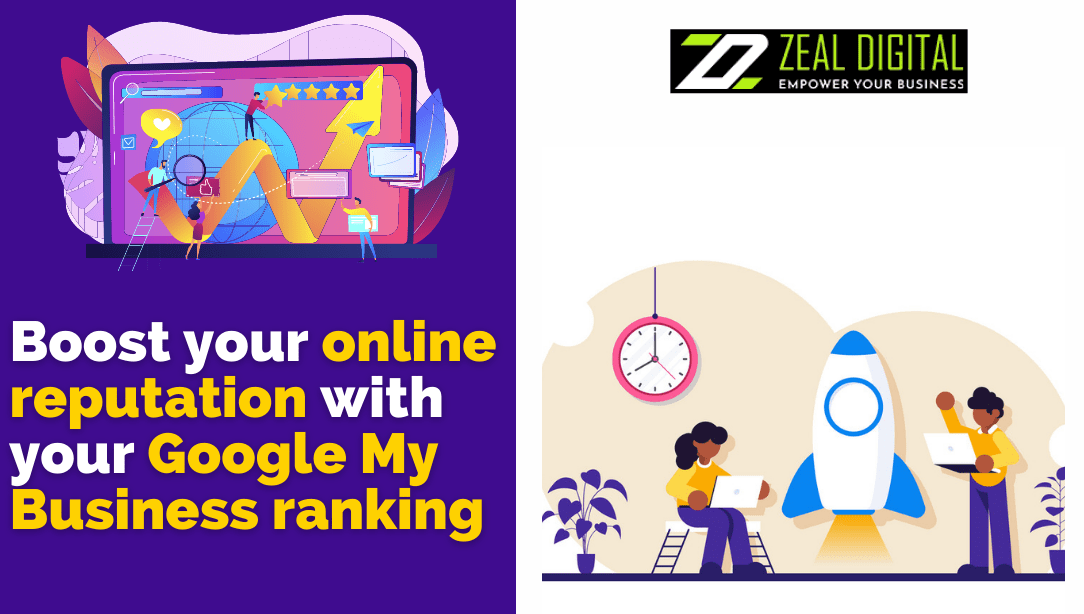 Boost Your Online Reputation With Your Google My Business Ranking
Google My Business (GMB) is your best friend if you want to get people to walk through your door. When someone searches for local businesses like yours in the area, Google will rank you based on where you are and how important your business is to the person.
 It will also look at how active your Google My Business profile is and how accurate and comprehensive the information you put on it is. These are critical factors for local search results.  Suppose for some reason, you are unable to keep your Google My Business profile active and full of high quality and relevant information for your customers. In that case, it will rank lower than if you kept it active and filled with helpful information.
How To Improve Your Google My Business Ranking
Make the most of your Google My Business page. Here are six simple ways to improve your Google My Business ranking:
Claim Your Listing
This should come as no surprise, but not all businesses know that managing your GMB page listing can help you build up a good name. It's amazing but only about half of the businesses in your area have not claimed their free listings! According to SEO Companies in Sydney, a fully completed GBP is almost 40% more likely to draw in new customers. It also doubles your chances of being seen as credible.
As soon as you have claimed your business listing, you will be able to promote it, track business analytics, and get customer reviews. These things will make people think of your business differently. It is also good to claim your business listing so that other people do not misrepresent your business online.
Verify That Your Information Is Accurate And Up To Date
Have you ever looked up a store's hours online to make sure it was open, only to find out that it was closed when you got there? How would you feel if a business did this to you? People might want to use it again, but would you trust it? Customer relationship disasters like the one above can happen if you do not keep up with important information on GMB page and your other business listings. You need to make sure that everything is correct and up to date to make it simple and easy for your customers.
To get the most out of the platform, you need to keep your Google My Business ranking up to date. Ensure all your data is visible in the local search results for your business, and keep it up to date through your Google My Business dashboard.
Use Pictures
Because pictures show people what your business is really like, they can help in building trust with people who might use your services or products. With images, listings get more attention. It turns out that the best SEO company in Sydney knows that the more photos a GBP listing has in it, the more clicks, directions, and phone calls a business will get. Make the most of this extra attention to spread the word about your business to more people.
In addition, it is essential to note that you do not have complete control over the images that show up on your business page because users can add their images. So, it is essential to keep an eye on your images to make sure they are the ones you really want on your page. If you find any photos which are adhering to Google's rules, you should flag them for removal.
Ask People To Review You
More than 63% of people say they are likely to check Google reviews before going to a business, making it the most popular review site. This makes your Google My Business ranking reviews a great way to build consumer trust.
You might want to pay for fake reviews, but there are many reasons not to. The first thing that comes to mind is that someone will notice the fake reviews and call you out. In addition, it is against the law.
Instead, you should try to get more people to write honest reviews. You can make a link that takes people right to your Google My Business profile review page to do this quickly. To learn how to do that, consult SEO Sydney services. 
You can then put this link on your website, in your emails, and in your social media posts so that people can see it. Then, when you are on the phone with a customer, you can ask them for feedback.
Respond To Negative Reviews
If you do not want to handle adverse GMB page reviews, it is ideal for you to act before they happen or respond quickly to bad reviews that do come through. The first thing you would have to do is to make sure that everything is running smoothly in your business. Remember the customer comes first at all times. If something goes wrong, be honest about it and fix it right away, and make sure everyone leaves happy.  When bad reviews show up on the Internet, reach out to those who wrote them to apologise and show that you understand. This shows the public that you care about your customers even after they leave your business. Everyone understands a mistake or misunderstanding can occur and most are forgiving when you apologise and make up for it, especially without delay.
Add Videos
Many businesses do not add videos to their profiles. But this is a great way to stand out from the rest of the pack. There is no need to be an expert videographer to make a video for your Google My Business ranking account. Even if it is just a short introduction, about who you are or what you do, any video can be an excellent way to build trust with people.
Now that you know how to use your Google My Business ranking to improve your online reputation, you might be curious about what other steps you can take to make people like and patronise your business more.
Feel free to contact the best SEO Company in Sydney if you want expert help to boost your company's profile online and generate more business. They have many great solutions for small and medium-sized businesses, including a local review management tool that can help you easily do a lot of the work that goes into building and maintaining your business's online presence.