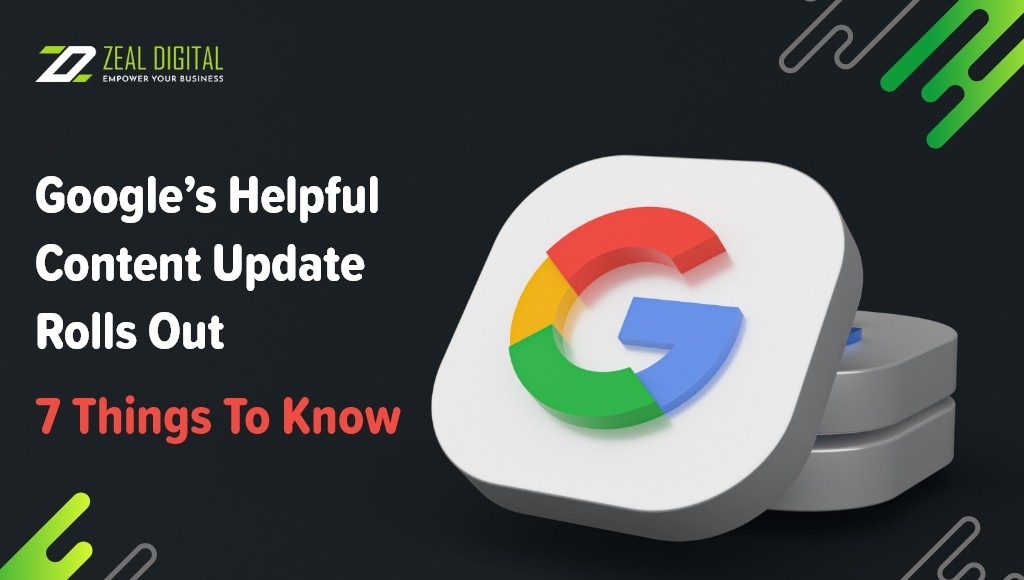 Google's Helpful Content Update Rolls Out: 7 Things To Know
The dynamics are changing constantly on Google. With its helpful content update, the developers are trying to change the mindset of the creators. Google's Helpful Content Update started rolling somewhere in the last week of August. With this update, Google has confirmed a lot of aspects. First and foremost, it is going to reward people-first content and devalue content written for search engines.
Currently, people are focusing too much on content to rank high on search engines. In this process, they are forgetting the main motive behind content creation. If you're running a website yourself, you need to hire a reputed SEO company in Sydney, Australia to understand the nuances of these updates.
But you can gather a lot of things about Google's Helpful Content Update on your own too. We will discuss the seven most important things that you need to know about this update:
#1: Focus On The Main Topic
Google has made one thing obvious, it is going to give the nod to people-first content over everything else. There are so many organisations that have hired the best SEO companies in Sydney, Australia to deal with the major keywords for their content. Once they know the keywords that people search for the most, they keep using them time and again in the content. It is all good when things are conducted within a limit.
But when you go overboard with the keywords and how you put them into the topic, the nuance of the topic is lost in many ways. So it is better that you focus on the main topic. It doesn't mean that you have to neglect keywords completely. It just means that you have to rely on keywords far less and focus on the main topic, that's what Google's Helpful Content Update suggests.
#2: Don't Combine Too Many Topics Into One Site
Another major thing that you have to understand about the Content Update is that you don't have to combine too many topics into your content. A website can't be all things to all people. At a specific point in time, it can only deal with a specific number of things. This is what Google's Helpful Content Update is implying as well. So in a particular website, you have to give out content that's specific to the topic for which the website has been created in the first place. If you have a different topic in mind, you can create a different website. When an SEO company in Sydney, Australia is assisting you in the cause, you will find it easier to understand how to deal with different topics.
#3: Focus On The Overall Reader Experience
You need to understand that the content you create needs to be made from a reader's point of view. What do your readers demand to know and learn about? Before creating a particular content, you need to be sure about it. If you upload content without giving a thought if people are going to find it useful or not, things won't work out well at all. Google's Helpful Content Update is signalling towards this point as well. For example, if you're talking about a particular product and how it is useful to users, you need to bring in photos and videos to impress the audience.
#4: Focus On First-Hand Experience
Another aspect that Google's Helpful Content Update wants you to focus on is the first-hand experience. Does your content demonstrate first-hand expertise and a depth of knowledge? You don't have to write anything and expect people to believe what you're trying to convey. It is important to share the experiences that you feel before dishing them out to the audience. Again, you need to include photos and videos to strengthen the content and make the readers believe what you're trying to say. With the help of an experienced SEO company in Sydney like Zeal Digital, it is your chance to create authentic content that stands out remarkably.
#5: Sufficient Answers To Searchers' Questions
It is important to interact with your readers at regular intervals. If they have feedback to throw at you, it is essential to keep this in mind and work on your content accordingly. If you're specifically talking about products or their reviews, people will have all kinds of questions to ask you. If they are keen to know more about the product but are completely clueless yet, they might ask several questions at once. Google's Helpful Content Update advises providing sufficient answers to searchers' questions. To put it in simple terms, you need to check the response of your readers and make sure that they don't leave the website unhappy.
#6: Following Google's Guidelines For Other Major Updates
In recent times, Google has made several changes to its policies and how it is going to rank content on the search results. Google's Helpful Content Update is one such change that has brought quite a significant difference to how the content needs to be created. You must keep up with Google's guidelines to know what is going to come in its next major updates. You will be well prepared in advance and bring changes sooner than later. It will put you ahead of the competition. If a quality SEO company is assisting you in Sydney, Australia, you will have a clearer picture in mind about how to deal with the major updates on this platform.
#7: Don't Answer Questions With No Confirmed Answer
There are times when your customers ask you all kinds of weird questions. You can't know the answer to everything. With Google's Helpful Content Update, the platform suggests you ignore such questions. Unless and until you know the answer to the questions, don't talk about it at all.
These are some of the major things that you need to know about the latest update on Google. If you have hired a SEO company in Sydney, Australia, you should discuss with them how to react to such an update. You need to make the content as per the guidelines set by Google. Then you would not go wrong!