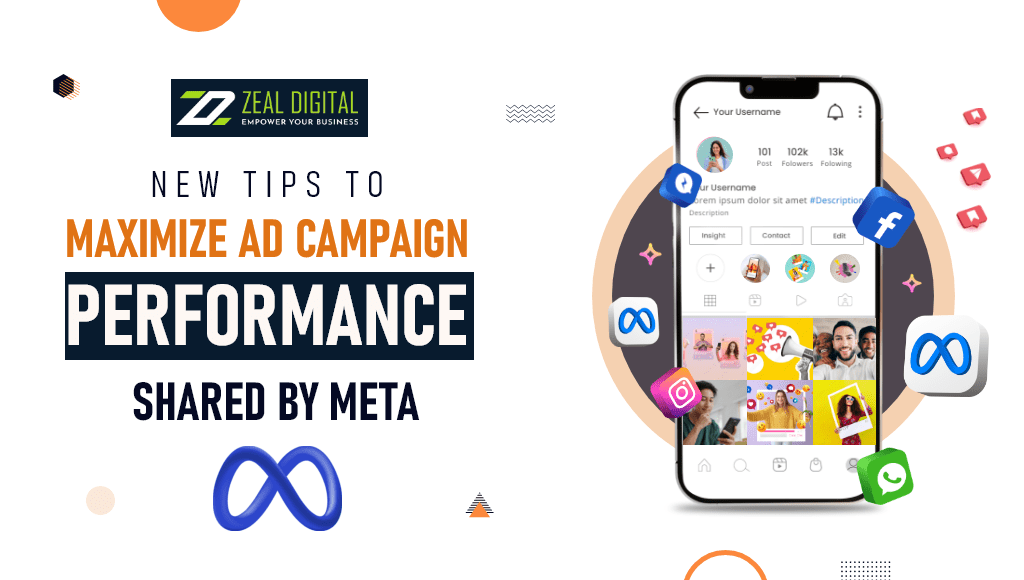 New Tips To Maximise Ad Campaign Performance Shared by Meta
Are you looking to take your digital advertising to the next level? Well, you've come to the right place! In this fast-paced world of digital marketing, staying up-to-date with the latest strategies and techniques is the key to unleashing the true potential of your ad campaigns. And guess what? We've got some exciting news for you!
Meta, the innovative parent company of Facebook and Instagram, has recently shared some insider tips and insights that can supercharge the performance of your pay-per-click advertising in Sydney . So, get ready to dive into the nitty-gritty details of these game-changing tips that will help you optimise your campaigns and achieve exceptional results!
1. Understand Your Target Audience
To create successful ad campaigns, it's crucial to have a deep understanding of your target audience. Meta emphasises the importance of leveraging user data and insights to identify the demographics, interests, and behaviours of your ideal customers. By utilising Facebook and Instagram audience targeting tools, businesses can refine their ad targeting to reach the right people at the right time. This targeted approach increases the likelihood of attracting potential customers and maximising your ad campaign performance.
2. Create Compelling Ad Copy And Visuals
Capturing the attention of users in a crowded digital landscape is challenging. To stand out, advertisers need to craft compelling ad copy and visuals that resonate with their target audience. Meta suggests focusing on clear and concise messaging that highlights the unique selling points of your product or service. Incorporating eye-catching visuals and videos can also enhance engagement and encourage users to take action.
3. Optimise For Mobile Devices
With the majority of internet users accessing content through mobile devices, optimising your ad campaigns for mobile is paramount. Meta recommends using mobile-friendly ad formats and ensuring that your landing pages are responsive and load quickly. By delivering a seamless mobile experience, you can enhance user engagement, increase conversions, and maximise your ad campaign performance.
4. Implement A/B Testing
Testing different variations of your ads can provide valuable insights into what resonates best with your target audience. Meta advises running A/B tests to compare different ad headlines, copy, visuals, and calls-to-action. By analysing the performance metrics of each variation, advertisers can identify the most effective elements and optimise their campaigns accordingly. Continuous testing and optimisation are key to maximising ad campaign performances over time.
5. Leverage Remarketing
Remarketing is a powerful strategy that allows you to reconnect with users who have previously interacted with your brand. Meta encourages advertisers to leverage remarketing campaigns to re-engage potential customers and drive conversions. By segmenting your audience based on their previous interactions, you can deliver personalised ads tailored to their specific needs and interests. Remarketing helps increase brand recall, fosters customer loyalty, and ultimately helps to maximise your ad campaign performance.
6. Monitor And Adjust Campaigns
Keeping a close eye on the performance of your ad campaigns is essential for maximising results. Meta stresses the importance of monitoring key metrics such as click-through rates, conversion rates, and cost-per-acquisition. By regularly analysing campaign data, you can identify areas for improvement and make data-driven adjustments to optimise your campaigns. Continual monitoring allows you to allocate budgets effectively, refine targeting, and make necessary tweaks to enhance overall performance.
7. Embrace Automation And AI
As technology advances, automation and artificial intelligence (AI) are transforming the advertising landscape. Meta highlights the benefits of utilising automated bidding strategies and AI-powered tools to optimise ad campaign performances. These tools can help streamline ad management, improve targeting accuracy, and deliver better results. By embracing automation, advertisers can save time and resources while maximising the impact of their ad campaign performances.
8. Utilise Ad Extensions
Ad extensions provide additional information and options to enhance your ads, making them more appealing and informative to users. Meta recommends leveraging ad extensions like call extensions, sitelink extensions, and location extensions to provide valuable details about your business and encourage users to take action. These extensions increase ad visibility, improve click-through rates, and ultimately maximise ad campaign performances.
9. Implement Conversion Tracking
Tracking conversions is vital to understanding the effectiveness of your ad campaigns and optimising them for maximum impact. Meta emphasises the importance of implementing conversion tracking tools, like the Facebook pixel, to measure and analyse the actions users take after interacting with your ads. By gaining insights into which ads are driving conversions, you can refine your targeting, messaging, and bidding strategies to maximise your ad campaign performance.
10. Leverage Dynamic Ads
Dynamic ads allow advertisers to deliver personalised, dynamically-generated ads to users based on their interests and behaviour. Meta encourages businesses to leverage dynamic ads to deliver tailored messages that resonate with each individual. By leveraging user data and dynamically-updating ad content, businesses can deliver highly-relevant and engaging ad campaigns that drive better performance and increase conversions.
11. Test Different Ad Placements
The placement of your ads plays a crucial role in their performance. Meta advises testing different ad placements across Facebook and Instagram to identify the most effective positions for your target audience. Whether it's in-feed ads, stories, or audience network placements, testing different placements can help optimise your ad campaigns and reach users in the most impactful ways.
12. Optimise Landing Pages
A well-designed and optimised landing page is essential for driving conversions and maximising ad campaign performances. Meta recommends creating landing pages that align with the messaging and visuals of your ads, providing a seamless user experience. Optimise landing pages for fast loading speed, clear call-to-action buttons, and persuasive content that aligns with the expectations set by your ads. A strong landing page can significantly improve conversion rates and overall campaign success.
Summary
Hence, implementing the tips shared by Meta can significantly enhance the performance of your pay-per-click advertising campaigns in Sydney. By understanding your target audience, creating compelling ad copy and visuals, optimising for mobile, conducting A/B testing, leveraging remarketing, monitoring campaigns, and embracing automation, you can maximise the effectiveness of your ad campaigns and achieve your marketing goals.
For expert guidance and assistance in implementing these strategies, consider partnering with Zeal Digital, a renowned digital marketing agency based in Sydney. Zeal Digital specialises in helping businesses achieve exceptional results through targeted placements to maximise ad campaign performances. Take your digital marketing efforts to the next level with Zeal Digital's expertise and drive exceptional ROI. By working with Zeal Digital, you can improve your pay-per-click advertising campaign in Sydney.
Remember, staying ahead in the ever-evolving digital advertising landscape requires continuous learning and adaptation. By incorporating these new tips and working with trusted professionals like Zeal Digital, you can position your business for success and maximise your ad campaign performance.
FAQ