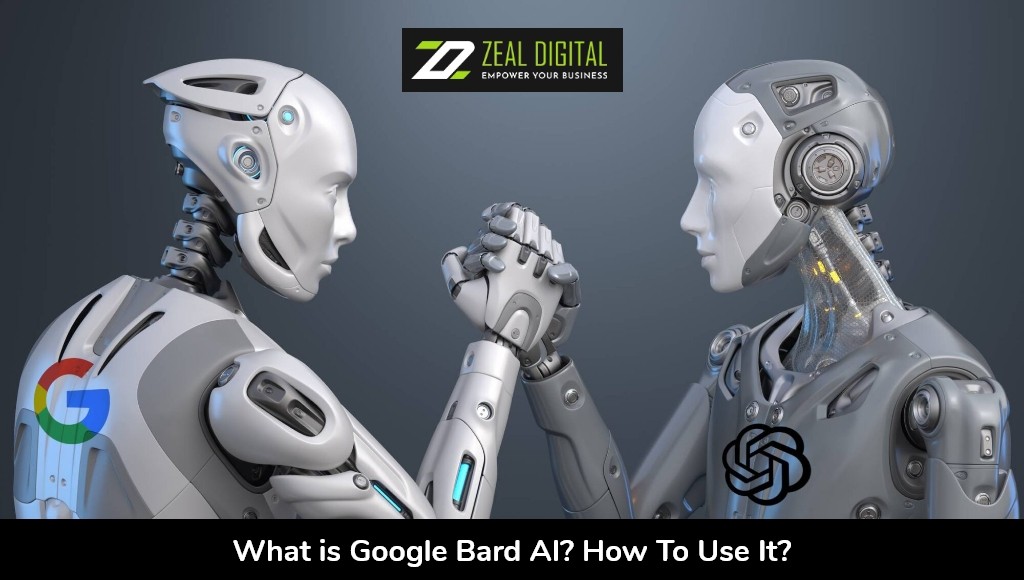 What is Google Bard AI? How To Use It?
As you know, artificial intelligence (Ai) is a trending topic these days. It's about how technology can get more refined over time and artificial intelligence is the best example currently. We have all heard about ChatGPT, a chatbot that's been the talk of the town for the past few months since it was launched. You can see Google Bard AI along the same lines as well. It's designed to simulate conversations with a human and uses a combination of natural language processing and machine learning. You can ask whatever questions you desire and this tool will give you the most meaningful answers. An established SEO agency like Zeal Digital can help you understand how maximum productivity can be churned out from this chatbot.
As you can see, Google Bard AI is much like ChatGPT. We can call it Google's answer to ChatGPT. While the latter has become a very common use right now, there's not enough information about Google Bard A. We will discuss some important aspects of this tool and also understand how one can use this platform:
Google's Infinite Dataset
First of all, we have to understand how Google Bard AI has come about and made it out here. It is based on a language model called LaMDA, which is an acronym for Language Model for Dialogue Applications. This model has come through a dataset which is called Infinite. To enhance the ability of this model's ability to engage in a dialogue, Infiniset was chosen by the developers. It is a mixture of internet content. In total, LaMDA was pre-trained on 1.56 trillion words of "public dialogue data and web text."
More Information About LamDA
This language model was adopted by Google a couple of years back. It is built on Transformer, a neural network architecture that Google Research invented in 2017. It incorporates a couple of really important elements. It is trying to work on multimodal user intent, reinforcement learning, and suggestions. The main aim of this model was to read and understand words. Once the understanding part is done, it will make predictions regarding what may happen next. In this process, it has become a significant part of the development of Google Bard AI as well. It is based on stats and predicts future words based on previous ones. A chatbot like Google Bard AI can smoothly move from one topic to the next in a conversation.
There are several advantages of using LamDA, let's take a look at them here below:
It uses less computing power. Therefore, it won't require you to use a lot of resources to provide the results.
It allows for scalability as well. This scalability is huge, allowing you to work around the dynamics of different topics in a conversation.
It can also provide a more effective feedback system. This work is done by Google's internal testing.
Some Aspects Of Google Bard AI
If you're curious to know how Google Bard AI works, we have some important points to discuss here. Let's take a look:
To connect information, Google Bard AI is used. The Knowledge Graph cards contain relevant, context-specific information surrounding your specific search.
As we have already discussed, LamDA is a very important part of its mechanism.
While Google wants Bard AI to work with LamDA, Bard responds to NORA's question. NORA stands for No One Right Answer.
How To Use Google Bard AI?
Are you still wondering how this Google Bard AI works? You don't have to worry as nobody around knows how Google Bard AI can be used. At the time of writing, Google Bard AI is only available to limited beta testers through its Trusted Testers program. Therefore, not many details are out about its use yet. However, we can expect the updates to roll in the months or even weeks to come. Considering how confident the developers are in this chatbot tool, people will be excited to know how it works. Since there's another option in ChatGPT available, you will have to come along with a reputed SEO agency like Zeal Digital to understand it thoroughly. Thereafter, you can see which chatbot is more useful to you. Once you reach a decision, you can start using that chatbot tool for the growth of your SEO activities and the website as a whole.
When Will Google Bard AI Be Made Available?
There's no confirmation regarding it just yet. So you will have to wait a little longer to understand Google Bard AI as it's not been released yet. There's no doubt that Google is backing this chatbot tool to make things comfortable for personal as well as professional reasons. Therefore, you can have faith in this platform to work out well. Some insider sources claim that the chatbot will be released for use in a couple of months. Since there has been no hard timeline given for its wider rollout, we can only guess when the full update will be made. Google CEO Sundar Pichai claimed that we would soon see Google Bard AI leveraged to enhance Google Search regarding its launch. Let's hope that we can use this platform soon and make the most out of it.
Difference Between ChatGPT & Google Bard AI
Both these platforms have quite a lot in common as well. For instance, they both use natural language models and machine learning to create their chatbots. But they have a different set of features. As we have discussed, Google Bard AI is yet to roll out completely. So it will take us some time to understand the differences fully.
ChatGPT is based on the data that was collected till the end of 2021. But Google Bard AI is going to work on completely up-to-date data. ChatGPT has a major focus on conversational questions and answers, but it is now used in Bing's search results as well. Bard AI will be specifically available for use on Google search results.
For further details about Google Bard AI, you should work with an experienced SEO agency in Sydney. This is where you can trust us at Zeal Digital, to provide you with quality services. We have the experience as well as the enthusiasm to do the job just right!
FAQs
It will be beneficial in many ways. It's going to make the job much easier for a business. Just like ChatGPT, it can perform multiple operations for your business automatically. 
You have to wait for the chatbot's official release to know how to make the most out of it. However, you should always get the assistance of a SEO agency like Zeal Digital for it. An SEO firm will help you understand how to work on it while guiding you to make the most out of the platform.
You have to wait for the official release to draw an analysis. However, one may feel that Google Bard AI will be a better application, owing to its up-to-date dynamics. If it's going to work on the current information, it is bound to provide the most accurate results as well!