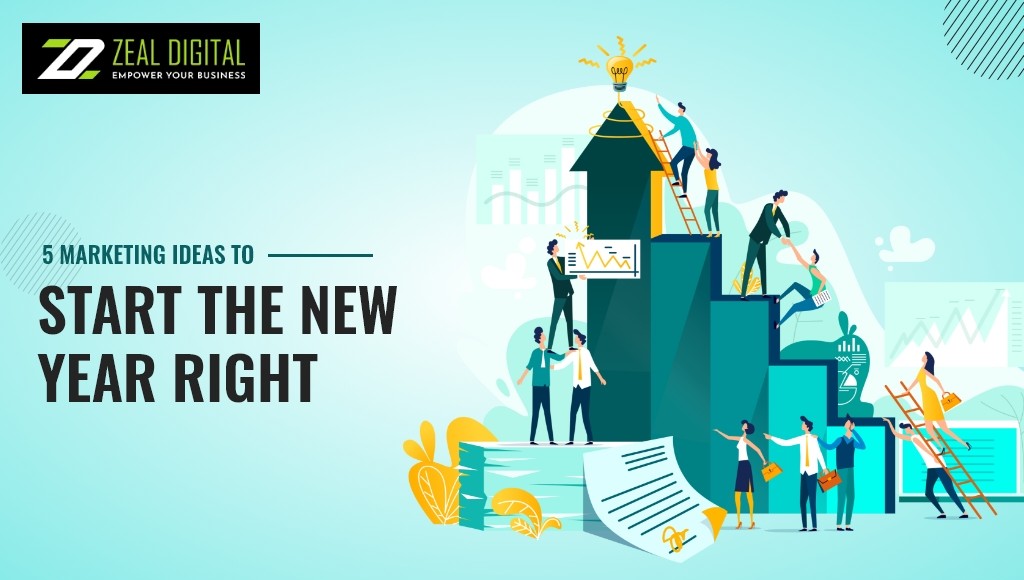 5 Marketing Ideas To Start The New Year Right
The days are numbered in 2022 now; we are moving into a brand new year. With each year, many things change for all kinds of business houses. New strategies are required to be adopted so that the business can tackle the needs of the current day and age. If you're running a business yourself, you must find the best marketing ideas to start the new year. It takes work to understand all the dynamics around and bring a change. If your business is doing just fine, you would prefer to do something other than anything significant. But as they say, high risk also provides you with a high reward. With the help of a digital marketing agency like Zeal Digital, you can get your marketing strategies straight. We will discuss 5 of the best ideas that will help you to start the new year right:
Personalised New Year Email
When it's the new year, you want to email all your customers and clients and wish them well. But let's be honest; every business house will use the same strategy. Since customers are connected with all kinds of business houses, you will be lost in the crowd while wishing them the best for the new year. So the first marketing idea to start the new year would be to wait some time before expecting your clients and customers. You can wait a couple of days to do so. Now that you have chosen a day when few business houses with their customers, you need to work harder to impress them. You would like your email to stand out. You should make it as impactful as possible to you. Leverage brand storytelling and briefly share your business' journey through the previous year's challenges. You can discuss a discount offer or something to attract the clients to your services. Hiring a digital marketing agency in Sydney like Zeal Digital will make things even smoother.
"HELP US HAVE A BETTER 2023" Promotion
What's essential in achieving a long-term relationship with your customers and clients? It is about making them feel like your own. They should feel like a part of your community. And how can a business give its customers such importance? Simple, it is about engaging them in your activities. An essential thing you can do is ask them for their feedback. It is a great marketing idea to start the new year. You can attach it with the email where you have wished your customers a happy new year. You can ask them how they felt about your services throughout the year. That's not it; you can ask them for suggestions too. You need to seek advice from them to improve the benefits of your business, as they are the ultimate kings. So be sure to use quality promotional activities to seek their feedback regarding your services. You can work on the areas they don't like and start the new year with a bang.
Making An Import Template
The next thing that you can do here is to prepare your import template. You can choose your desired file format to make this template. The first thing to do is to modify the time in the timezone field as per your region. Now you have to add proper data into the sheet to make a quality import template. It will play a very important role in tracking offline conversions from your Google Ads. Some of the important columns that you're going to find in the list are Google Click ID, Conversion Name and Conversion Time. You have to fill up all these sections properly to make a smooth import template. You will also have an option called Conversion Value & Currency which is optional to fill.
Stress On Post-Holiday Returns
The new year is when people try to bring something new and fresh to their lives. You would see an upsurge in sales during all festivities, but it is the highest during the new year. If you're in a retail business, you should be prepared for it in advance. We at Zeal Digital can assist you as one of the quality digital marketing agencies. Since the customers will be motivated to make the purchase, you need to create offers to boost your sales. You can stress about post-holiday returns. It is about setting the right expectations, so be clear on your return and refund policy. Also, you should make customer service more efficient. It is about ensuring that your clients and customers don't feel irritated in the long run. You can purchase another item or offer a discount voucher too. This will be a great marketing idea to start the new year.
Promote New Products
Are you going to launch a new product line for your business? It's a great call, but you must choose the right time to do such a promotion. You must do so when a maximum number of customers are paying attention to your services. Since the chances are high that they will look into your business during the new year, you may also promote New products around the same time. This will be a quality marketing idea to start the new year. You need to enable it through social media platforms since it has the most impact. With the help of a digital marketing agency, you may use your brand's hashtags to develop a more effective promotional technique.
New Year Positivity Promotion
The new year is when people feel all the positivity in the air. You just have to boost this positivity further, as it will be a great marketing idea to start the new year. You can talk about good health, having serious goals, being organised etc. It is about giving your customers a much-needed boost early in the year. It will provide them with a clear path to ride all 12 months. Some people are down and out in their lives, and they need something to move positively in their lives. The new positive promotion will do a lot of good for your customers. In turn, they will trust your services and have a long-term relationship with your business. Thus, it is going to be a win-win situation for both parties!
If you need to hire a digital marketing agency in Sydney to implement these ideas, we at Zeal Digital will be your safest bet. Trust us to develop effective marketing techniques to boost your business throughout the year. We will work with you and focus on digital marketing ideas that can provide the best results.
FAQs