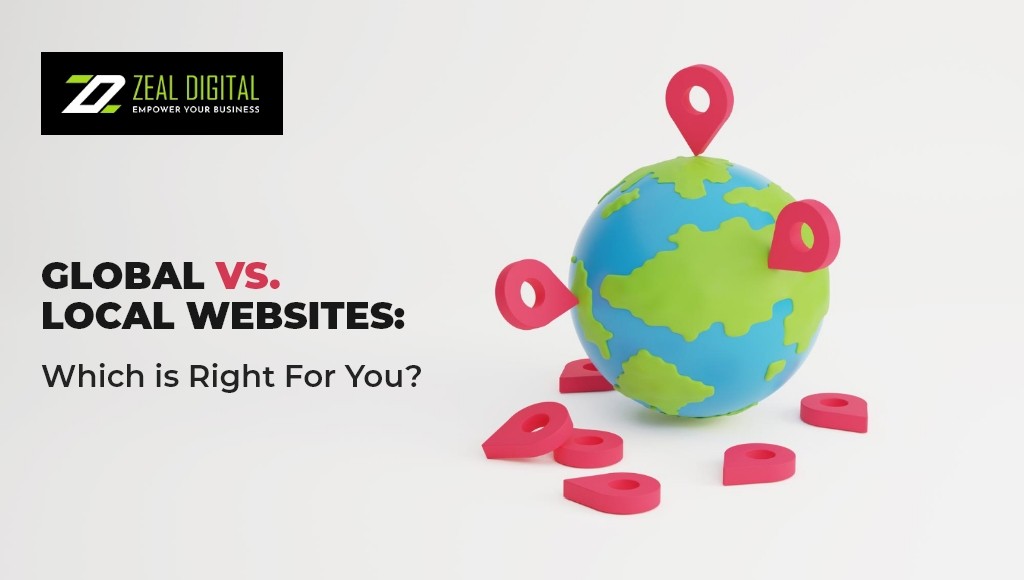 Global Vs Local Websites: Which Is Right For You?
No matter which business you're running, you need to have a website for it. Even if you're not going to deal in E-commerce by any means, making an efficient website can be a great promotion as well. When you're targeting an international audience, you will need to go for a global website. But if you want to reach out to a local audience, there's not a lot of work to be done by a website design in Parramatta. How would one decide which type of website is going to be more suitable? We are going to analyse global vs local websites.
We will look at several factors to decide which of the two options is the right choice for you:
Laws & Regulations Regarding Data & Privacy
The first things to understand in global vs local websites and their dynamics are the laws and regulations regarding data & privacy. You have to ensure that your customers are provided with the needed privacy always. If they don't get the needed security, they won't visit your website in the first place. When you focus on a local website, you only have to deal with local laws & regulations. An efficient website design company can easily keep these laws in check.
But when you want to make a global website, you have to understand the laws of various countries. Since these laws can be very contrasting in each country, the task seems to be uphill. It is impossible to list all laws and regulations to do business in different countries around the globe. But you have to focus on two major aspects here: privacy & data protection and website accessibility. As long as your users are protected and your content is considered safe, you can reach out to customers globally. If you want to focus on a particular country, you have to understand all of its important laws & regulations regarding website accessibility.
Local Trends & Competitors
When you're running a local website, you have to necessarily focus on local trends & competitors. But when you're going for a global website, you still cannot discount the importance of these trends and other companies in the same field. Some people might look at the difference between local & global websites due to design skills. But global vs local websites have more to do with how much the company understands the local market and the target audience. People living in a particular region might have different expectations from that of another for obvious reasons.
The amount they are willing to pay for the order can be different as well. When you have a website design company in Parramatta like Zeal Digital to serve you, it is about focusing on what the customers in a particular locality desire. The competition is going to differ from region to region too. If there are more competitors in a particular area, you need to put more stress on your website and how it attracts the target audience. The inability to satisfy the local searcher can cause a considerable business loss to your global website. If you want to rank higher on Google, you have to localise the content and present the best content for each searcher.
One Global Website vs. Multiple Local Websites
In this global vs local websites debate, we have to understand if one website is enough to target a global audience. There are times when it can be enough but it depends highly upon the services you're offering to the customers. More often than not, coming up with multiple local websites might just be a better move. When you want to spread your services to different parts of the globe, you have to set up a team in each country. But if you cannot afford to have a big team, creating multiple local websites is going to be the best move. A reputed website design company in Parramatta like Zeal Digital is going to cover all your bases. It doesn't mean that you won't need to employ people in other countries. You will still be required to send smaller units to all the target countries to understand the trends and rules & regulations better. When you have a particular website, you can host it in the country to help improve the download speed.
Content Needs
Another important factor to keep in mind is the content needs in Global vs local websites. It is quite straightforward as global websites will always have a wider need for content. If you can come up with more & more content frequently, you should build a global website without any worry. But if your content is limited, you should focus on a local website. You have to understand if your services can appeal to the global audience on a wider scale. If you feel that the scope of your services is large, focusing on international SEO will be ideal.
What's The Right Option?
After analysing different factors in global vs local websites, one may be curious to know which one is the right option. It depends upon the goals and ambitions of your business. If it is about reaching out to the local audience as much as possible, a local website would be a better option. A global website can be further divided into various local websites too so that the particular locality is focused on nicely.
If you're a new business, you can take the assistance of a website design firm in Parramatta like Zeal Digital to promote your business locally. But if you want your services and business to be spread across the world, you need to focus on making a global website.
The cost involved is going to be higher in making global content but the profits will be higher as well. So, before you apply any SEO strategy to your website, know what kind of SEO you need. Once you're sure if you need a global or local website, you can come up with measures accordingly. Contacting an experienced website design firm in Parramatta like Zeal Digital will definitely help.