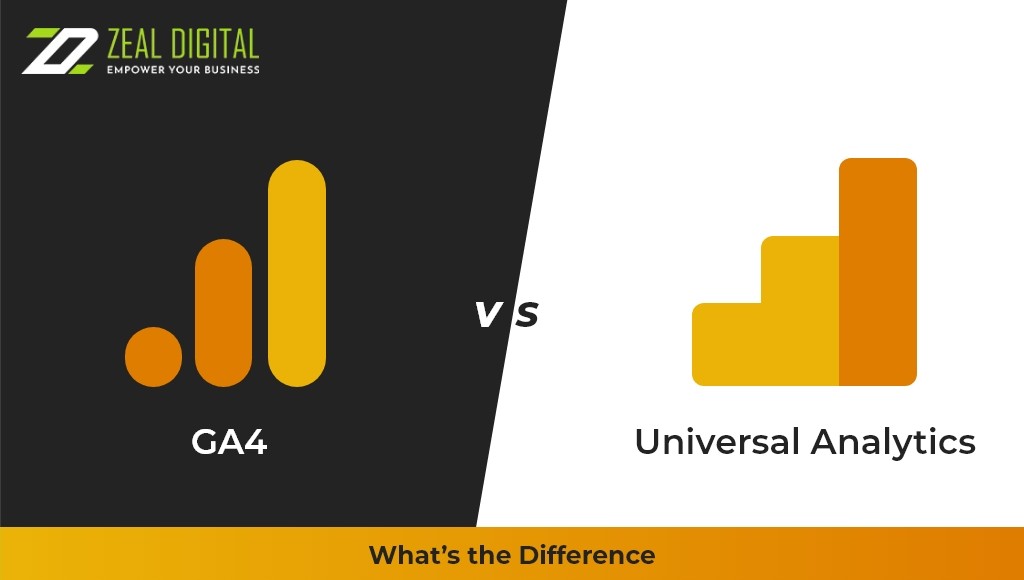 Ga4 Vs Universal Analytics: What's The Difference?
Google has produced different analytics platforms over the years. For a long time, Universal Analytics was considered the most trusted of the lot. If you wanted to track your website or application, you could take the help of Universal Analytics. Here, you have the opportunity to modify the session and campaign timeout values within the admin interface. GA4, also referred to as Google Analytics 4, is an improved version of Universal Analytics. With the help of a reputed SEO marketing company in Sydney like Zeal Digital, you can use either of these platforms to track your WordPress website and applications.
But firstly, you must be curious to understand the difference between these two platforms. When we talk about GA4 vs Universal Analytics, here are some key differential points:
Reporting Interface
The first point of difference is the reporting Interface between the two platforms. GA4 has an improved reporting interface when we compare it with Universal Analytics. In GA4, most of the reports have been replaced or renamed. The measurement model that was used in Universal Analytics has been replaced now. This is the major reason behind the change in the reporting interface of GA4. You will get new reports such as eEngagement, monetization, and retention in GA4. In Universal Analytics, all the reports have been combined under five categories. So when we look at GA4 vs Universal Analytics, the reporting interface has to be a major differential point.
Bounce Rate And Reporting Metrics
Another major point in GA4 vs Universal Analytics is the bounce rate and reporting metrics. When we talk about GA4, there's no bounce rate in the first place. The developers have eliminated this feature. The bounce rate tells you the number of users that left your website without interacting. It has instead come with a new metric named 'Engaged sessions per user.' So if you want to know how people interact with your content, you can learn about it through this feature. The engagement report in GA4 has seen some great changes as well. For instance, there is an average engagement time metric, which used to be the average session duration in Universal Analytics. Apart from this, you will also find pages and screen options on GA4. In this section, you will know about the pages that are visited the most on your website.
Data Measurement Model
The developers have made a significant change in the data measurement model on GA4. With a top SEO marketing company in Sydney like Zeal Digital, you will be able to understand these changes more efficiently. When we talk about Universal Analytics, it is majorly focused on sessions and pageviews. GA4 works quite differently as it uses an event-based model to track your data. Sessions can work on an individual level as it tracks people when they interact with your website. On the other hand, event data is anonymous, and importance is placed on specific actions taken instead of specific users taking those actions. The event-based model is very helpful as it tracks complex buyer journeys. It tracks the data across multiple devices accurately. So the data measurement model is a big difference maker when we talk about GA4 vs Universal Analytics.
Form Conversions
Forms have a crucial role to play in every business. Through their help, you can allow the customers to interact with your business. If they have any queries or problems with your services, they will let you know about it through forms. You can track your WordPress form on Universal Analytics. You will be able to see which form is performing the best. However, setting up form conversion tracking in Google Analytics 4 requires adding custom code. So if you don't have extensive knowledge in this field, tracking form conversions will become close to impossible. You can make use of our services at Zeal Digital as we are a leading SEO marketing company in Sydney.
Advanced Analytics
The next point of difference in GA4 vs Universal Analytics is the advanced analytics that you can perform in either of these platforms. Universal Analytics is quite handy in this regard. On this platform, you may create reports and uncover insights with the help of secondary dimensions. You will be able to get effective results through advanced analytics on Universal Analytics. But if you want to go a notch higher in this regard, you should opt for GA4. You get prebuilt templates for different analyses on this platform. So if you want to set up a custom report, you can come in touch with a SEO marketing company in Sydney like Zeal Digital and get it done on GA4. You can add different segments, dimensions, and metrics to your custom reports on this platform.
Goals Vs Events
When you use Universal Analytics, you can record different user interactions using goals. There are four major types of goals on this platform. These are:
Destination: Through this goal, you can track when a user comes to one of the pages on your website.
Duration: This goal will let you know the amount of time people are spending on your website.
Pages per visit: Through the goal, you will know how many pages people are visiting before leaving your website.
Event: With the help of Event goal, you can track user interactions on your site that Universal Analytics doesn't track by default.
GA4 replaces these goals with events. In case you're running an online store, you can enable events to get the details about customers and how many of them enter payment details and shipment information. So this is a huge difference maker when we talk about GA4 vs Universal Analytics.
Conclusion
To sum things up, both platforms are efficient in their ways but GA4 is an improvement over Universal Analytics. It might be a bit difficult to deal with on your own. So you have to reach out to a reputed SEO marketing company in Sydney to use it efficiently. Zeal Digital is always ready to help you out. So if you want to know the different dynamics of GA4, we will be there for you!