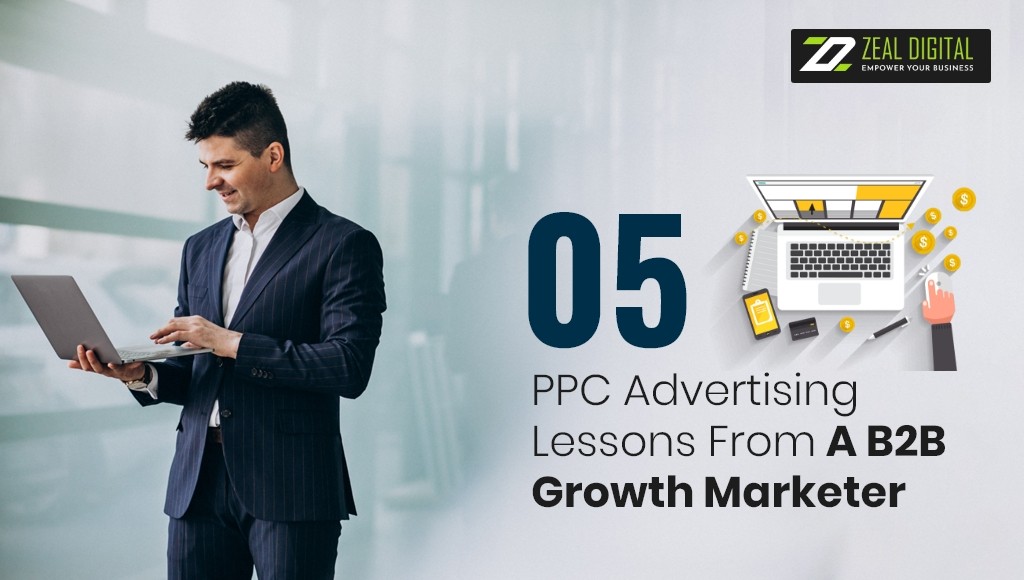 5 PPC Advertising Lessons From A B2B Growth Marketer
Understanding the dynamics of advertising in the B2-B business sector is an important task. If you understand the PPC advertising strategy, you can earn a lot when monetising your blogs and websites.
What is PPC advertising?
PPC or pay-per-click is an advertising model on the internet which allows you to drive traffic to your business website. In this, the advertiser pays a certain amount to the publisher when a viewer clicks on the ad. This model of advertising is usually associated with search engines of the first tier.
5 PPC Advertising Lessons From A B2B Growth Marketer
So let's look into the five important PPC Advertising Lessons From A B2B Growth Marketer:
#1 Manage your budget well
Ad budget needs to be appropriately maintained. Distribution of ads across viable websites is a difficult task. PPC advertising is not always fruitful. This can be due to a lot of reasons:
Many potential customers use ad blockers. This means your PPC ads do not reach them anyhow.
New features of Google can also throw off your advertising campaign in a short time.
Regulatory changes and market economics can also affect your PPC advertising campaign.
It becomes vital to take all these things into account. You have to be careful so that you don't overspend on the entire thing and the right amount of advertisement is done at the time. The biggest concern is that of the ad blockers, and you have to devise suitable measures to tackle this concern.
#2 Do not invest more than you can handle
It may happen that your PPC advertising campaign is failing. That can urge you to invest more and more. However, that is not always the best idea. Google algorithms keep changing from time to time, and if your existing PPC ads are not very profitable, it is best to focus on other advertising strategies. As we have already discussed, spending too much money on campaigns can be a huge concern. When you're not running in profits, this can prove to be a considerable risk and harm the bottom line.
#3 The reputation of your brand matters
If you are a reputed brand, people will automatically click on your PPC ads because of the trust you have gained. If your services are top class and your website is user-friendly, customers will be driven to your site and increase the traffic. So one of the essential things you need to focus on is the interface of your web; undoubtedly, that good PPC advertising lesson from a B2B growth marketer will eventually be beneficial. If your brand's reputation is not good, people won't be interested to know about your business in the long run. They might click on the website rarely, but they won't be interested in investing in it continuously.
#4 Your Ad should be eye-catching
Potential customers usually have a short attention span when viewing ads. Try adding the latest offers and vouchers by highlighting the products judiciously. It doesn't mean that you need to focus on unnecessary things. While working on PPC advertising lessons from B2B growth marketers, it is essential to focus on the strong points of your business. You have to pile up all the features of your company so that people instantly get hooked to it. After all, you will be paying a handy sum to come up with the advertisements in the first place.
#5 Focus on other advertising platforms as well
While Google Ads is famous, other platforms sometimes offer more visibility and control. YouTube ads are a perfect place to start your PPC campaign. Social media platforms like Facebook, Twitter, Instagram, and many others offer an excellent boost to your PPC advertising strategy. If you are a retailer, you can showcase your products on Amazon. Social media is one of the best platforms to promote your products and image.
PPC advertising can help drive traffic to your website. The lessons mentioned above can sharpen your PPC advertising skills as a beginner. These PPC advertising lessons from a B2B growth marketer will ensure your business grows significantly. You also need to hire a successful search engine marketing agency in Sydney to promote your brand. Your business will increase significantly as long as your advertising campaign is fantastic and perfectly targeted!