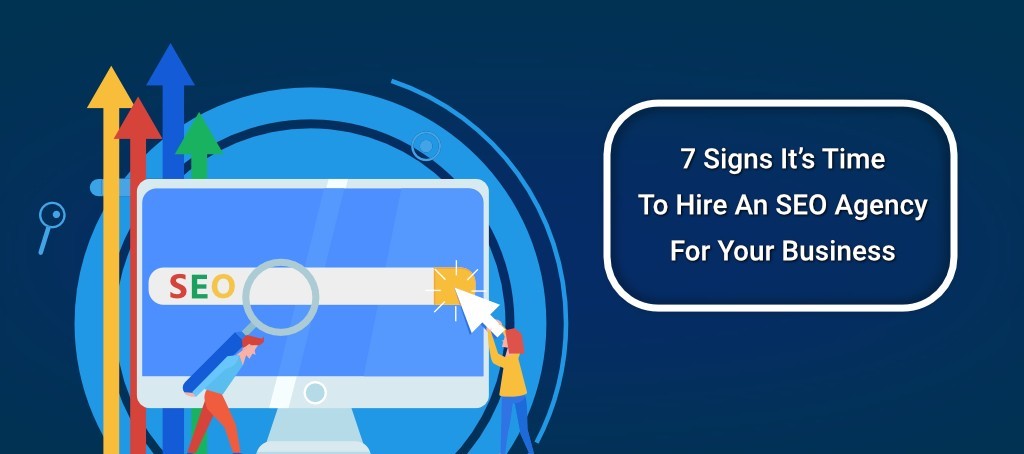 7 Signs It's Time To Hire An SEO Agency For Your Business
When anyone searches for any information online, they use Search Engines such as Google, Bing, Yahoo, etc. All Search Engines use keywords and tags to prioritise different websites that possess relevant content on the search topic. SEO is an abbreviation for Search Engine Optimization. Optimisation promotes your website on the search engine platforms by the effective use of content and keywords. SEO will help increase traffic to your website. It will identify your target audience and marketers who are visiting your website so that you can focus on their current needs.
These are the seven signs that point to the fact that you should hire an SEO agency for your business.
Are you aware of SEO skills?          
You need specific skills and resources to use effective Search Engine Optimization. If you don't have the expertise, then it would be challenging to optimise your site on your own. Execution of effective SEO strategies is time-consuming.  Do you have the time to do it? It would be good business to appoint professionals who have knowledge and expertise in this field.
Is advertising not generating any results?
When you are paying good money to advertise your business online, you would certainly expect to get an increase in the number of clicks and views. However, in some instances, advertisements fail to deliver favourable results due to increased competition and market saturation. SEO can usefully boost your online rank (make your brand more visible to searches) by adopting specific marketing strategies coupled with focused advertising to take your business to a whole new level.
Keywords aren't working?  
As we all know that search engines pick up keywords to optimise your website. If you have provided strong keywords which are still failing to make a mark on the Search Platform, then it means that you need an immediate upgrade. The SEO Agency professionals will help your business and provide effective keywords to improve your search engine optimisation. Keywords are one of the essential elements of operative SEO to maintain website visibility.
Difficult to maintain your rank?
When you realise that maintaining your online rank on search engine platforms is getting more complicated, and you are not able to spend your valuable time updating your tags, keywords, and content, you can hire an external SEO Agency to help you to optimise your online presence.
Are you failing to reach the top of the search engine page?
The first three websites which 'pop up' on Google or any other search engine platform are the ones which people are most likely to click based on their query. Other websites, even if they feature on the first or the second page, fail to attract a large portion of the target market. The services of a professional SEO Agency can help you to obtain the top rank.
Your followers are relying on competitor websites#!!!
Competition is rising day by day in every field. You are at a very high risk of losing your customers if your competitor has a more optimised site than yours. To prevent this, you should consult an SEO agency as soon as possible.
Aiming towards a wider audience!
SEO agencies can help you, establish and enlarge your business. If you are starting a new website, then you should hire an SEO agency so that your website reaches a whole new market segment, which in turn would automatically increase your sales and profits in the long run.
So these are the seven situations which point you towards the tangible benefits of hiring an SEO Agency. 
An SEO Agency is a business that will help you to be more visible and earn traffic that you deserve.
Hiring an SEO agency will always prove beneficial for a business as it helps to advertise your firm to the maximum number of potential clients worldwide.