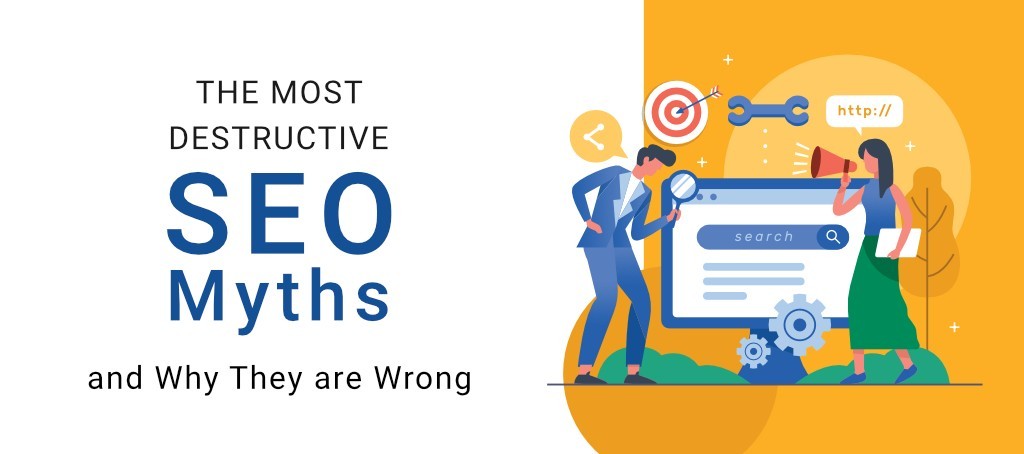 The Most Destructive SEO Myths and Why They are Wrong
SEO is mainly a way to drive traffic to your website. But most people don't understand how it works. It is associated with various myths that have permeated over time.  Over the years, lots of myths have built up mainly because no-one knows for sure exactly how search engines calculate their page ranking algorithms, and they do change over time.
Here are the most destructive SEO myths that continually resurface:
All Meta Tags are Equally Important
Some Meta tags are essential, while others are not. Search engines are relying more and more on the actual content on the website than what the tags are telling them. Some search engines use the description tag. The same goes for keyword tags. Keyword tags are frequently used by spammers and people who use software to target you in efforts to become a link partner. engines. The only tags you should concentrate your efforts on are the robot tag and the description tags.
You Must Submit Your Site to Search Engines Weekly or Monthly
You do not have to submit your site more than one time. If you provide your site once, that's all you need. The search engine bots will find you without resubmitting the site. It is possible to speed up the indexing of your site by linking it to high reputation site or one that has high traffic. Search engines will find the URL to your website and index it automatically.
SEO is Too Expensive
SEO is the most economical form of online marketing. Organic SEO is much more inexpensive to establish and maintain when compared to banner advertising or a Pay Per Click (PPC) campaign. With PPC and banner advertising, you pay for clicks or impressions. With SEO, all clicks are free. You pay for the setup and monitoring of your site's pages.
PPC is More Effective Than Natural SEO
Organic SEO is preferred by many searchers due to its relevant results. People are also aware that the ads to the right of the page are sponsored ads. They have long ago figured out that anyone can bid on any term they want, as many often do, without even a hint of relevance. So, long term SEO structuring can surely be more effective than PPC, especially when considering the preferences of search traffic. Top search rankings may take some time to get, but once you are there, you will get better results than from a PPC ad.
Hiring an SEO Specialist "In-House" is Significantly Cheaper
The problem with hiring someone in your company, you have the layout of salary and wages and other overheads like payroll tax, superannuation and workers compensation. On the other hand, most SEO firms charge per item or project. When you hire a firm, it's like having a team of SEO experts on your payroll. Paying a flat rate saves you money and speeds up the time it takes to complete a job. Additionally, most SEO firms have professionals who write, submit, redesign sites, and post pages. Finding one employee who is able to perform these various tasks equally competently is highly unlikely.
Achieving a high site ranking relies solely on the correct Keyword Density 
This is wrong, especially if you want to rank on Google. You will require off-site SEO as well as on-site. Keyword density may work on MSN, but it will take much more than that to rank well for all search engines. 
You Shouldn't Aim for the Most Competitive Keywords and Phrases
If the keywords you want to use are highly competitive, should you optimise your website with them? Of Course! You would optimise for some high, medium, and low, competitive keyword strings and over time you can always work to improve them. Don't shy away from top vital terms just because they are competitive. You may never know how close you could rank for them unless you try.
Only Work With Firms That Give You A Guarantee
Most of the guarantees from SEO firms have the same stipulation. This prerequisite usually states that as long as they get one of your key phrases at the top of any major search engines, they have fulfilled their end of the agreement. This is irrelevant to the competition of the term. In other words, it is easy to be number one for terms no one is competing for. Try not to be hoodwinked by high rankings recorded on SEO locations as they can be deceptive.
SEO Needs a One Year Commitment
It certainly shouldn't! Don't lock yourself into a 12-month contract with any company unless you already have an established, favourable business relationship that has yielded measurable results. SEO, in most scenarios, should be revised monthly with a mutual understanding of the objectives and realistic timetable. 
As discussed above, there are indeed various SEO myths that are wrong which should not be followed by anyone.