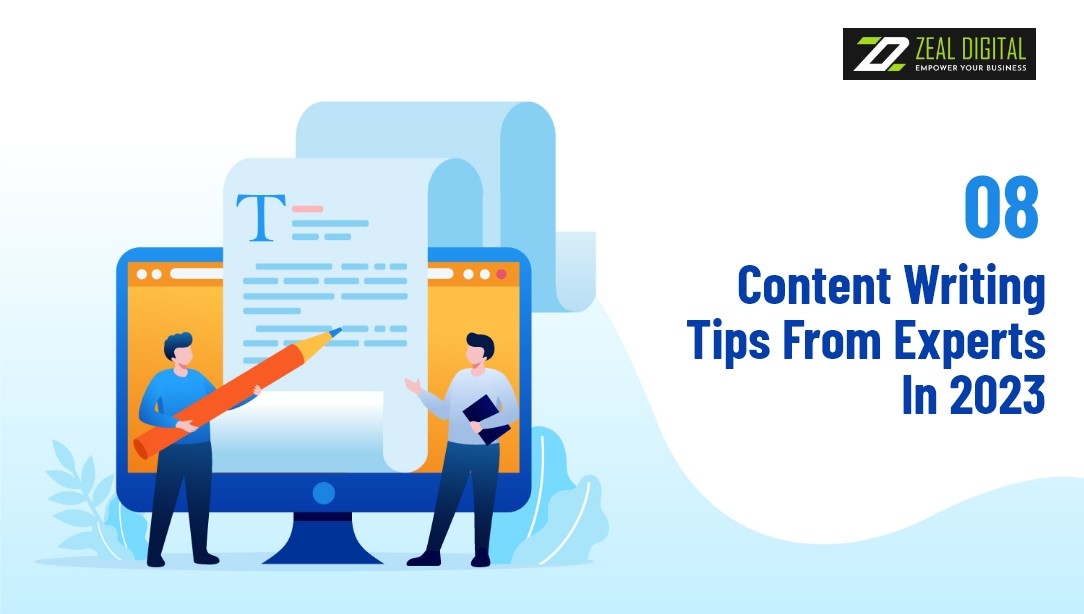 8 Content Writing Tips From Experts In 2023
Are you a content writer? If you have just started, you must be curious to understand the dynamics of content writing. No matter what you're covering under content writing, you have to focus on all kinds of things to increase the reach of your blogs and articles. Everyone around you is competing for popular keywords. With artificial intelligence taking over the digital world, the dynamics have only become more complex in current times. If you're new to this world, you must be curious to understand how things work. We are going to provide you with some content-writing tips in 2023. You can use these tips while writing content throughout this year. You also have a choice to reach out to an SEO marketing company like Zeal Digital to understand content writing better. Let's take a look at the tips that we have got to offer you:
Focus On Your Audience
This might seem simple but most content writers fail to pull it off. When you want to achieve a wider reach with the content, you might end up keeping your focus on things that are not even required. You have to understand what your target audience is before you implement a strategy for it. So the best content writing tip in 2023 for you is to focus on your audience. If your content is related to youngsters, you need to keep making the content that they like. You cannot make content for people in different age groups out of nowhere and expect it to get a positive response from the audience. If the content is such that it can be useful universally, there's nothing wrong about reaching out to a wider audience. But in case it appeals to a particular section, you need to keep the focus on them.
Building Content With Search Intent In Mind
When you are making content, you have to keep the perspective of the users in mind. What would be the reason for them to pull up your content? You need to give them a reason to reach out to your website. With the help of an SEO marketing company in your area, you can understand how to build content with search intent in mind. What's the topic that you're going to talk about? Depending upon that topic, you have to see what people search the most on search engines. You can use those keywords in the content and there are high chances that your website drops on top of the search results. If your content is quality, all you need to do is push it further to reach out to the target audience. The better content that Google provides its users, the more likely people will use Google when they have a question. So the keywords that you use should make sense throughout the content.
Less Dependency On AI-Driven Content
AI is taking over the technological world and it will have a huge impact on content writing over some time as well. But this doesn't mean that you're going to be dependent on AI-driven content completely. Therefore, another content writing tip that you can use in 2023 is to show less dependency on AI-driven content. It doesn't mean that you don't have to focus on AI content at all. You can give a bit of importance to this type of content as it's necessary for the future. But the biggest focus should be to make quality content. Everything else should be secondary to this. If your content is not quality, you can focus on AI-driven content and it still won't be good enough for growth prospects. But when it's quality, people will find it useful, even if you don't focus on aspects such as artificial intelligence.
Practising Writing Regularly
This is not just a content writing tip for 2023, it's going to stay intact for the years to come as well. If you write content once in a blue moon, it can be difficult for you to get into the groove. Also, you might miss out on a lot of aspects that are going to put you behind the rest of the content writers around. When you practice writing regularly, you're ready to do something new from time to time. You can look into the things that you're not getting right and make up for such flaws over some time. You can also check the latest trends in content writing and make the content accordingly. You also have to read continuously as it gives you a greater scope to write better. Therefore, you should write every day. Even if you can do so for just a couple of minutes a day, it will be needed for the greater good in the times to come.
Learn To Overcome Setbacks
As a content writer, the road is not going to be easy. You will have to show a lot of perseverance to finally reach a point where you can call yourself successful. When you have an SEO marketing company by your side, you will understand your mistakes in a better way and implement the right solutions as well. If you're working hard on content writing, you should always believe that you're good enough. If you're not able to attract the attention of the users, you should try everything possible to fetch the attention of the audience. You can implement a better user interface on your website. The use of audio and videos might work as well.
Finding Your Rhythm And Style
No matter which niche you're covering under your content, there might be various other writers working on the same niche as well. When there's a huge crowd of writers, it becomes increasingly difficult to have your style of writing. But you need to find it over some time. This is one content writing tip in 2023 that you should try to follow for the rest of the year. When you get your rhythm and style, it will be easier to attract more audience to your content.
If you need an SEO marketing company in Sydney to bail you out, Zeal Digital is going to be your best option. We will help you understand how you can use SEO to make better content.
FAQs
The focus on AI should be kept in mind while making content this year. One also has to understand the popular keywords before making the content. The information should be quality, it should be able to satisfy the target audience. 
There are so many people around the world that are making huge money by writing content. It is surely worth it to run your blog website. The important thing to consider here is how you make the reach of your content wider! 
It depends upon the needs and requirements of the website. Some websites need to make content daily while some can do with just a couple of articles and blogs in a month. You have to understand your requirements before implementing a strategy!