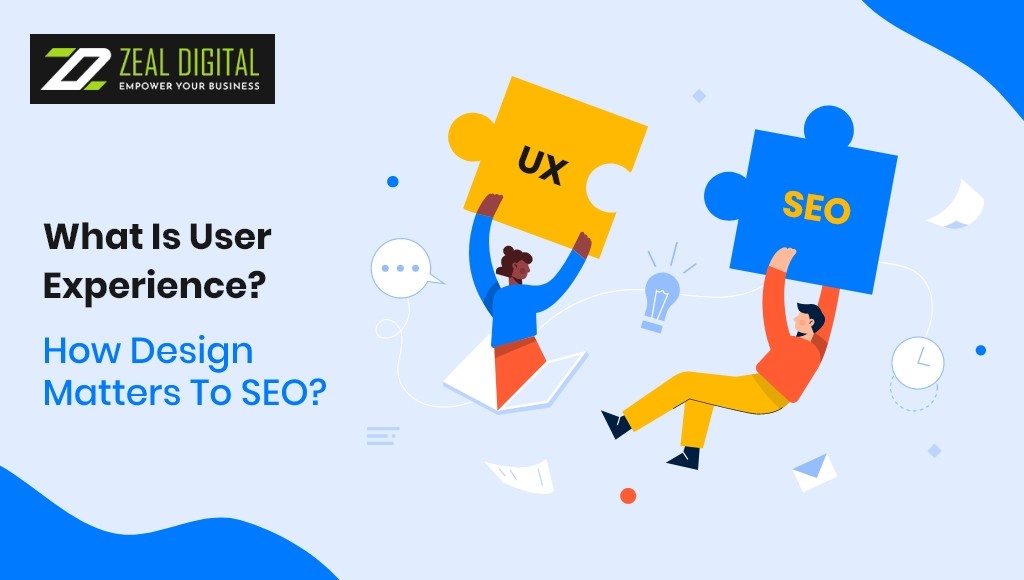 What Is User Experience? How Design Matters To SEO?
If you need to run your website successfully, constant updates and changes should become the norm. The trends can change over some time and you should be ready to grab your opportunities. There are various aspects to work on and one such aspect is user experience. The first thing that you need to understand is what user experience is all about. It is how a user interacts with a product or system and is a central part of good website design. Different businesses opt for different ways to allow users to see their products. If users are going to like the product, they will probably buy it now or plan to purchase it in the future. But if the user experience is not great, the users would hesitate to check a website and its products again, even if they belong to the highest quality standards.
You want your users to love their interaction with your website, don't you? That should be your major motive, to make the UX as amazing as possible. If the website can generate positive experiences for the users, they would like to visit it over & over again. To understand UX better, you need to hire quality web design services like Zeal Digital.
So what's the key here? How do you make the user experience amazing & satisfactory? When you work on the design of your website, you will automatically make way for a better user experience as well. The design matters in so many ways as it will boost search engine optimisation. Let's get into its details here below:
Improves Dwell Time
You can be on the top results in search engines and it would still not be enough to run a successful website. Over some time, the ranking is going to drop significantly if people are not interested in your content. Just think about it for one second. If you don't provide the right UX to your users, will they continue to visit your website? They will immediately click on to another website and if it has a better UX, they will start spending more time there. Therefore, dwell time on your website is going to be extremely poor. Dwell time can be referred to as the time a user spends on a webpage before jumping back to the SERP. If the user experience on a website is not good, it won't take seconds for users to step away. This is the reason why you have to work with a reputed web design agency like Zeal Digital to improve the user experience. If the users can stay on the website for a maximum amount of time, nothing can stop the growth of your website!
Faster Design
If the UX is great, the design of the website is going to be faster as well. In case you don't know already, faster design means that the load speed on your website is very efficient. This is an important part of the user experience in so many ways. If it's taking forever for the page to load, why would users be bothered to stay on your website? In the 5G world, the users need results within a couple of seconds. If it's taking half a minute for pages to load on your website, they are going to walk away from it immediately. Therefore, faster design becomes an important part of user experience as well. If you focus on faster design, the pages are going to load quickly. The users will be hooked to your website constantly. The dwell time, that we discussed above, is going to increase further. At the end of the day, the SEO of your website and business will improve by leaps and bounds.
Informative Videos
It's important to include videos on your website. Since we are discussing user experience here, it cannot be great unless you're using videos to explain your content, no matter which niche you're working in. Putting random videos up is not going to help either. You need to work on these videos with the help of a exceptional web designing firm like Zeal Digital. The videos should be crisp, and to the point and talk about the most important features of your products. You can take your time to make videos. But the videos should make 100% sense to the users.
More Aspects About User Experience
People generally mistake UX for UI. They are two different things. A website can have an amazing user interface but a poor user experience and vice-versa. UI design includes the icons, buttons and screens of the website. It's about how you can design your website better. Even if you use great icons, buttons and screens for your website, there's no certainty that users will commit to it. It's the user experience that's going to make a difference here. Let's take a look at some important points about UX:
Interaction With Your Website
The interaction of users with your website is exactly like a normal interaction by a person in a retail shop. The person will have a particular requirement and if it is not fulfilled, he will go somewhere else. The same is the case with your website as well. When the user enters your website, the content should appear promising to him. Therefore, the quality of the content matters more than anything else. The first step would be to ensure a good loading speed. If it's taking forever for the website to load, the user will go somewhere else instead.
Feel During The Transaction
There is a high chance that the user buys one of your goods and services. But is that enough for you? If you need your business to last long, making long-term relationships with clients becomes more important. Therefore, the user should feel great about your services throughout the transaction. The after-sale services should be superb too. You can leave a particular section on your website where users can address their queries, and respond to them as quickly as possible.
To recap, we can say that user experience is crucial for your website. Working with a web designer in Sydney would be a quality decision to make the UX as efficient and effective as possible.
FAQs
It's quite simple, if the user finds your website helpful, the user experience is good and vice versa. It depends upon the quality of the content, the speed it takes to load your website, and the way the content has been organised among many other factors. To work on UX consistently, you need the assistance of a knowledgeable company like Zeal Digital.
Yes, the business needs to provide the best user experience constantly. It's important to work on the important elements of the website. If there's scope for improvement in content, it should be worked on as soon as possible.
It's very important, especially if you don't know how to operate a website. The company providing the SEO services can analyse if users are finding your website experience good or not. So contact Zeal Digital today to get started on improving user experience on your website!