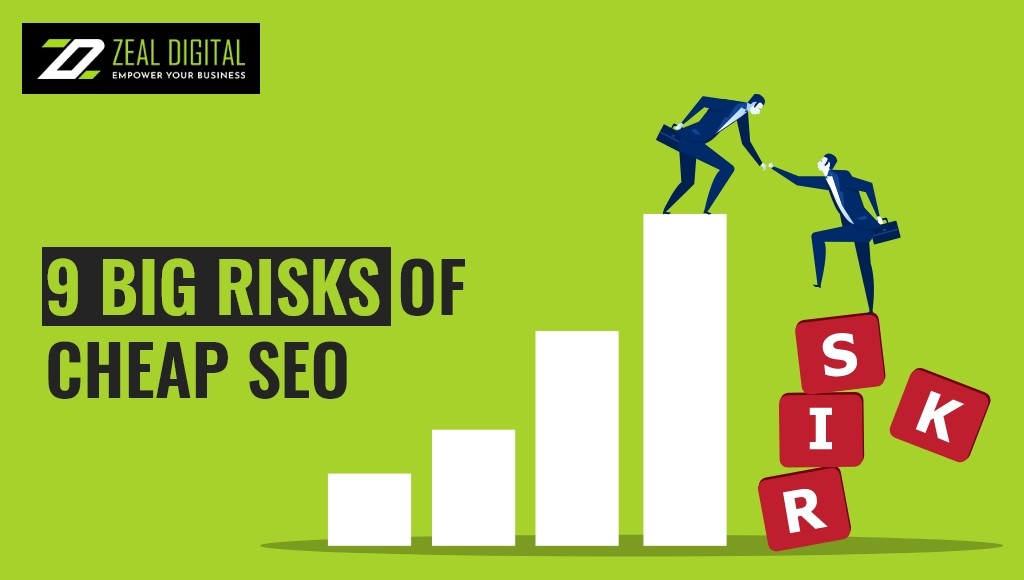 If you want to increase the reach of your website, you will have to optimise SEO. If you have just kicked off your business, you should promote it in every way possible. But if your budget doesn't allow you to spend highly on SEO services, you might look for a cheaper version. But you have to understand that there are significant risks involved with cheap SEO. In the long run, you will have to spend heavily to recover from the losses caused by affordable SEO services. We will discuss 9 of these risks here below:
No Strategy And Plan
You should hire a new firm to get its SEO services for an economical price. More often than not, such an organisation needs to know how the SEO needs to be executed for the best interest of your website. There's a big risk of cheap SEO with no strategy or plan. The short-term tactics will only last for a while. If you want your website to have a large audience consistently, you need to hire an SEO specialist in Sydney like Zeal Digital to pull off the job. But if you go for an organisation with little experience, this problem will always persist.
No Transparency
Another big risk of cheap SEO is the need for more transparency here. The firm will only be frank with you when you get SEO for a lower price. They will do different things to optimise your SEO without letting you know about it. SEO is an integral part of increasing the popularity of your website. You would like to see how the job needs to be done. The lack of transparency can hurt your motives.
Poor Reporting
An SEO specialist will only optimise the search engine for the best of your website. It will also present reports about how it did what it did and the results it brought to the table. It clarifies how the firm did its job and how people perceive your website and company. A big risk of cheap SEO is that there needs to be better reporting here. The firm will barely report the things to you; even if they do, it would hardly call for an analysis.
Very Little Action
There are various ways of looking at cheap SEO services. From the outset, it might appear as a decision that can help you save a lot of money. But over time, you would realise a significant risk of cheap SEO in the form of minimal action. Every firm out there is trying its best to get its content promoted. If they take quality SEO services, they are bound to reach out to a larger audience. You need to catch up on customers due to cheap SEO. Is this minimal action worth it by any means? You want to go to every length to attract customers. The half-baked approach is going to lead you nowhere.
Goals Are Not Aligned Perfectly
Another big risk of cheap SEO is that it needs to be aligned with the goals of your services. It seems like a random attempt to improve your website's ranking on Google. But does it matter when the optimisation isn't in sync with the actual content? The SEO efforts should go hand in hand with your business efforts. That's possible only if you hire a quality SEO specialist in Sydney like Zeal Digital to do the job. When the goals are aligned perfectly with the SEO, the popularity of your website is bound to increase.
Risky Tactics
As we already discussed, a relatively new firm has a higher chance of providing you with cheap SEO services. It can do all kinds of immature activities that can bring your website under scrutiny. It can buy links from third-party services, create large-scale, low-quality content and engage in many other tactics that might be high risk and high reward. This is a big risk with cheap SEO that can turn things from bad to worse. Your website might be shut down entirely due to such actions, as copyright claims will come from all directions.
No Proper Communication
A firm that is an SEO specialist in Sydney would make it a habit to have proper conversations with its clients. It will try its best to know your goals and optimise the search engine in sync with them. That's possible only if in-depth communication is brought up on a routine basis. A considerable risk with cheap SEO is that the firm will only initiate a conversation with you. You need to have a great dynamic with the team providing you with SEO services. We at Zeal Digital are always willing to work with our clients to have a proper conversation.
Negative ROI
You might wish to use cheap SEO to drive maximum traffic to your website, increasing sales in the process. But a big risk with cheap SEO is that it can bring negative ROI to your business. So even if you have spent only a limited amount of money on the cause, it will lead to losses for your firm.
Cookie-Cutter Tactics
SEO is challenging. It's not just words and images that can make a difference. A big risk with cheap SEO is that it will resort to cookie-cutter tactics. It can never bring glory to your business. These are not professional means that can help your business reach growth!
Considering the risks involved with cheap SEO, you need to hire the best SEO specialist in Sydney to get the job done. You can hire us at Zeal Digital to perform the job effectively. When you employ us for the job, all these risks are eliminated automatically.
FAQs