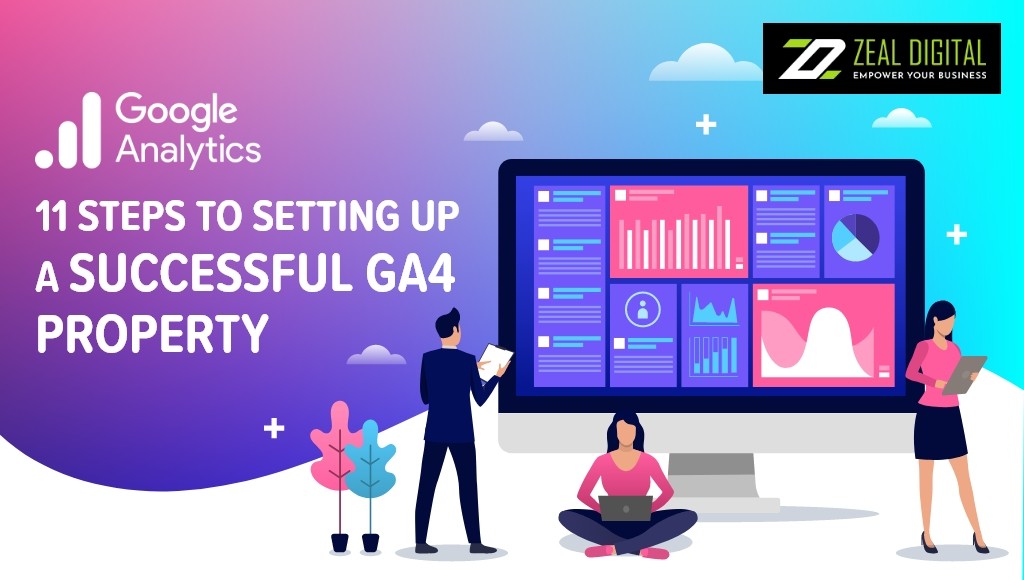 11 Steps To Setting Up A Successful GA4 Property
Google Analytics 4, as the name suggests, is an analytics service. If you need to understand your website's or app's dynamics better, this platform can help you out. It will collect event-based data from both websites and apps. If you want to understand the customer journey better, you can use this particular service. But first, you will have to set up a successful GA4 property. You will need to follow some steps carefully and get the assistance of an SEO company based in Sydney, like Zeal Digital. Let's discuss these steps in detail here:
Account Structure
The first thing to set up a successful GA4 property is to structure the accounts. First, you must understand critical parameters involved in the account, property and data streams. After that, you can build a suitable structure. Is it becoming confusing? Hire an SEO firm to make things more comfortable.
Setup Assistant
You will have to engage with the setup assistant in the next step. If you try to set things up manually, it will consume a lot of your time. We are sure you want to manage your time as efficiently as possible. Taking the help of a setup assistant will prove to be a good move. You will have to use specific automated tools to make the journey easier in setting up a successful GA4 property.
Adding The Google Tag
After that, you need to add the Google tag to your website. It will make the process of collecting data smoother. Since GA4 properties will work significantly differently from Universal Analytics, you should explore Google Tag. It will help you manage the data in a structured manner.
Link To Google Ads
In your journey of setting up a successful GA4 property, you will also have to link to Google Ads. If you have been using Universal Analytics till now, you need to extract the links and import them to GA4. Once that's done, you can use the GA4 property to earn revenues through Google Ads. Google Analytics 4 makes it comfortable to integrate Google Ads into it for the betterment of your business.
Mapping Custom Events
Did you map certain events while using Universal Analytics for your business? It is about time you map these events to GA4. These events will help your business in completing your measurement. There's a broader scope on Google Analytics 4 for custom events. With the help of a quality SEO company in the Sydney area, you can automatically collect almost a dozen occasions. This means that you can measure the user interaction with your website natively.
Goals & Conversions
Goals & conversions help you understand how your website is performing amongst users. If you're setting up a successful GA4 property, you will have to import goals & conversions from Universal Analytics. You should immediately import such data, as it helps you understand how customers act on your website or application. It will also unlock key marketing features, such as understanding which campaigns deliver the best results for your business.
Enhance Bid Optimization
Bidding will also be crucial in setting up a successful GA4 property. Once you have imported conversions to the GA4 property, the ad campaign will flourish. You will have to validate and bid on GA4 conversions in Google Ads to enhance bid optimisation. With the help of an SEO expert, you can discuss how far you would like to go with the bid optimisation.
Building Relevant Audiences
With the help of an SEO firm in your area, you can build relevant audiences on GA4. You can activate them whenever they are most valuable to your business. You can express all kinds of ideas through the simple and intuitive user interface of GA4. The audience system on GA4 is really powerful too. This is what matters at the end of the day. You need to focus on the audiences that will help your business achieve maximum profits.
E-Commerce
Your business needs the most helpful E-commerce reporting to understand how your business is performing online. While setting up a successful GA4 property, you must also pay attention to setting up e-commerce. By following efficient data collection practices, businesses may get rich out-of-the-box insights on their services. You need to look into various details while getting Ecommerce reporting. So you should hire quality professional services like Zeal Digital to do the job.
Copying Users
You must copy users from the Universal Analytics property to the GA4 property. It might take some time to do things manually so you can use an automated tool for this objective. You need to have strict control over sensitive financial information here. The settings in GA4 will allow your business to control access to cost and revenue data on a user-by-user basis.
Conduct Reports & Analysis
Now that you have followed all the previous steps sincerely, the last thing in setting up a successful GA4 property would be to conduct reports & analysis. As we have told you, GA4 has a more extensive scope in customisations. So you can customise reports & studies in brand-new ways to get the best results. When you have an SEO expert, things will appear effortless. It will all come together when you explore the best ways to conduct reports & analyses!
We at Zeal Digital are the safest SEO in Sydney. We will set up a successful GA4 property for your business by considering all the essential considerations. You have to hire the best professional services as this task involves a lot of complexity. Therefore, you should choose something other than selecting a firm that provides cheap SEO services in your area.
FAQs