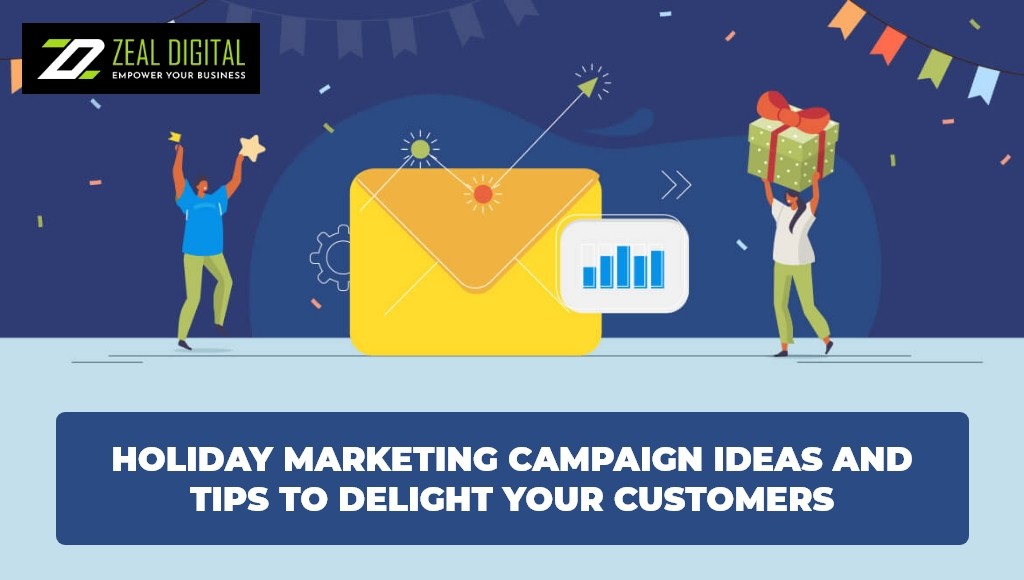 Holiday Marketing Campaign Ideas and Tips to Delight Your Customers
The holiday must be the busiest time for all kinds of business houses. People would demand it extensively during the holiday if you're into the merchandise business. If you have a tourism firm or hotel, people would like to book a slot with you during the holiday period. In short, a company is most relevant when holidays arrive. If you want your business to grow and gain excellent profits, you must develop the best holiday marketing campaign ideas. There's no doubt that there are plenty of scopes for your business to flourish during this period. But you also have to understand that the competition is stiff. Another business house out there might be ahead of you in gaining customers during this period if you need some holiday marketing campaign ideas.
You need professional assistance to make the best marketing strategies during the holiday period. With the help of a digital marketing company like Zeal Digital, you will have a better chance to create quality strategies. Here are some ideas that can help you in your campaign:
Audit Previous Campaigns
If you've been running a business for a long time, we are sure that you must have worked on a holiday marketing campaign idea before. You need to go back to that campaign and see how it worked out for you. If it did okay, you don't need to bring a change as it would be safe to use the same campaign strategy again. But if it could have been better, you would have been required to work with the digital marketing agency to get things right. Auditing your previous campaigns should be one of the first things that come to your mind.
Be Prepared For More Competition
So you need to tighten your holiday marketing campaign ideas further. So you need to tighten your holiday marketing campaign ideas. It's about finding ways to make your campaign even more solid. If you have an excellent digital marketing agency.
Better Reaction And Adaptation
If you're going to run slow, time will fly by, and there won't be anything you can do about it. The holiday period is not going to last forever. It's about a couple of weeks when people are interested in doing all kinds of things. You must prepare well and have the most quality holiday marketing campaign ideas. But that's not it. You need to show better reflexes as well. If the ideas are not working during the holiday period, you must devise a different plan quickly. It is about adapting to the situation and doing something before the damage is done.
Know Your Audience
Before you come up with a holiday marketing campaign idea, you need to understand your audience. If you're into merchandise, you need to understand what people desire to wear at that particular point in time. Is your target audience youth or all kinds of ages? Do you want to make the goods available at a specific price? These are all some key questions that you need to find an answer to before things get too late. It is about knowing your audience before creating an efficient strategy to attract them to your services.
Focus On Content-Driven Approach
How do you effectively work on a holiday marketing campaign idea? An essential thing you can do is focus on a content-driven approach. It is the same formula that you have been using for ages. With the help of a digital marketing company like Zeal Digital, you need to know those specific words that will attract a larger audience. You need to focus on optimised content to help drive organic traffic to your website as customers search for the products you sell. So even if you don't have a significant brand value in the marketplace, optimised content can help you reach a larger audience.
Consider An Influencer Strategy
Social media will become an essential part of the success of your holiday marketing campaign. Some business houses might focus on something other than using social media platforms for the best of their interest. This will be a terrible move and leave you behind the rest of the competition. The first step in the campaign should be through social media platforms. You need to use Facebook, Instagram, Twitter, TikTok and sometimes even LinkedIn for brand attraction during the holidays. It will be an effective holiday marketing campaign that involves little cost.
No False Urgency
You have to avoid clickbait. You want your business to have a long life. That's the last thing you want to do. You need to give a real reason people should choose your services. You can think about all holiday marketing ideas, but each should be within your ethical values. Other business houses are going to offer some fantastic offers too.
If you need the help of a digital marketing company in Sydney, you should hire us at Zeal Digital without a second thought!
FAQs