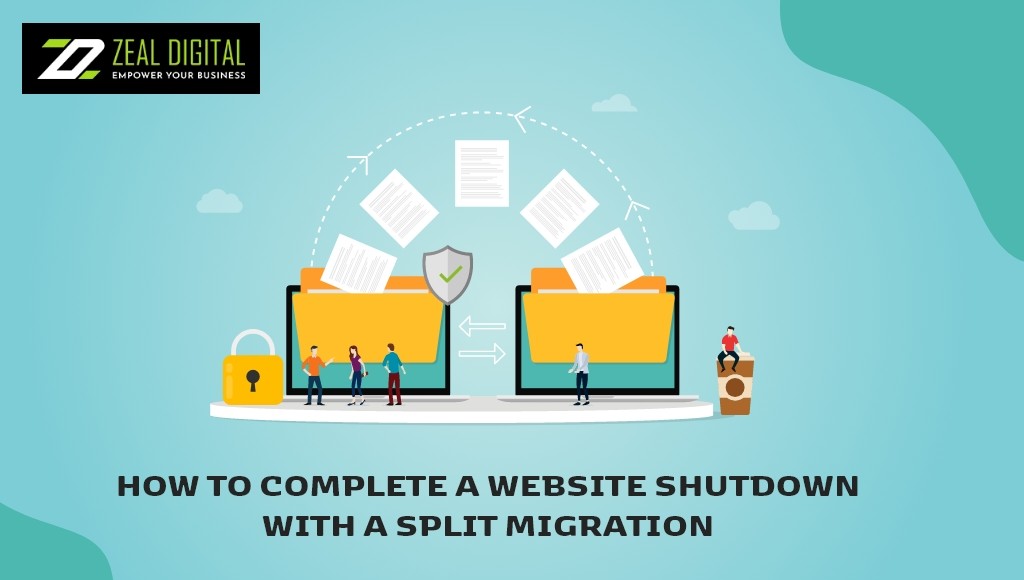 How To Complete A Website Shut Down With A Split Migration
Do you want to shut down your website? It might seem like a straightforward process. But you will have to address so many layers to it. It will become a tougher pill to swallow if you need to shut it down along with redirects. The split migration is a complex thing to remove altogether. In case you don't know already, split migration can be described as a detailed, procedural process that often involves changing the domain and URLs, redesigning or re-platforming. Even if the website you're running is small, a website shutdown with a split migration will be tedious.
But if you have a website design company like Zeal Digital, you can conduct the operations smoothly. We will discuss how the shutdown process can be completed neatly here:
Discover
The first thing you can do while working on a website shutdown with a split margin is focus on discovering things. It can be challenging to know about your website's existing pages. It will become even more challenging if you want to remove multiple sites at once. You need to identify all the indexable pages on your website. Pull the data from Google Analytics and Google Search Console as well. Do save your configuration file so that your results match up when you check things for the final time upon going live. This step is going to consume a lot of time. This is the basis for getting the job done without any trouble. So you have to hire a website design company to do the job at all costs. Since these are professional beings that have conducted the same position in the past, they would know precisely what to discover so that you can move on to the setup.
Set-Up
Once you have collected all the URLs, you must work on the set-up phase. In this particular step, you need to consider various aspects. So be sure about getting things properly if you want to avoid facing trouble with website shutdown with a split margin later on. You must clean up the list to exclude URL parameters or duplicates. You will also be required to identify the owners of the page. You also have to address the priority of the page. Lastly, you need to look at the status code of the page. Suppose any of your products belonged to Source and Destination websites. In such a case, the final redirect should be to the Destination URL and the same page. Filling up a destination properly becomes inevitable here.
Testing
Now that you have set up the entire thing, it is time to conduct testing. Most of the time, you will have to conduct this testing temporarily. This may or may not have a setup of your actual Source URLs. You have got multiple choices here. Either you can replace your source URLs temporarily or use a duplicate of the file. If this seems too big a deal to crack on your own, you can always take the help of a website design company like Zeal Digital. There are a few things to be kept in mind while doing the testing. You will be required to use the same configuration you used during discovery. Updating the ScreamingFrog export in the SF-Internal ALL sheet will adjust the data in the URLs sheet. It will also show you the data with a failed destination URL. Be careful in going about things during this process of website shutdown with a split margin.
The Issues During Migration
Looking at the three significant aspects discussed above, you can close your website with a split margin without any trouble. But more often than not, issues are going to arise during migration. We tell you to take the help of a website design company because the migration process is very tricky. A single mistake can lead to 404 errors, images not loading or other issues. It is about learning the ins and outs of the website. Since it's impossible to get all the details on your own, taking our help at Zeal Digital will give you better results during the process of website shutdown with a split margin. It takes a lot of time to work with large teams and learn who the owner of each page is and how to manage them. So if something has gone wrong in the migration, you must come full circle again.
Working On Split Migration Template
Lastly, with the help of a website design company, you need to work on a split migration template. You shouldn't request access to someone else's template. You should instead focus on making a template of your own. You should improve the template over time too. Just take your time here. In the long run, it is only going to bring you problems. When you have a company like Zeal Digital to serve its services, the work on split migration templates will be done efficiently. That's how you will make the website shut down with a split margin even more successful.
Migration of content can be complex. You can perform a website shutdown with a split margin if you hire a website design company in Sydney. You need to call us.
FAQs