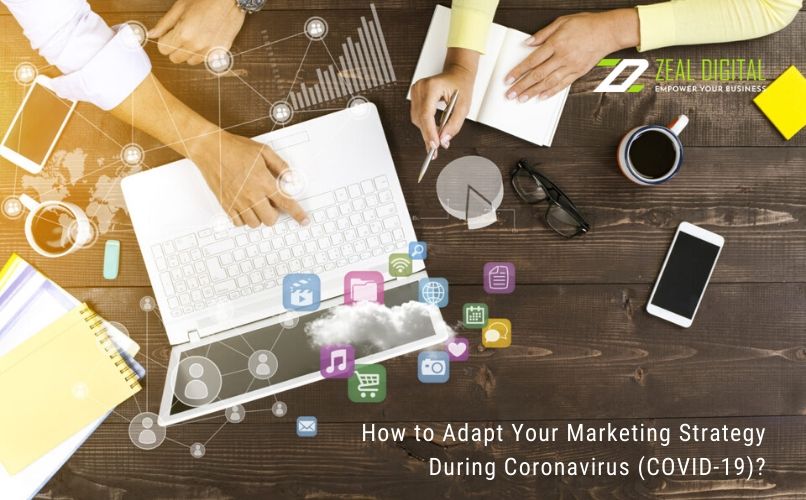 How to Adapt Your Marketing Strategy During Coronavirus (COVID-19)?
COVID-19 has turned our world upside down. It has influenced all aspects of life, from health and work to lifestyle and art. Most people in infected countries have remained and will continue to stay and work from home, and many offline stores have been temporarily closed.
But how can businesses adapt their marketing during this Coronavirus (COVID-19) time?  This is not a new issue for marketers. Still, it needs to be looked at in a new way, in the context of the surrounding pandemic. It may be easier for companies that produce essential goods for quarantine as well as retailers of consumer gifts, with the option of delivering to family and friends to help them stay in touch. Similarly businesses related to education delivery and organisational consultants are those that will prosper as people are looking for tips and inspiration during this challenging time.
The concept of benefit is different for every advertiser. As in any situation, there is no universal solution. However, advertisers will be able to determine their unique value and rely on it in their messages and communications. These will be tailored to the needs of their clients. How do you adapt to your marketing during COVID-19 while remaining as compassionate as possible?
Customise your messages to meet your immediate needs.
Given that the status around COVID-19 is constantly changing, most consumers are trying to live for today. You may launch campaigns, so as not to lose the share of user attention. 
No matter which strategy you use, it is vitally important to demonstrate leadership and take care of customers, by focusing on what matters to them. Interacting with the right users with the right message at the right time has never been more critical. You have the opportunity to deliver their messages focusing on their consumers.
Try to anticipate all operating costs.
During this crisis, numerous problems arise with the delivery of goods and services. Closed enterprises and disrupted supply chains create a supply shortage on the part of the business, and customers, on the contrary, create growing demand. In such circumstances, an online store should change its advertising messages to reflect the real situation while conveying brand values. How can this be achieved?
Manage your promises. Set realistic expectations for service levels, delivery times, availability, etc. Think about how you'll build advertising campaigns for products you're not completely sure of the production and delivery options. Evaluate your current customer service policy and consider rational changes. For example, allow cancellations and returns, or extend your payment deadlines.
Create additional customer service capabilities. Take the initiative in the messages that you send to customers by mail, in social networks, and on the Internet; let them contain answers to consumer questions. Create quick-response scenarios to help your support team resolve one-on-one issues with customers. Teach more experienced team members to delegate their work and help manage customer service demand.
Accelerate use of digital technology. Promote apps and other mobile tools and services. Expand opportunities for online transactions and the use of digital technology. Be innovative when it comes to getting your product online.
Optimise your advertising budget. All organisational functions will now be reduced to determining priority expenses. Try to avoid ubiquitous contractions. Instead, look for ways to increase efficiency. Try to reduce or defer obligations that are not effective in the current state of affairs.
Develop a marketing strategy for different scenarios
Consider a range of contingencies that cover the best, the worst, and moderate scenarios or hire a digital marketing agency in Sydney that can develop the best strategy in a crisis and develop an action plan for each of them.
Marketing cannot rely on a script approved at the highest corporate level. You need to think in terms of branding and exposure. It is essential to analyse the specific problems that customers, the brand, and marketing agencies may face in all possible scenarios, and develop your action plan.
Adopt a marketing plan
The next 3-6 months will bring a lot of social changes, which, of course, will affect marketing planning. Use your scenarios to predict the best, worst, and moderate developments to anticipate possible and likely changes and take alternative actions. What is the scope of work?
Create engaging content. Over the next few months, more and more people will spend time at home. To support your audience, make your content more encouraging and inspiring. Now is the time to help your customers escape from problems through virtual reality.
Create your media plan in advance. Being in the same boat with the media, you will be able to compensate for the lost potential. Hurry to take your place and negotiate with the media and publishers before you are forced out of the race.
COVID-19 is a serious shock to our global systems, and it has forced all marketers, large and small, to take a step back to review their strategies and quickly deploy plans to adapt to new standards of social distance for consumers. Although some aspects of their strategies may change, marketers should continue to focus on their customers, paying particular attention to the needs of consumers associated with coronavirus.