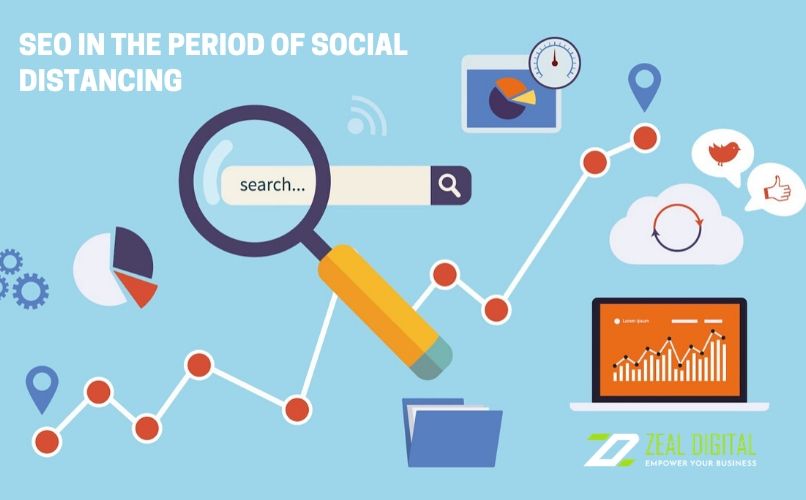 SEO in the Period of Social Distancing
In this period of lockdown due to COVID-19, businesses in most industries have paused or at least slowed down. However, what we need to understand is that despite the fact everything is under lockdown, a business can take this time to focus on building or improving their SEO (Search Engine Optimisation) as having a strong online presence is the only way to be found by your potential customers. 
This lockdown is probably one of the best times to focus on SEO, create more engaging content, make your website more user friendly because, during these days, people are spending most of their time online. If you think that it is better to even put your SEO activities on hold, then you should also be prepared for the situation where you lose your entire customer base once everything gets back to normal. In today's blog we will highlight various reasons why one should focus on SEO during this period of social distancing. 
Here's why you should invest in SEO at the time of the lockdown
You will be able to maintain your website
The first important reason why you should invest in their business' SEO is that you can keep your website updated. There is no hiding the fact that these days people are spending most of their time online. Therefore, if you have a user friendly website which is being updated from time to time, then your customers will develop more interest and will keep checking your website daily. By keeping your website updates all the time, people will be able to maintain constant contact with their potential clients and customers. 
However, on the other hand, if you do not take SEO seriously during this time, then there is a good chance that your website may lose its top ranking which will further lead to a distance between you and your customer base. 
You will be able to maintain your search result ranking 
We all must be aware that it is the SEO which helps to maintain a good ranking on various search engines. Therefore, it is very important to invest in SEO Agency in Sydney these days and also expand your online reach to more and more number of audiences. 
You should understand that in today's world almost everyone is online and they are just spending their time staying online. Therefore, if you want your website to appear in the top search results then this is probably the best time to invest in SEO. 
Invest in SEO for your website because you can't do any other work
During normal days, people hardly get time to spend on other than their core business activities. However, when you are unable to do anything because of the lockdown, then it's a great time to start planning a boost to your SEO strategies. You probably always wanted to do it but you never had the time to think about it before now. 
This is the best time to study more about digital marketing to expand your marketing strategies online as in the upcoming days; people will switch to online purchasing more as compared to offline. If you have a business, which does not have its online presence yet, then you should definitely use this time to do so.
It will help you build better customer relationships
We all can agree with the fact that customers are the blood and backbone for every business. Therefore, it is very important for every business to maintain excellent customer relations. We all know that during this lockdown period everyone has to stay indoors and SEO is one among few business-related marketing techniques which you can adopt while staying at home. 
Improve your brand awareness among people 
Did you know that boosting and focusing on SEO can actually help businesses to increase their brand awareness among customers? Readers should note that when you are able to spread brand awareness among people, you are indirectly building more trust and confidence in your customers. Therefore, make 100% use of this period of social distancing to increase your brand awareness so that your business can reach new heights. 
It is the right time to experiment with your SEO
Normally, we all are so much occupied with work that we rarely have any time to experiment with SEO. However, during this lockdown period, most of us have plenty of time to research into more new opportunities and the latest SEO trends which can help expand our businesses. 
The list of reasons why one should focus on SEO during the lockdown period is long and never-ending. In case, if you want to ask something very specific, then contact us to get more details.