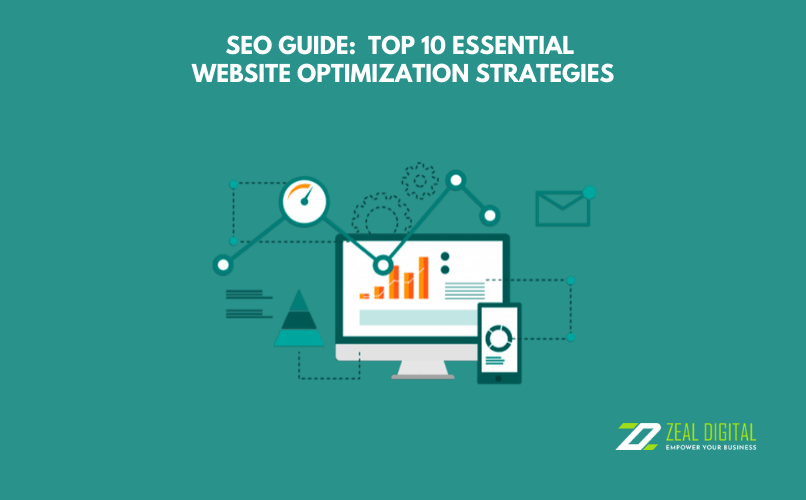 SEO Guide: Top 10 Essential Website Optimisation Strategies
Websites play an important role in shaping any brand. Everyone wants to have a properly SEO optimised website? It is through Search Engine optimisation that your website appears in search results. Today, we are here to guide our audience by explaining the top 10 essential website optimisation strategies so that they can ensure that their web site's ranking is maintained and is on the top of the results of every search engine. But before we begin, let us understand what SEO is and why is it important?
What is SEO?
By now, I suppose many people are already aware of what SEO is. SEO stands for Search Engine optimisation and it is a collective term for all the processes and things which are necessary to make sure that your website is visible at the top of search results. 
Why is SEO important?
What does one do to ensure that the building is strong enough to stand the war of time, natural disasters, etc? An architect makes sure that the building he is constructing should be damage proof and much more than that. Similarly, SEO also makes sure that the website functions properly, continues to bring traffic and manages to stay in the top search results for years to come. 
Top 10 best website optimisation strategies to follow-
Your website should contain relevant information 
The basic rule of the search engines to find out whether the website is properly optimised or not is by having a look at its relevance. To check the relevance, it is not necessary for the website at all to have complex, lengthy or detailed information. Rather, search engines make sure that whatever you post on your website is useful to your audience. 
Focus on your content
Content is the blood and bone of SEO,  and content marketing forms the basis of SEO. That is why we recommend people to hire professional and experienced writers, who have a deep understanding and knowledge of your product or service because it is necessary to supply your audience with detailed and informative content. If you are thinking that after posting the content once on your website, your work is done, then we want to stop you right here. This is because you should be aware that working on SEO means constant review and attention. People should focus on posting useful content on the website and various social media platforms as well. 
Focus on your user experience
If you want to improve the ranking of your website, then you should work to make your website a user-friendly experience because then only your target audience would prefer to visit your website and take interest in your products and services which you are selling. 
Check the loading speed of your web site
It is very important to make sure that your website loads fast. Over time, there are many new developments and guidelines to improve the experience, and speed is definitely an important facet. Not all the readers are aware of the fact that now Google also examines the website on the basis of its download speed. 
Check the compatibility of your website
You should always check the compatibility of your website with different devices which your potential audiences may use. For example, you have to make sure that the desktop and mobile view of your website is compatible and user friendly. 
Focus on the authenticity of your website 
It is very important that you should have an authentic website because it is very important to gain the trust of your customers. Now the question is how to focus on the same. Well, the answer to this question is that you can plan to add a review page form your customers, etc. 
Create proper and detailed Meta descriptions
SEO experts suggest that people should pay attention to creating proper and detailed Meta descriptions. The Meta description you post should use all relevant keywords so that your audience can relate to them. 
Create interactive titles
The next most effective and important SEO strategy is to create interactive and relevant titles. If you want to know how to create the best titles, then you can undertake training to find the best title tags or even hire an SEO professional to do this for you. 
Use interactive images
Images are known to have a lasting impact on the human mind. Therefore, you should keep in mind that you can use interactive and related images to support the information on your website. 
Keep a close tab on your page insights
If you want to adopt effective SEO strategies, then it is very necessary for you to have a deep and close understanding of your page insights so that you know what is working for you and what is not.