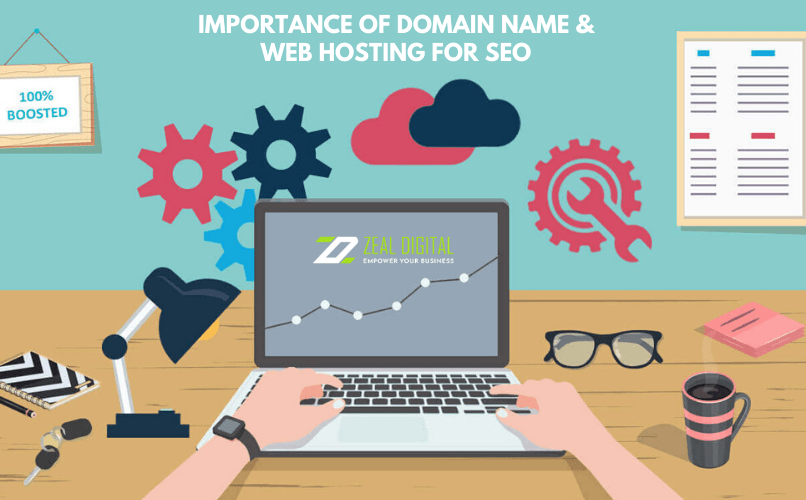 Importance of Domain Name & Web Hosting for SEO
It would be hard to believe to hear anyone say that they preferred their website was not SEO friendly. This is because; there is no hiding from the fact that it is SEO (search engine optimisation) which contributes to improving the rankings of your page and increasing the traffic on your website. However, we cannot say that effective SEO is simply a matter of passing a magic wand over the website.
In truth, it is a time consuming and highly researched skill to ensure that a website is property optimised for search engines. There are many small and big components which together help in creating a website such as domain name, web hosting, keyword research, quality content and so much more. 
As an audience, you must have read frequent articles and blogs about the importance of keywords and content quality for SEO Strategies. But today, we are here to discuss the importance of domain name and web hosting for SEO because they also play a major role in finally bringing the website online. 
What is a domain name?
It can be said that a domain name is often associated with an example of naming a land or a plot. In simpler words, people who want to have their own website need to purchase a domain name online. We can also say that domain names can be labelled as the real estate of the internet. It is the domain name which is also responsible for branding your business by having a website address that clearly identifies your business. In simplest terms, the domain name is the address, the URL.
What is web hosting?
Now that you have understood what a domain name is, let us also tell you what is web hosting via a simple example. Suppose if you have directed a movie, now where will you go for the screening of that movie? The answer to this question is obvious that you would go to the theatre for the screening of your movie. Now consider your website the film which you have made and the theatre a web hosting service which will give a particular space to your on the internet by which the audience can watch it.  
We now hope that our readers must be fully clear about the meaning of a domain name and the web hosting service. Let us now focus on the importance of having a domain name and web hosting service. 
Importance of domain name and web hosting for the SEO of your website-
A domain name gives relevance to your website
It is through the domain name that the audience will become aware of what your website is all about. When purchasing a domain name people prefer to pick a name which matches their keywords and the content of the website. This can be understood better by the given example. 
For example, you want a website for your beauty and bridal makeup services, and then the suitable domain name for the same would be something like www. Makeupbridal.com. This is done so that whenever a target audience types any keyword related to makeup or beauty services, your website is visible in the top search results. 
A domain name helps people remember your website
Imagine that you meet a person who does not have a name. It makes it difficult to remember them. Similarly, it is difficult to remember a website without its domain name. One should always prefer to pick a name which is short, simple and easy to remember. 
Web hosting helps to boost your ranking
Not many people are aware of the fact that web hosting plays a pivotal role in boosting and improving the ranking of your website. If there is no web hosting, then where would the target audience be able to see your website. 
Web hosting can provide security 
Yes, you have read it absolutely right, it is the web hosting service only which protects the website from the different types of malware and hacking attacks. Readers should always remember that if web hosting is strong, then the security of the website would also be strong. 
It allows having website backup for free
There are times when due to negligence or accident, people lose their websites. However, if proper web hosting is in place, you will always have access to the free backup of the website. 
24/7 support from the experts
Last but definitely not the least, what if we tell you that having a web hosting service will give you proper support and assistance from the experts. There are times when people face challenges or issues with their domain names or any other things and at that time they can freely contact the customer support of their web hosting service. 
Now that you are fully aware of the importance of domain name and web hosting service, what are you waiting for? Get in touch with your nearest professional for more details.