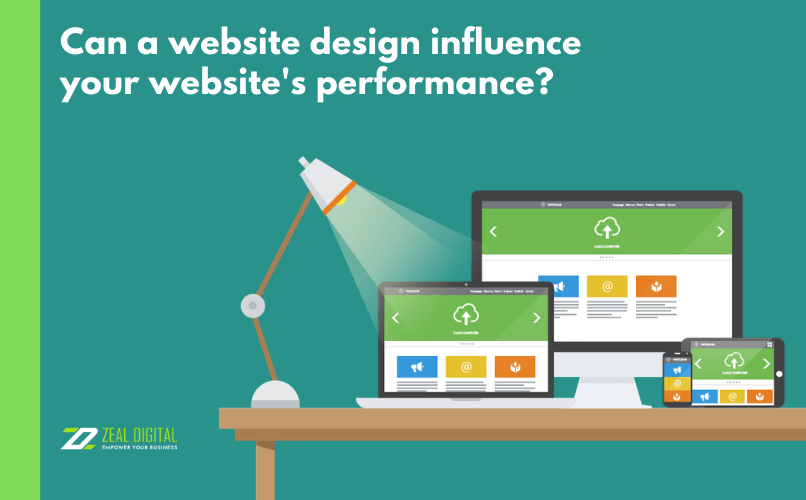 Can website design influence your website's performance?
What is website design?

Website design is one of the most important parts of any website. In simple words, website design is how a website is curated to present content in a pleasantly organised, interactive, and informative matter. Website designers work tirelessly to make content engaging with special techniques that optimise loading speed, keywords, and readability with a layout that is attractive and easy to scan. In today's date, one has to pay extra attention as well to how a website is presented on their mobile phones with how many people use devices other than the usual desktop or PC to browse. An attractive layout on a desktop can be hard to navigate and unappealing on a phone or tablet. 
The reason why web design experts say website design is especially important is because the user experience of a website largely depends on its design. This also impacts how the website gets its leads and business. 
What happens if you have a poor website design?
People are always talking about the importance of good website design. However, we felt that people should also know what will happen if your website will have a poor design. Bad website design compromises the credibility of your brand or business; you may seem out of touch, unprofessional or someone browsing your site may simply get bored or not be able to find what they're looking for on your website. 
And instead of doing business with you, they can easily decide to go to a competitor that delivers them a better online experience. Remember, you want to make your customers feel welcome at your website; the way you would wish for them to feel as if they were physically entering your place of business. 
How can a good website design influence the website's performance?
Now that you know how bad website design can actually push customers away from your business, read the information stated below to find out how a good website design can positively influence the performance of your website. 
Let's get started!
Good website design helps to improve the appearance of your website
In today's date, every business whether big or small has a website and if you want to make sure you excel in your business you have to make sure that: 1. You have a website, and 2. Your website performs well. Furthermore, the way your website performs largely depends on its design. The better the appearance of the website, the more customers will be interested to visit and look through the products and services you offer. So, if you want to improve the relationship you have with your customers and attract new sales, then you need a website with a captivating design. More people will want to stay on and browse through your website, gaining you more profits. 
Proper website design can reflect your professionalism 
In today's age, when time is as valuable as money, no one is going to waste their valuable time browsing through a website that does not appear professional and tidy to them. So, you want to make sure that your website reflects your professionalism from the moment they click. The best way to do that is to invest in your website's design. We always recommend that you hire experienced website design professionals who know what will make you look professional online.
The user experience of the website depends on website design 
If you want your business to succeed, then you must make sure that your potential customers have a good user experience on your website. When your website is organised and engaging, through proper website design, then not only will you have a good loading speed that is essential to keep browsing customers, but it will have easily found relevant information. These components (and more) help you improve the experience of your users. If the user has a good experience of a website, the more likely they are to stay interested and purchase your products and services. 
The loading time of the website depends on website design 
Having a good website design means that the images used on your website are optimised, appropriate and smart use of white space is made, and there is no auto-play media on the website, etc. If the website design is proper and according to the best industry standards, then the loading time of the website will always be quick -this means you have a good website. After all, short attentions seldom like to wait. 
Good website design promotes proper conversion rates
The performance of the website largely depends upon the conversions and if one wants to have an excellent conversion rate then proper website design is needed. Therefore, now you know why website design is needed for good conversion rates & for good ranking. 
All the above-mentioned points clearly state that the performance of the website largely depends upon the website design. 
Bonus advice 
Before we wrap up about good website design, we want to advise readers that they should hire the experts in web designing for their website if they want to see their business really flourish. If you still think hiring professionals for website design is a waste of money, then you should know that this is really a small investment you are making to fetch greater returns through your business in the future. Keep reading Zeal Digital blogs for more useful information about SEO, Web Design, and Digital Marketing, as well as tips to make your business grow.