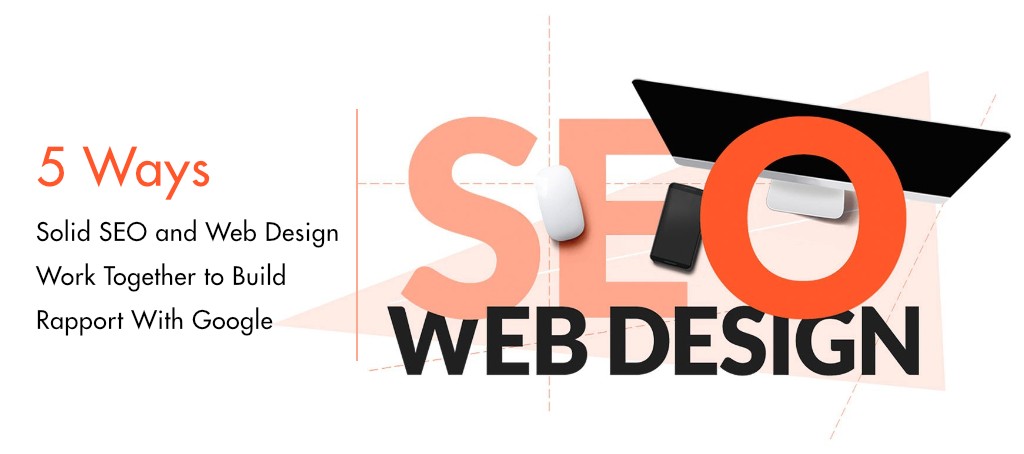 5 Ways SEO and Web Design Work Together to Increase Google Rankings
Do you want more web traffic? Well your answer is most definitely a big YES!

A well-designed and SEO optimized site draws more traffic as compared to other websites. 
Here are 5 easy techniques to rank your website higher on Google rankings – 
Make Your Website More Mobile-Friendly
Google indexing mobile site for maximum traffic – As per estimation, maximum traffic comes from around 70% smartphone users. The mobile internet revolution motivated Google to roll out the mobile-first program.  
Mobile version optimization – While designing your website for the mobile version, you need to figure out every element very carefully – images, text, links and proportion. All these elements together help in better optimization and Google rankings. 
A User-friendly Site Conforms to a Google-Friendly Site
Loss of leads if website is not user-friendly – You can lose leads. This situation arouses when a visitor comes to your site but fails to find relevant or for what they come. Google refers to its bouncing rate – the number of visitors who enters the site but leaves rather than continuing further pages.
Generate more leads – You need to design your site very precisely. The design itself should help the user to find what they were looking for. Keep your site very simple to understand and relevant. 
Users Love Fast-Loading Pages 
Simple and fast loading website – Website having high loading times result in lead generation, users don't want to spend time on waiting for a heavy website to load. A website with a simple design is more attractive for users while browsing the internet. A simple design will have a faster loading page resulting in more traffic.
Some measures to make indexing high – Optimize the code, strip the JavaScript code, use compressed images, etc.
Ensure the quality of your SEO content – Good content can assist in getting more leads to your site. If your site does not reflect good quality or well-written content then your site's Google ranking may degrade resulting in less traffic.
Make your content relevant & SEO optimized– If you want more traffic on your website then you need to create not only good quality and relevant content but ensure the use of SEO optimized keywords. 
Decide on the structure – Before designing a web site, you need to map out your site in terms of structure and pathways. If your site is not mapped out or structured according to a user-friendly site journey. A series of well-planned internal links results in a well-mapped web site, which is both easy to understand and navigate for the user. 
Main elements to map out – Use the combination of the best quality content, SEO keywords, relevant content and tags, and well internal links for a better user experience.

A thoughtful combination of SEO optimized content and keywords along with well-structured web design can help increase your website's traffic and Google rankings.