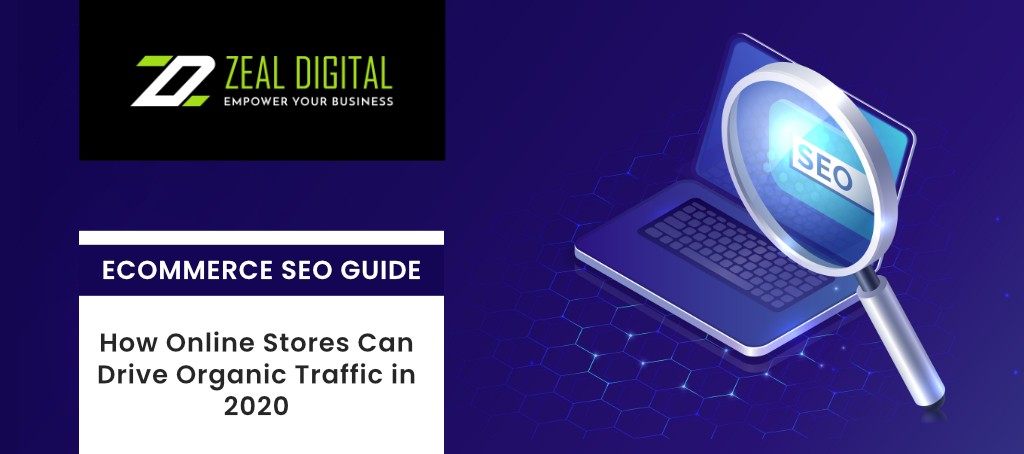 Ecommerce SEO Guide: How Online Stores Can Drive Organic Traffic in 2020
The e-commerce industry has become one of the most profitable sectors in the world today. Not only has the e-commerce industry it made it easier for sellers to sell products, but it also helped customers in many ways. Overall, e-commerce and shopping online have crushed the concept of retail shopping. Since online shopping has shown enormous potential, retailers are now shifting their businesses to the digital platform. 
Shifting to digital selling is indeed profitable but it takes time to acquire the customer base. You cannot expect to beat all records from day 1. You need to bring in traffic to your e-commerce platform and then only you will be able to achieve the phenomenal sales figure. But how do you get that customer base? In this post, we will discuss a few methods in which you can improve your e-commerce platform ranking on search engines. 
How to improve your ecommerce website traffic?
In order to maximize the traffic drive to your ecommerce website, you need to know about a few SEO tips that we will discuss. To get the desired result, it will take time; therefore, you need to keep your patience in place.
SEO is one of the ways in which you can increase the number of visitors to your website. This is possible only when your website comes in the first few pages of your search engine. Hence, to improve your rank in the search engine, you need to understand the algorithms implemented by the search engine, which determines your website ranking position. An SEO company helps your website to meet those algorithm parameters and hence it boosts your website rank organically.
Before we start telling you about the SEO tips which can help your website achieve more traffic, here are a few facts which might astonish you!
93% of online actions are executed after searching them in search engines

Search engines are responsible for attracting more than 39% of traffic for e-commerce platforms.

80% of users ignore ads that pop up on various platforms. Therefore, the conversion rate of search engine ranking is more practical and viable. 

58% of any search comes through a mobile device

50% of online search have become voice searches in 2020 (Something which you should implement in your ecommerce website.
SEO Tips for improving online traffic for ecommerce platforms
Speed of the website
The speed at which your online shopping platform loads, is one of the most crucial things that determine your website ranking in the search engines. We are living in a generation where 4g and 5g networks are dominating the market. And in this era, if your website takes ages to load then definitely, customers will not want to surf and explore it further. Slow speed will surely cost your business many customers. In a recent study, it has shown that 40% of people leave a website if it does not load in 5 seconds. 
So, to improve your website ranking, an SEO company will help you to opt for domains and servers which will help your website to load faster. Also, use high compression for images and reduce HTTP requests.
Unique content
Unique and great content adds a touch of class and value to your online platform. Content here refers to your website content, blogs, press releases, and product description. Now you may be wondering why your website ranking is still low, although you're writing quality and engaging content for your newsletter and email marketing purposes. Google or any other search engine only takes the content available on your website into account. Therefore, make sure that all your content posted onto your website is engaging and follows the SEO readability parameters.
Include keywords, write in short sentences, and use active voice; these are few things that can help you to improve your content and meet the SEO parameters. Always include a call to action tone to enhance your content.
Apart from this, make sure that each and every page of your website has meta descriptions within the prescribed characters. Overall, content is the backbone of SEO and quality content has the power to improve your search engine ranking as well. 
Voice search
Its 2020, and voice search has already started dominating SEO. Make sure that your website and content are voice-search optimized. As mentioned earlier, 50% of users now use voice search in order to find what they are looking for. So, if your website or content is not voice search optimized, then your website won't even show during a session of voice search. You can take the help of SEO services Sydney to know more about voice search.
Link building
For SEO to function most effectively, make sure that your website has a bunch of quality backlinks. Backlinks increase the credibility of your website and hence your SEO ranking improves along with this. The more backlinks you have to your products and blogs, the better ranking you will be able to achieve. Make sure that you write quality content and post it on reputed blogging sites [backlink those blogs to your website]. Also, allow other people to write on your website, this improves your credibility.
Right keywords
Last but not the least, make sure that you choose the right keywords to get your website ranking booming. An SEO company must conduct a proper keyword research to understand what your target audience is looking for. Once you have a proper set of keywords, make sure to incorporate those in your website. If proper keywords are used, you will see phenomenal results in terms of website ranking.
Here are a few ways in which you can improve the SEO ranking of your website and gain more traffic. To know more, you can contact companies that provide SEO services in Sydney.