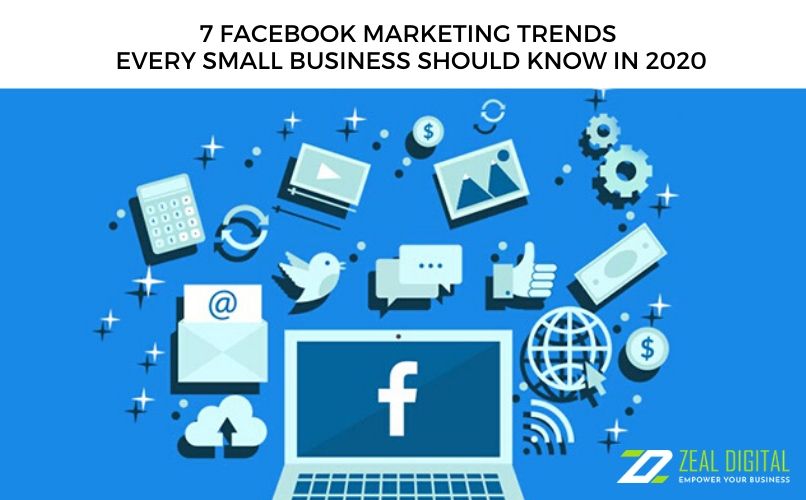 7 Facebook Marketing Trends Every Small Business Should Know in 2020
The corporate world is heavily dominated and influenced by social media. This is primarily because more than 2.9 billion people on a global scale actively use social media on a daily basis. The sheer volume of masses that social media attracts is a good enough reason for businesses to take part in social media marketing.
The implementation of social media marketing is even more critical for small and medium businesses as these firms only have limited finances to work with. Due to budget constraints and confined opportunities, it becomes essential to use the opportunities presented on social media platforms. Facebook is one of the most recognized social media platforms which attracts more than 60% out of the 2.9 billion population of online users. Being able to grab the attention of this sample set of the audience can help a small business to reach the very pinnacle of the corporate sphere. Following are 7 Facebook marketing trends that every small business should know about in 2020: 
Customer Relationship Management with Chatbot Marketing

: Most of the common people around the world seek immediate attention from brands when they have any relevant query about the company services. It is not possible for small businesses to address such queries of the concerned customer instantly. This is where the features of a Chatbot can be most effectively utilized. Activating Chatbot options on Facebook will help you to maintain a direct relationship with your customers. Simultaneously, the communication gap between the final customer and the service provider is bridged to some extent. The application of Chatbots is a creative interactive solution which most of the small businesses are relying upon in 2020.
Personal Touch

: Facebook is a global platform that attracts millions of people. However, every small business should look to incorporate a sense of personal touch to their

social media marketing

strategies across all platforms. Generic messages to bulk audiences will not generate favorable results. However, by dedicating a small amount of your time, the chances of converting potential customers to long term clients can be amplified by adding a personal touch to your messages. It is estimated that 80% of customers prefer to collaborate with companies that practice personalized marketing. 
Video Marketing

: The concept of video marketing has gained a lot of popularity on social media platforms. This is primarily because videos have a significant ability to grab the attention of the customer compared to other forms of marketing. It is an engaging and interactive technique that has paid dividends for millions of manufacturers and retailers. More than 72% of businesses have benefited directly from relying on video marketing. Video marketing is a

social media marketing strategy that every small business 'must have' incorporate to get favorable results. 
Upload Stories

: Being visible in front of the public is particularly important as it helps your brand to spread awareness about your products and services. It is a cost-effective technique that must be considered by every small business. Through this method, you can also engage in client involvement. Create an online challenge and ask your customers to upload stories with your product. The interactive format of

social media marketing

is a fantastic way to build brand awareness. Unconventional methods that involve customers must be adopted by corporate agencies. 
Influencer Assistance

: The concept of assigning larger than life celebrity figures as your company brand ambassador is outdated. People are bored of this form of advertisement. The internet-savvy general audience now looks up to different role models who are either social media influencer or content creators on such platforms. Sponsoring a video of a popular Facebook content creator will spread greater awareness of your product to the common people. With the support of a legitimate content creator or an influencer, people are likely to trust the suggestion of a familiar public figure.
Integration of E-Commerce and Social Media

: The prominence of E-Commerce platforms is on the rise as more and more people are opting to purchase commodities online. Integrating your Facebook page with a buy out option will help you to generate greater sales. Facebook has an efficient marketplace and also allows people to make the payment upon purchased that are being featured on the platform. The integration of social media with e-commerce is a lethal combination that will surely help you to maximize your profit margins. Buying and selling products have not only become easier for the retailers but the customers as well. People believe in the aspect of convenience and social media marketing fulfills that aspect to perfection.
User Content

: As already discussed, relying on user-generated content will build a sense of interest in the mind of your target audience. People like it when a brand takes into consideration their personal opinion and features their suggestion, picture, and preference on their social media page. Also awarding the audience with discounts and hampers for taking part in social media activities will allow your brand to shine brighter in the Facebook limelight.
These are some of the most trend strategies which every small business should look to incorporate on Facebook in 2020. Social media marketing possesses the power to skyrocket any business to the stratosphere of success. It gives your business the perfect platform where you can build your brand effectively. So be sure to seek assistance from marketing experts and plan out your social media strategies.