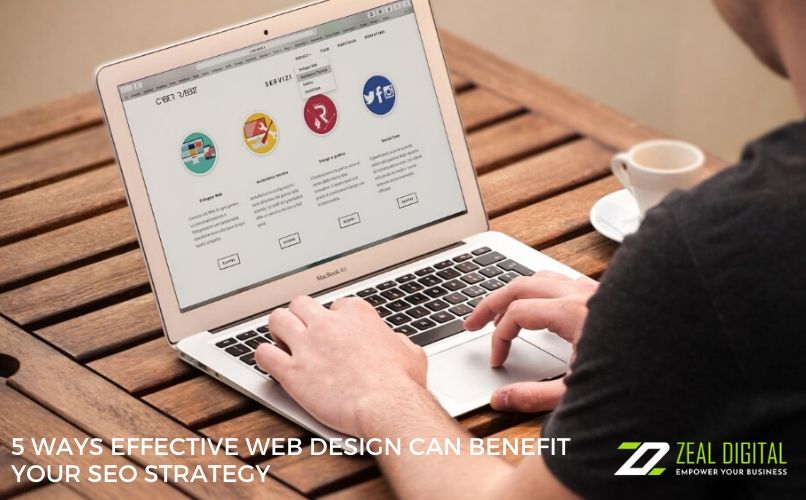 Top 5 ways of effective web design to benefit your SEO strategy
A website plays a significant role in any business to make themselves a household brand name. There are lots of websites registered on various search engines and Google handles over 65% of all the traffic of the world and beating its competitors like Bing, Yahoo. Google not only focuses on content, authenticity but gives major priority to a unique, simple, and user-friendly Web Design. We know it is not that easy to outline a User-friendly web design that appeals to every visitor on your website. It takes some vigorous efforts to design something unique which can grab a user attention in a click. Apart from that, if your website lags at some point then all that effort you had put into grabbing the right attention shatters away. Some of the predictable reasons can be your website causing trouble in the navigation or maybe the information presented there is hard to read.
Every user that comes online to search for their queries related to some services, products, or some major information. If somehow, any user comes to click on your website then it is a wonderful thing but what if they immediately clicked off? It doesn't only harm your interaction with your audience but harms your Website search engine optimization (SEO) as well. What does this lead to? It pings your bounce rate to the search engine providers. From there, the search engine gets the message that your web design is not up to scratch. At last, you get a poor ranking on search engine and less user rate and engagement on your website.
If your website has these kinds of symptoms, then do follow this post till the end. This post will teach you about 5 ways effective web design can benefit your SEO strategy. Let's start: 
One of the most important things to create a user-friendly Web design. Once you have aced it you can get high conversion rates from your website. After all, the purpose of any website on the internet is to provide an amazing experience to its users. Your website is just not there to provide services or sale for the products or services. The first impression creates a significant impact on the user's mind. And if they like surfing your website they will come back otherwise they will never return. For getting a user-friendly website there is an option to get in touch with a professional web design company in Sydney.
Helps in depletion of plagiarized content issues
It's amazing that you can get some of the features on the website which helps in depletion of plagiarized content issues. If you are uploading plagiarized(duplicate) contents, then this can harm your SEO strategy. To ensure this, you need to get a responsive web design company and ask them to in-build this feature into your website. The responsive design of your website can attract the users from desktop and mobile as well.
Get more traffic by mobile users
Do you know more than 80% of the population across the globe access the internet and surf on mobile devices? Yes, it is actually true and for this Google announced a strategy about mobile-first index approach in the month of July 2019. What is this strategy all about? It says that search engines will keep track of a user's experience on mobile rather than desktop.
So, make sure to get responsive website design. This will gain more users on mobile to your website. So, you can attract the right audience instantly. Responsive websites are known for providing easy access and a far better experience on mobile.
Access the web pages faster
The other update about the ranking factors is the speed of websites. Nowadays, this thing is getting more importance from Google's ranking perspective. Google wants to serve its visitors better to the people who are on the go and users coming over on a mobile device. Achieving this point means your users can get what they want quickly. You can use the latest built in technology called AMPs which is accelerated mobile pages. This is the technology which helps to access the page faster on the mobile device. Any of the web design companies in Sydney can provide this service for your website.
Ensuring all the above points will make your website appeal to the audience. This simply means that now your users can get an enjoyable experience on your website and stick to it. As one of the reasons for bounce rates is a not so impressive website design. Bounce rate occurs when any user enters your website page and then quickly exits it, this in turns effects the search results and search engines can penalize your website ranking.
It is true that Google tracks everything right from your location, to every click on its search engine. No doubt Google prioritizes your content but at the same time, it closely monitors you keeping an eye on your website design. These are some of the best and effective web design strategies which will surely benefit your SEO strategy for the long term.