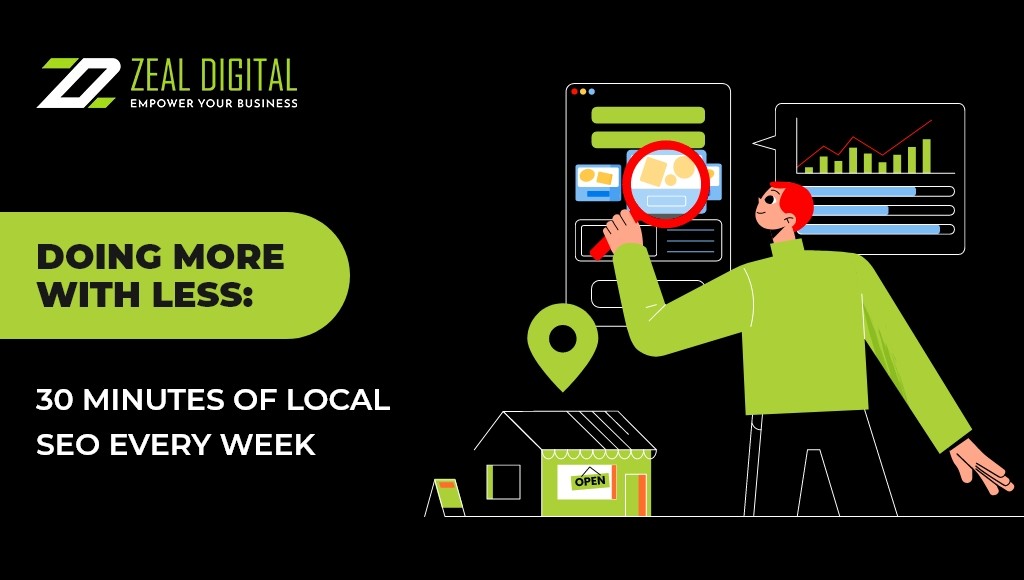 Doing More With Less: 30 Minutes Of Local SEO Every Week
Parramatta SEO Services are not hard to find; many companies are providing these services all over the area. But what if you want to do it yourself? Or maybe you want to offer your own inputs to the Parramatta SEO Services you hire.
You should be able to do more SEO work in 30 minutes a week than you could in three hours a day. But how? How to do more SEO work in a limited time?This way, you can promote your business with local SEO every week. To know this you need to first understand what is involved in successful local SEO tasks.
The solution is to do more on your own when it comes to local SEO every week and Parramatta SEO Services are aware of this and they can guide you to reach your goals.
What Is Local SEO?
Local SEO is an essential part of your digital marketing strategy, as it gives you an opportunity to create a strong brand image by getting noticed by people who are searching for your services or products. You can make use of local SEO every week with the help of a Parramatta SEO services team like ours at Zeal Digital.
Local SEO services are also one of the most time-consuming, which means that you need to do it wisely. When done properly, it's worth it because it helps you to reach out to new customers who are ready to buy your product or service.
Ways To Effectively Perform Local SEO Tasks Every Week Within 30 minutes
There are many ways that you can use local SEO every week. The good news is that you don't need a full-time team to get great results from local SEO. In fact, the most successful businesses are often those that focus on local search as their first priority, then expand into other channels.
Local SEO involves the process of optimising your website for local customers, so that your business listing is accurate and up-to-date, as well as having helpful content on your website.
Spend Less, Do More (Research)
It's a common misconception that the more time you spend on SEO, the better. It's true that if you have more time to devote to SEO, you can do more and get better results. But SEO isn't about spending more time on it — it's about doing less work in one week than you could do in one month.
To achieve this goal, you need to start small by looking at the way your competitors are doing things and seeing how they've been able to reach their goals so quickly. You could also look at some of the best practices used by other companies and see if there are any skills in those areas that you would like to develop.
Once you have figured out what kind of work is required for your business, figure out where that work needs to be done and where it doesn't matter as much. For example, if your website is already ranked for most keywords but isn't ranking in Google Maps or local listings, then there's no sense in spending a lot of time tracking down dead links or adding new content just for Google Maps or local listings (unless these are things people actually search for).
Website Audit
One of the best ways to do local SEO every week is by using a comprehensive website audit. A comprehensive website audit is the best way to find out what your competitors are doing, how they rank, and what keywords you should be targeting. A website audit will help you determine where your audience is hanging out online, and how you can get them there. It will also help you identify any problems with your site that may prevent people from finding it.
Use Keywords And Title Tags Effectively
The most efficient way to increase your online visibility is by increasing your ranking. In order to do that, you need to focus on keywords and other factors that are important for search engines.
When it comes to local SEO, your website should have a unique title tag. A special title tag will help you get more organic traffic than other websites with similar content.
Another thing you need to do is use the exact name of the business on your web pages. For example, if you are selling clothes or shoes, use "Women's Shoes" or "Men's Shoes" instead of "Shoes". You can also use synonyms like "Shoes", "Boots", etc, but make sure that they are not too similar to each other so that Google knows what they are talking about when ranking them in search results.
You also need to know how they rank these factors and what they consider as important.
It's important to remember that SEO isn't just about keywords. It's about creating a compelling user experience that makes visitors want to stay on your site longer and buy more products.
But when you do use keywords effectively, you need to research for your business, create content for the relevant topics and post them on the social media platforms so that it gets picked up by Google. This helps you increase traffic to your site, which means more potential customers ready to buy from you. And it's cheaper than national SEO, too!
It's the process of using the right keywords in your domain name and making sure that your website is optimised for the type of users you want to attract.
Use Social Media & Search Engines Effectively
Local SEO is an area where social media, content creation and link building can play a big role. It is the most effective way to get more clients, increase sales and grow your business. Search engines like Google and Bing use local data to rank websites in search results, helping you get more visibility on Google maps, local search results and other online platforms.
Use Local Directories
You can also create local directories where people can find businesses easily through their email address or phone numbers so that they can call them or visit them at their local locations.
Once you follow these basic ideas, taking even 30 minutes to spend time doing these every week, local SEO tasks become a piece of cake. If you want to venture beyond that, you can always get in touch with professional Parramatta SEO services like Zeal Digital for more in depth information and guidance.