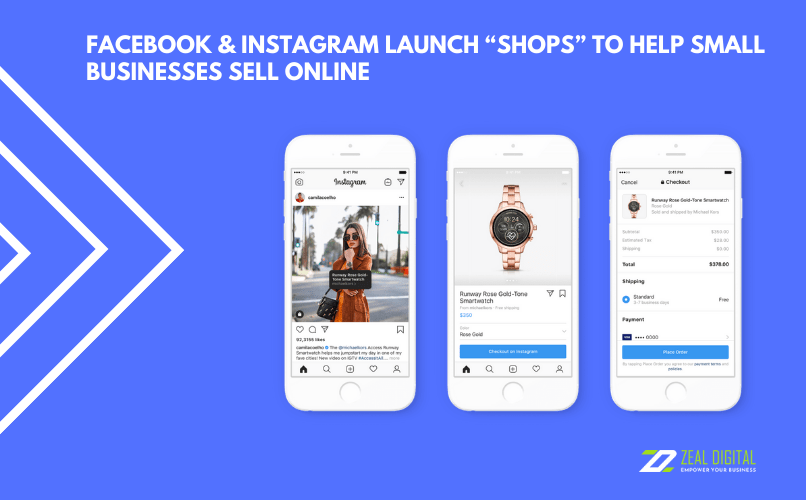 Facebook & Instagram Launch "Shops" to Help Small Businesses Sell Online
Recently, one of the biggest changes in the e-commerce industry introduced by Facebook and Instagram is the "Shops". It is the first time in the history of social media platforms that anything like this has happened. I can already sense that many people must be curious to know about these shops launched by Facebook and Instagram.
What are Facebook and Instagram shops?
These Facebook shops and Instagram shops are new e-commerce platforms which can be used by small business owners and retailers to sell their goods online. This initiative was taken by these two platforms due to the current COVID-19 situation. This lockdown period has put an end to many businesses, and some have even been shut due to extreme loss.
These days, many new business owners who never even used online platforms to expand their business, but now given the circumstances, they have already started selling online and it has given them profit as well.
Not only this, but the rumors also suggest that the day will soon come when people will start buying things with Instagram directly, WhatsApp messenger and so much more.
If you are a small/ large business owner, why don't you consider this idea to expand your business during this lockdown? Get in touch with your nearest social media marketing agency to know about this detail and also how you can start earning profit through the same.
Things you need to know about these online shops
There is no denying to the fact that the pandemic COVID-19 has caused the world to collapse completely and has shaken its economy from the core itself. We all cannot even count the number of businesses which were worst hit by this disease, therefore these shops from Facebook and Instagram have been launched to support them in tough times.
It was just a few days ago that Facebook and Instagram had announced their online shops in a live video. In this video, Facebook also released the State of the small business report and it was inferred from this report that approximately 86,000 small businesses were put down to a pause due to COVID-19 crisis. The owner of Facebook, Mark Zuckerberg said.
"We're seeing a lot of businesses that never had online presences get online for the first time, and we're seeing small businesses that had an online presence now make them their primary way of doing business."
He also added-
"This isn't going to make up for all of the lost business, but it can help. And for lots of small businesses during this period, this is the difference between staying afloat and going under."
Why should one invest in such shops?
We all are living in the world which is constantly changing and if one wants to survive in the competition, he/she has to keep up with the latest trends of the market and business is no exception.
If you feel that your business has been stopped due to this COVId-19 lockdown, then this is the best opportunity for you to expand your business on the online platform and discover new ways of marketing.
Another reason why you should consider investing in Facebook and Instagram shops is that in the coming days marketing is going to change completely and if one wants to survive in the change should learn to adapt to new changes.
Gone are the days when there were only limited strategies to expand and market one's business on different platforms. In today's date, more and more ideas are coming up in the market through which one can sustain the business of any shape and size in pandemic situations as well.