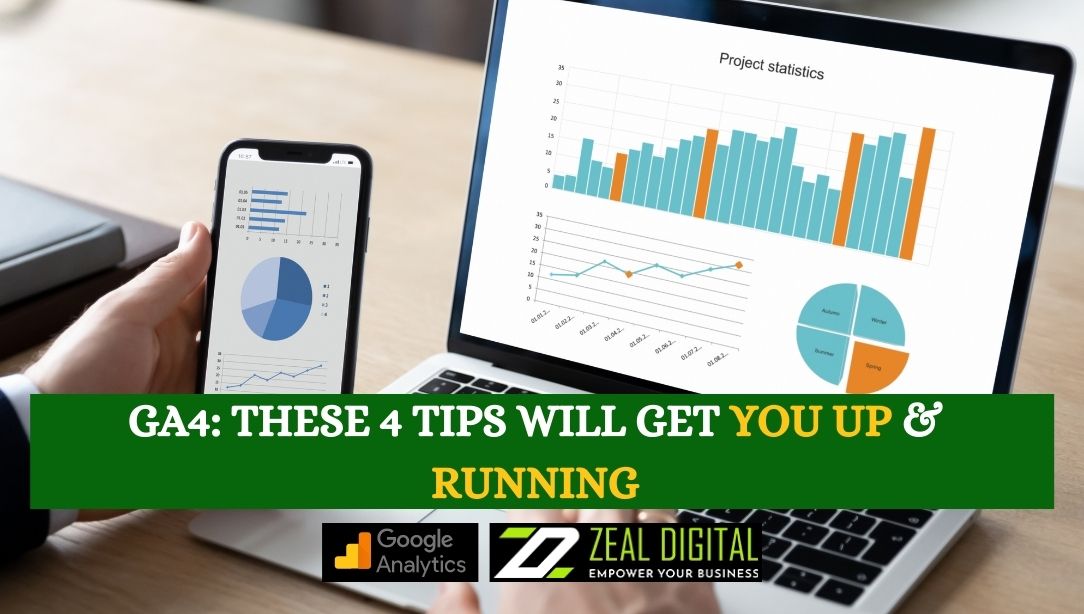 GA4: These 4 Tips Will Get You Up & Running
If you have received a low number of hits on your site, it is time to learn how to improve your website with SEO services in Sydney. This is easy and usually inexpensive when you understand some of the best Google Analytics 4 (GA4) tips. This article will teach you how to increase your SEO website traffic, user engagement, events, and conversion reports, which can be done in hours.
Traffic:
To increase your website traffic, GA4 has three essential things you need to do to get people to visit your site, stay there for some time, and keep coming back.
Here are some GA4 tips you can use when looking to start seeing less SEO traffic.
1. Proper Keyword Selection Is Critical
Many business owners make a huge mistake. They usually know which keywords are essential to their niche and business so using broad or general terms can be a massive mistake for new and growing companies. Look to rank high with a long tail and specific keywords that will have less competition and lead straight to your website. Crucially, it can convert potential buyers into actual customers.
2. Where You Upload Content Is Critical
Website optimisation is done in several ways, one of the most important being content development and syndication. There are thousands, if not millions, of places to upload the content you have developed to start seeing increased views and clicks to your site. 
This, however, does not mean that every site is equal. Many websites will not allow you to link or are not considered high authority websites. Therefore they  will not provide much help, no matter how often you post. Look at the top page rankings and traffic-ranked content syndication platforms to get the most out of your syndicate.
3. Contacting A SEO Professional Is Critical
Once you've decided you want to enhance your website's accessibility and search-friendly options, you need to have the right support from SEO services. It is essential to contact a GA4 marketing consultant. They have a wide range of online marketing resources at their fingertips. They can help paint an appropriate picture of what options are available to you as a growing business and individual.
User engagement:
In essence, engagement is the ability to capture a user's attention. When it comes to SEO, it's the length of time a user stays on a page.
Google may not have officially announced this, but there is evidence that this leads to search engine rewards for websites with strong user engagement and a higher page rank.
According to Google, users spend more time on a helpful page. Because Google aims to provide its users with the most favourable results, it will reward sites with strong engagement in the search results pages.
SEO experts in Sydney have developed the best ways to improve your website engagement.
Here are three strategies you can use to speed up your search engine content:
1. Make Your Posts Easier to Read
Improve the readability of your page by formatting your posts well. That way, you can improve your engagement. Keep it simple and to the point, do not digress. You need to engage with the readers and keep them interested, not bored.
2. Include Images On Your Page
If you want a simple way to enhance engagement with your audience, add quality professional images including graphics, which are great to engage with people. Photographs tell an idea and also convey it. In addition, images allow you to break down content into different and easy to read sections. Many users like to look at beautiful or interesting photos.
3. Lower Your Bounce Rate
Write valuable content and properly format your posts. A critical part of engaging is to lessen your bounce rate. Many users go to your site but leave immediately without participating. Bounce rates are rising due to incorrect implementation and improperly-designed landing pages. High bounce rates are also caused by poor user experience and usability. Although such problems vary from one website to another, these can quickly be addressed by many well-known GA4 online tools.
Events:
When a website gets more visitors from industry keywords (rather than keywords related to the brand or business name), it receives more events from prospects and potential customers. And of course, there is the possibility of increased sales and, therefore, new, lifelong customers.
To get more SEO events, GA4 analysed several steps involved;
At this stage, you need to learn more about your ideal keywords, your prospects and their buying and browsing behaviour, and your competitors. By researching, you can determine which keywords your SEO campaign should focus on and which are successful for your competitors.
In on-page optimisation, you need to take the keywords you discovered during the research phase and optimise your site. This means adjusting your site's metadata, title tags, image descriptions, and even content and internal links.
Off-page optimisation is the most commonly known aspect of search engine optimisation — it means building links to your site to increase its actual search engines. However, you must also go through several GA4 steps for a successful SEO campaign.
This is the last and critical phase of testing SEO events. Here you control where your actual website ranks for specific keywords, how many more visitors you get, and how many newcomers become customers. You can recognise the positive return on investment (ROI) that SEO events bring at this stage. Testing your results, such as the conversion rate or inbound links, allows you to increase your return for the same effort.
Conversion reports:
Google Analytics is a tool offered by the search giant that every website owner should use. You will understand the amount of traffic you are getting, where you are getting your traffic, and guidance as you make decisions about your website. Most people in the SEO world use Google Analytics.
Good ranking reporting software is essential while doing SEO work for your website. You can use many tools from SEO services in Sydney which are available online to help you maintain your rankings for each keyword you choose. It is accepted that search engine results differ and change every minute. Still, the basic searches will show results of your site rising steadily if you do all the right things and vice versa if you  are doing the wrong ones.
We all know the role backlinks play in search engine rankings. They are a significant factor contributing to the search engine rankings. A good SEO report will help you understand the number of backlinks going to those websites in the top 10 positions of the Google rankings; you will also understand the quality of those backlinks. 
You will also appreciate the extent of your link-building efforts and the nature and quantity of your competitors' links. If you use these GA4 tools and expand your SEO knowledge while consistently implementing successful website strategies, your SEO efforts will pay off rich dividends.