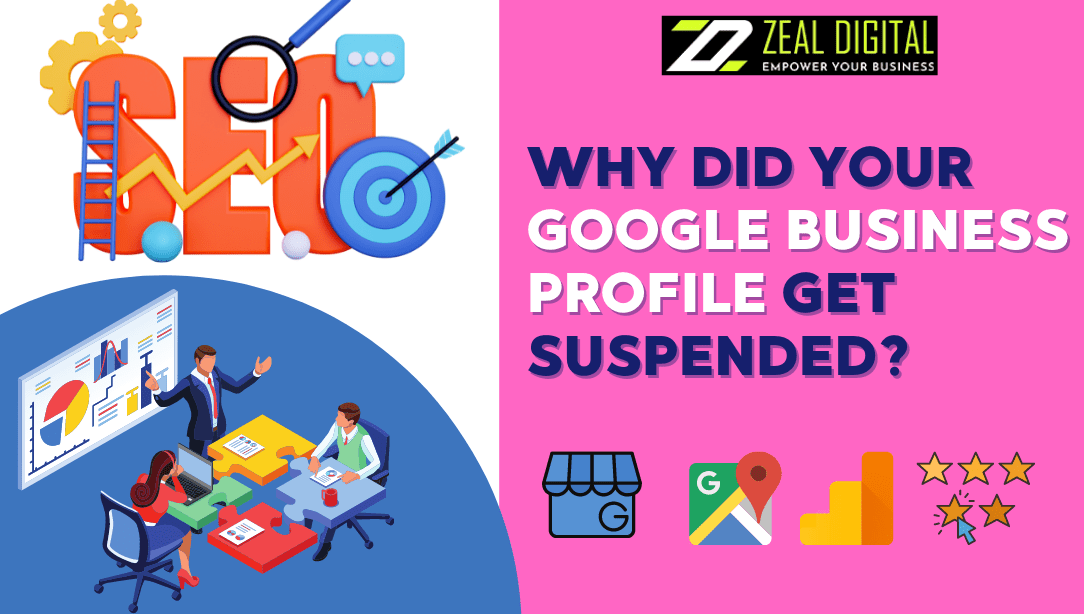 Why Did Your Google Business Profile Get Suspended?
The Google business profile is an essential internet marketing tool for business owners, large or small. Google business account is easy to install, reliable, and free, which is excellent for beginners or budget-conscious companies.
However, the problem starts when your google business account (GBA) is suspended. And Google doesn't tell you why. But, a great approach will be to hire a seo company in Sydney, Australia, and get your account working again.
Common Reasons Google Business Profile Get Suspended:
It has been suspended if you don't have a link to your GBA or can't find it in Google Maps and Google Search. It also brings lost traffic, clicks, and comments. Worst of all, you won't know about the suspension.
Hard suspension: Google deletes your entire list. You can no longer see it in Google Search and Google Maps. Worse still, you risk losing your comments forever.
Soft suspension: Google has suspended your listing. You can still see it in SearchSearch, but you can't change it. Your list is not valid, which risks you being deleted.
Why Is Google Doing This? 
Google doesn't want to make our business life difficult. Google wants to make sure the business adheres to rules and regulations while we all get the benefits and reliable results. Yet, Google's high standards and strict rules can sometimes be challenging to follow.
Obvious mistakes that get GBA suspended are easy to avoid. Unfortunately, even small mistakes can get you into trouble without you realising it. Here are some of them:
Problems With The Name Of The Business
The problem started when previous businesses used GBA spam listings and put search terms into search engines. Even then, internet competition was fierce on the search pages. Adding search terms to their business units was a good way to reduce that time.
But Google's advanced algorithm is more intelligent now. Putting unique signs, trademarks, phone numbers, business codes, locations, and so on in your business name means soft suspension.
Therefore, forget about search terms or keywords, and stick to your actual business name. However, you can use seo services in Sydney. Just save your page content, metadata, and other relevant information.
Contact Addresses Or Related Information
Business owners often face such a suspension because of various suspicious or multiple events. In addition, Google likes to check your business phone number, URLs, and other related categories. Therefore, to avoid such problems, check that your GBA contains:
Any misleading blogs or websites. Does your registration number or URLs link your customers to your business? 
Google does not like call centre numbers and invalid URLs or numbers.
Home address: Do you deliver services or products to unsuspecting customers at your address? So that means you are a service provider (SAB). If so, write down your home address but do not hide it from the public. Or, for non-store online businesses, consider creating a Google+ website.
Invalid business address: Does your address reflect P.O. Box, UPS, FedEx or rental letters? Remember that Google recognises office space. For retail space, permanent signs must also be present.
Physical address: Do you work in office buildings or non-existent locations? Even if it's the only place that your activities occur, Google won't allow it.
According to its guidelines, employees do not have the authority to represent a business address if they do not own or have a valid lease.
Multiple species (type 1): Did you create multiple GBAs under the same business address? Google may remove the list and suspend the first account if you do this.
Many species (type 2): Did you create multiple GBA under different business addresses? Business owners often set up real estate in various locations. Google confirms your GBA by sending you a postcard with a code. If no one gets the card in your office, the suspension will happen next.
GBA Instructions Or Violation Of Rules
Google has set GBA guidelines, website regulations, and security safeguards for all users. As a trader, it's your responsibility to understand and observe these guidelines. A few general rules are as follows:
Promoting fraud such as terrorism or drug trafficking

Using GBA to send spam, phishing or malware

Making copies of child abuse or misuse

Post pictures or pornography or incite hatred and violence on GBA pages

Unauthorised publication or sharing of copyrighted material

Unauthorised use of personal data such as credit card, group security or licence numbers
Keep in mind that Google may change its GBA instructions from time to time. Therefore, make sure you review the policy every month and understand each new rule.
In some cases, your GBA list may be suspended even if you have everything right or nothing changes. Suspension is due to GBA panel updates. Another is Google's algorithmic SearchSearch; this often happens in factories with a high probability of having spam or fake listings.
Lawyers, locksmiths, and plumbers are examples of high risk businesses. Businesses that sell well-managed commodities, such as pharmaceuticals or guns, may potentially face mass suspension. If this occurs, make sure you read and understand the guidelines before submitting a return form or request.
Finally, before you change your GBA profile, making multiple changes at once could look strange and questionable to those outside. Therefore, instead of risking suspension, make adjustments later. Also, make sure you've set up your account the first time.
Consider details such as your name, location, business hours, phone number, and workplace. It should be related to the website and social networks you use. Keep it straight and honest.
Conclusion
Your Google Business Profile can Get Suspended for a variety of reasons. But, first and foremost, do not be concerned. While GBA difficulties can harm your performance and cause a lot of stress in the workplace, It's vital to comprehend why they happen.
You must understand every aspect of your GBA history and follow the instructions. Being an experienced and honest owner is the only way to get back into the business.