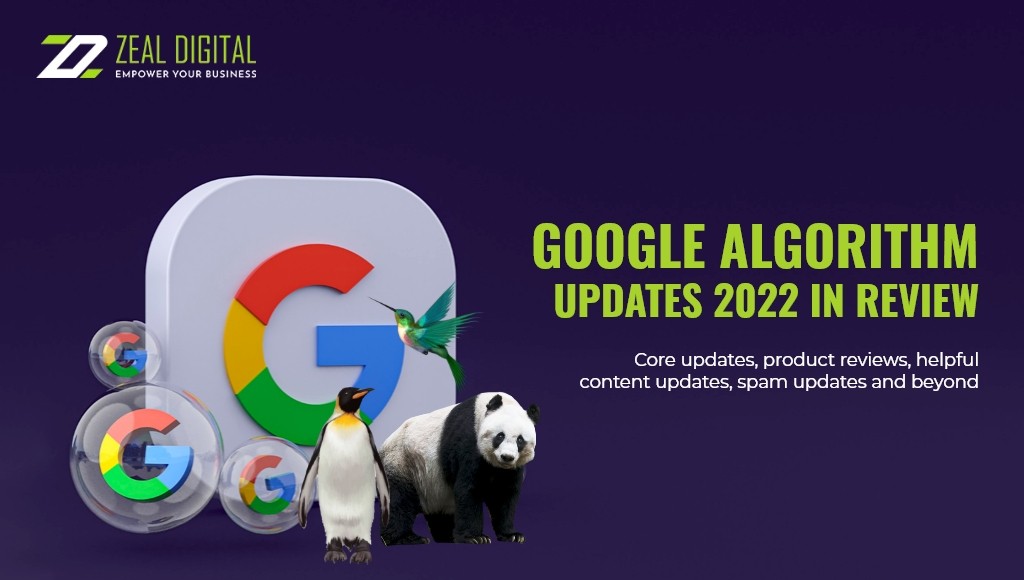 Google Algorithm Updates 2022 In Review: Core Updates, Product Reviews, Helpful Content Updates, Spam Updates, And Beyond
To achieve a higher rank on Google with content, you have to understand the Google algorithm. The algorithm keeps changing from time to time. The updates are made available regularly. It's difficult for any business houses to improve their ranking on Google. When you have an SEO agency like Zeal Digital to do the job, you will be able to better understand the algorithm.
That being said, we must understand how Google Algorithms worked in 2022. This article will discuss the entire summary of Google's Algorithm last year.
Let's Check Google Algorithm Updates In The Review In 2022 Here Below:
Biggest Updates
First and foremost, we will see some of the biggest updates of Google last year. Two of the biggest updates of Google in the entire year came out in May & September. These core updates made a lot of difference to Google algorithm this past year. First of all, we will talk about the May 2022 core update. It was released in the last week of May. It took around 15 days to roll out the update completely. So the update was released completely on June 9. After the initial update, there were some "tremors," shifts in volatility. The largest tremors were released around June 5.
The second core update came out in September. It was released on September 12, 2022. This update also took two weeks to roll out. It was less impactful than the update that came out in May. While there was some rank volatility, the consensus was that it was weaker than past Google core updates.
Google's Product Review Updates
Next, we will look at the product review updates coming out of Google in 2022. When we talk about Google algorithm updates in the 2022 review, product review updates will play an important role.
The first product review update came out in March. So it was released in the early half of 2022. It took almost three weeks to finally roll out this update. It was released on March 23, 2022, and was rolled out completely on April 11, 2022. The amazing thing is that it was just the third product review update that Google has ever released. With the help of an SEO agency like Zeal Digital, you will understand and benefit from this update better.
The next product review update was released in July 2022. Unlike the first product review update in March, it didn't take a lot of time to release this update. The whole update was rolled out within six days. We saw minimal changes in the tracking tools with this update. Since this update did not bring many changes, the chatter among the SEO community wasn't very intense either.
The last product review update that came out last year was in September. Again, this update didn't have anything big to offer to the users. Since it clashed with the core update as well, it was overshadowed by the former and no chatter was brought up regarding this update.
Content Updates
When we are discussing Google algorithm updates 2022 in review, we also have to check the content updates. There were two content updates brought up last year. The two updates came out in August and December, respectively. The first helpful content update was brought out in August. This content update was meant to be different from the other updates brought by Google. This update was meant to target websites that have a relatively high amount of unsatisfying or unhelpful content. It was to focus on content that was written for search engines rather than humans. It took about 15 days to roll out this update.
Another content update was released at the fag end of the year. It was brought on December 6, 2022. This update took 38 days to roll out, ending on January 12, 2023. While it took a lot of time for the update to finally roll out, there wasn't anything significant brought about here. It was quite surprising because it took more than a month to roll it out.
Spam And Link Spam Updates
The next Google algorithm updates 2022 in review are spam and link spam updates. The first one came out in October 2022. Different from the other updates, it took a little bit of time to release this update finally. It was rolled out within 48 hours after its release. Google used SpamBrain, a form of artificial intelligence, to better detect spam and not rank it in Google Search on this spam update. It wasn't supposed to bring huge changes. This update was targeting spam and not content written by normal people for normal purposes.
The link spam update was rolled out in December 2022. This update took 29 days to roll out. While it was released on December 14, 2022, it ended around January 12, 2023. Google used SpamBrain AI to detect and neutralise link spam for the first time. However, it didn't bring any impact on links and rankings.
Page Experience Update
One more Google algorithm update 2022 in review is the page experience update for desktops. As the name suggests, it was to bring the page experience signals to the desktop. The update was released on February 22, 2022, and it took around nine days to roll it out.
There were a few other updates that came out last year. There were around 5,500 changes brought by Google in 2021 and the number will only increase in 2022. To get the Google algorithm updates 2022 in review, you would need to hire an SEO agency in Sydney. You can contact Zeal Digital, and we will ensure that the review is done most efficiently!
FAQs
There's no set pattern used by Google to update its algorithm. The developers bring in a couple of big updates every year, apart from a few minute changes. Generally, there's an update by Google every month.
As you know, Google keeps updating its algorithm continuously. If you hire a reputed SEO agency in Sydney to understand it, you will be quick in your responses to the Google algorithm updates. This will put you in an advantageous position when compared with your rivals.
The basic purpose is to bring major changes to the Google algorithm. The developers see if something has been wrong with the algorithm in the past. They work on it and try to change the dynamics with core updates.