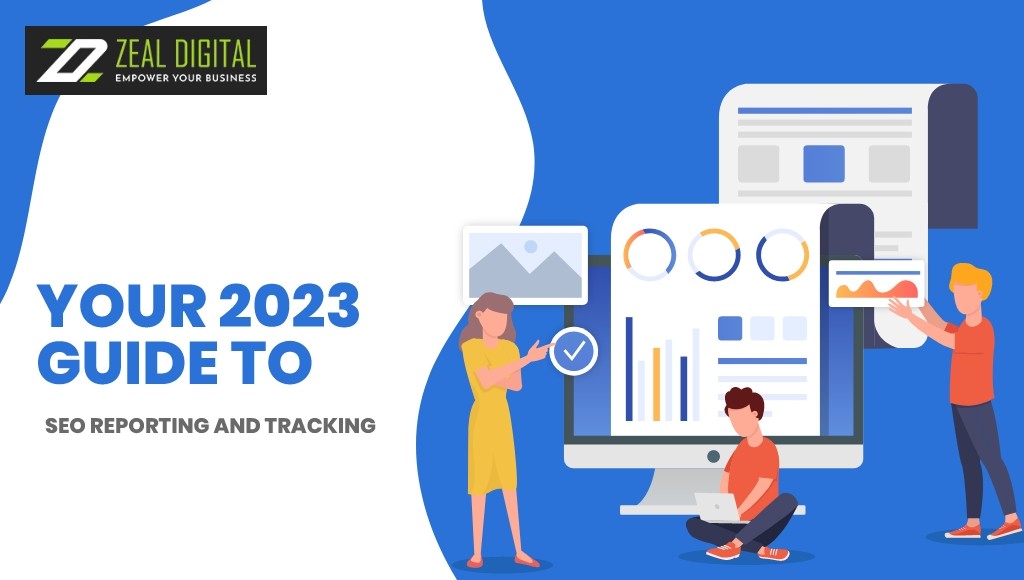 Your 2023 Guide To SEO Reporting And Tracking
The importance of SEO reporting and tracking is high for your business. It is based on these reports that you can decide how you're going to run your website. For any business, search engine optimisation is a must in this day and age. You need to work incredibly hard on understanding how SEO trends are going on. Based on the analysis, you can bring results that are going to improve the performance of your website. When you have a SEO agency in Parramatta like Zeal Digital to serve you, things are bound to become simpler and more accurate.
Since it's the start of the new year, you need to understand different aspects of SEO reporting and tracking. Here's how you can make things happen in this aspect in 2023:
SEO Reporting And Tracking Tools
When you have to report and track how your website is doing on the SEO front, it is important to consider all kinds of tools that will help in improving your analysis. Your objective should be to conduct SEO reporting and tracking in the best way possible. If you don't use the right tools, it won't be possible to get the job done your way.
Here are some of the major tools that you can use for the cause:
Google Search Console
Adobe Analytics
Google Analytics
Internal Site Search
Bing Webmaster Tools
Ahrefs
Moz
Semrush
Some of these are official tools while some others are third-party ones. But one thing that's sure about all these tools is that they will help you in doing SEO reporting and tracking most effectively.
Tracking The Events
Once you have gathered which tools you would like to use, the next thing to do would be to track the events. Since you have to look at a wider scheme of things, you have to take the help of a SEO agency in Parramatta like Zeal Digital to do the job. You have to track various kinds of things to draw a quality analysis. First of all, you need to look for major search engine algorithm updates. Apart from that, you need to go for keyword rankings, page-level traffic, conversions, changes and updates to the site etc. When you track the events based on all these parameters, we are sure that you will have better SEO reporting and tracking at your fingertips.
Brand Vs Non-Brand Keywords
One thing that you need to understand is that SEO reporting and tracking is not an easy job. There are so many layers to it that it will require you to do all kinds of things. One of the key aspects that you need to work on is creating a distinction between brand & non-brand keywords. Providing clients with a list of thousands of keywords will not show them value. Plenty of these keywords may not be bringing in much value at all. You need to understand which keywords are doing the job for you and which keywords have been completely meaningless. When you have a reputed SEO agency in Parramatta like Zeal Digital by your side, this job will become comparatively easy. Apart from creating this distinction, you have to look at a few other aspects too. You need to see if the keywords are informative, transactional and generic as well. When you segment the keywords properly, you would know which keyword to use more often and which one to ignore completely.
Tracking Revenue Drivers
Now that you have segmented keywords nicely, the next thing to do would be to track revenue drivers. This might not seem like the most crucial part of SEO reporting and tracking but it has quite a significance. Revenue is what opens every stakeholder's eyes and is the main attention-grabber in a report. If you know which sector is deriving the most revenues for your business, you can focus on those aspects and use them to their maximum potential. You have to come up with ways to show revenue in a way that everyone understands and can appreciate it.
Period-Over-Period Comparisons
You have to draw comparisons between different periods to draw the best analysis. You can divide the entire year into various periods to get the best details. This is how you can make SEO reporting and tracking very effective. From revenues to expenses to viewership, you have to take various periods into account and compare them. You can throw light on the first half of the year and compare it with the later half. In this way, you will understand how your SEO performance was throughout the year. You can divide the year into various periods to get the best comparison and analysis.
Sales Drivers
Sales are the most important aspect of any business. The more sales you derive, the more will be your growth and profitability. When you're conducting SEO reporting and tracking, you need to understand the sales drivers nicely. When you have an SEO agency like Zeal Digital to do the honours, you can go through logs and identify sales. You may also tag keywords that are responsible for sales. If your business is working on a huge scale, the data associated might be huge. So you need to go through the sales over and over again to get an accurate analysis.
Supply The Data To Stakeholders
Now that you have all the data, your SEO reporting and tracking have been conducted successfully. The next thing is to supply the data to stakeholders. Just ensure that the data is correct and stakeholders have the most accurate numbers in front of them.
Save The Data
The last thing that you should do is save the data regarding SEO reporting and tracking. The data might have future uses as well. If you conduct the data on an annual basis, you need to keep it safe for efficient use in the next year.
If you want to hire a top-ranked SEO agency in Parramatta, you can contact Zeal Digital. We are very efficient as we have successfully done the same job for other clients as well. We will go through all the data and draw the most accurate analysis for your business!
FAQs
It differs from business to business. If your business is functioning on a small scale, it will take less time. But if you're into different sorts of activities, it is bound to take more time.
You need to hire a professional team to do the job. A well-known SEO agency in Parramatta like Zeal Digital is going to work wonders for you. We will ensure that all the little details are looked upon carefully.
First and foremost, the data needs to be accurate. So, you should check on it time and again to see if you have drawn the correct analysis or not. When you have an SEO agency in Parramatta like Zeal Digital to do the job, the results are bound to be accurate!