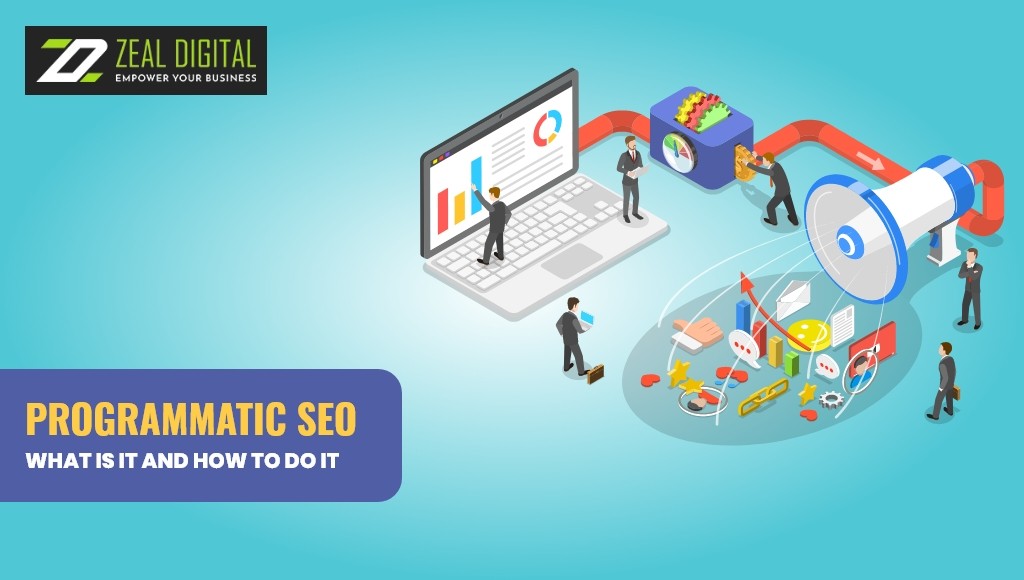 Programmatic SEO: What Is It And How To Do It
To improve the visibility of your website, you will be keen to use SEO to its best potential. There are various ways that you can use it to the benefit of your website. Search engine optimisation can take your business in Sydney to new heights. When you implement it right, you derive more traffic to your website. Now there are various aspects to understand about search engine optimisation in Sydney. One of the key aspects that you can work on is Programmatic SEO. It has become increasingly popular in recent times.
First of all, we have to understand what it means. It is one of the largest practices in digital marketing today. Programmatic SEO can best be described as a method which addresses the increasing amount of search traffic. It does so by publishing landing pages on a large scale.
What's The Objective Behind Using Programmatic SEO?
Now that you know what Programmatic SEO is, you must be curious to understand the objective behind using it. One basic thing that you need to understand is that there are a huge number of people searching for the keywords and want to reach as many users as possible. When you will create thousands of landing pages for your website, you will have a higher chance of getting your links clicked the most. The landing pages are reached through mobile, voice, and local searches. The thing with search engine optimisation is that it is considered to be a very slow process. When you need to bring the results at a greater speed, you have to consider ways to make this process faster. You can do so with the help of programmatic SEO. It's less about authoritative and quality content and focuses more on creating a good user experience and high-volume landing pages with transactional intent.
How To Do Programmatic SEO?
Now that we understand what this type of SEO means, we need to see how to do it as well. We will get into various aspects of programmatic SEO here. Let's get into the discussion part below:
Search For Plenty Of Keywords
The use of keywords is very crucial for search engine optimisation. If you want to stand out with your content, you need to use plenty of keywords to get it right. Before you use certain keywords, you need to search for them in the first place.
Firstly, you need to find your head terms. The head terms can be described as the broad-level categories you will try to rank for. The search volume is generally very high with head terms. They have generally searched along with modifiers. The first step is to ensure that you have found the right head terms. Thereafter, you will need to check their search volume using a keyword research tool. You may use platforms such as Google Trends and Keyword Generator to find new keywords and see keyword search volumes.
Next, you need to find modifiers. You can use Google Trends and Keyword Generator again to see your modifiers' search volume. The modifiers are further classified into two parts, primary and secondary modifiers.
Once you have the primary as well as secondary modifiers, the next thing to do would be to put them all together. Here, you can use a platform like Python. It can be used to code as well as organise your keywords. The best part about using Python is that it comes free of cost. You can use some other platform too if it's safe enough to use.
For programmatic SEO, you need to club together around 10,000 keywords. They will be perfectly apt to do this type of search engine optimisation!
Making Landing Pages At Scale
Now that you have accumulated all kinds of keywords, the next step is to make landing pages at scale. Here, you will have to create thousands of landing pages. That can be a very difficult job, but it's one of the major elements of programmatic SEO too.
First and foremost, you need to ensure that you are creating pages around search intent. So the question is, how would you determine search intent? It's impossible to know about the search intent of all kinds of customers on your own. So you have to find tools where you can understand the search intent of customers. Google uses user algorithms and their data to determine the search intent. A little bit of research work would be necessary to reach the most accurate results. You can look at the bottom of the page while searching for particular keywords in Google Search Console. Sometimes Google also highlights certain words in bold. This is a great indicator that the keyword may be a good choice.
Strategy To Create Landing Pages At Large Scale
In programmatic SEO, you have to create thousands of landing pages, which we have discussed already. The next thing to understand is how you can strategise the creation of landing pages at a large scale. There are three major strategies that you can use here:
You have to reach out to a community where you can get results for tons of keywords. Reddit is one such community where a ton of unique content that can be made into landing pages is generated. You can also Pinterest for the same cause, a platform that's a leader in this space.
A two-sided marketplace will be a great way to do programmatic SEO as well. The vendors fill up the pages with unique content that includes images, listings, Q&A, product descriptions, and more.
Lastly, you can work on an E-commerce website to create landing pages on a large scale. You can list down various details on the website such as benefits, specifications, prices, etc. You should also provide a review section where customers can express their thoughts regarding your services.
One thing that you must have understood by now, programmatic SEO is no walk in the park. You would need an experienced firm to do the job of search engine optimisation in Sydney. You can hire Zeal Digital, to do the job efficiently and boost your business!
FAQs
When you need to do search engine optimisation efficiently for your website, you have to come up with different ways to get things right. Any business looking to gain organic traffic by publishing at scale is going to see the positive impact of this marketing strategy. By focusing on thousands of keywords and landing pages, you can make search engine optimisation more efficient.
One basic rule that you need to follow in programmatic SEO is to focus on thousands of keywords. Apart from that, you need to focus on thousands of landing pages as well. It's about publishing content at scale, this will help in the success of the programmatic SEO.
If you use the strategy right, it can help in the widespread use of the content. To make content go viral, you need to be pretty creative. The use of social media platforms will become necessary to enhance the effectiveness of programmatic SEO!