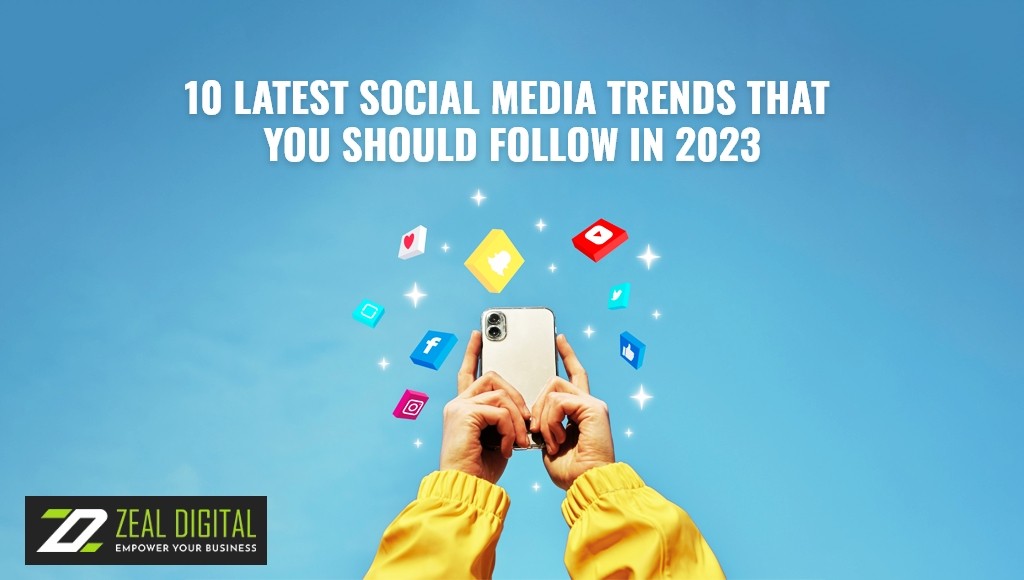 Latest Social Media Trends That You Should Follow In 2023
When you look at different social media platforms today, you will notice one thing. The majority of the world's population is sitting on these platforms, using them constantly day in and day out. In case you would like to stand out with your business, you need to use these platforms to their best potential. The key thing to understand here is what's a hot topic at a certain point in time. Now that we have entered a brand new year, you have to keep a close eye on the latest social media trends in 2023. The trends that were most effective last year might not be so effective this year. So you have to cautiously take your decisions. With a social media agency in Sydney like Zeal Digital around, you can understand these trends in a better way for the best promotion of your business.
We will discuss some of the most up-to-date trends in social media right now. Let's get into the list here below:
Live Videos
If you have been using social media platforms consistently, you must have seen the importance of live videos in recent times. People use live videos on a regular basis. If you want to promote your business more effectively, you should focus on using live videos to transform your social media game. Some of the most popular brands are now exploring live videos frequently to connect with their customers for chit-chats. In that way, you will create a regular connection with your customers. Keeping a live video once every month is going to be a good move. This is one of the latest social media trends in 2023. If used right, it will provide great results for you throughout the year.
Chatbot Communication
No matter how hard you try, it is almost impossible to communicate with your customers throughout the day. You can set up an entire team to respond to customers constantly but it won't be enough. Therefore, you need to check on the feature of chatbot communication, one of the latest social media trends in 2023. Through chatbot communication, you can automate the process of the conversation between your business and customers. They might have several queries in their mind and the chatbot will resolve these queries almost instantly. AI-powered chatbots can precisely understand your queries and concerns and offer you the best solutions within seconds. This will surely be worth it and attract many more customers for your business in the times to come.
Influencer Marketing
Influencer marketing is continuously going to be a big trend in the years to follow as well. So when we talk about the latest social media trends in 2023, we will see that brands will continue to focus on influencer marketing this year as well. Usually, the influencers were used by brands for a short term. But things will change in 2023; we will see that influencers are going to collaborate with brands for a series of posts. This will help the brand to gain momentum over some time and gain a much better following for its services. The influencers won't just drop the post, they will collaborate with brands regarding content creation, focusing more on long-form content, how-to videos, demos, and photo stories.
The Importance Of Twitter
If you have seen the trends recently, Twitter has become an excessively used platform. So when we are talking about the latest social media trends in 2023, we cannot discount the importance of Twitter as well. This year, it has plans to turn into a trustworthy news portal. It's quite different from the other social media platforms. While platforms like Facebook, Instagram, and Pinterest are primarily used as entertainment platforms where users can enjoy lighthearted banter, Twitter always reserved the spot for serious talks on various topics of interest. So if you want to spread news regarding your business, Twitter is going to be the best platform as it is considered very trustworthy.
Ephemeral Content
If business houses need to attract more and more clients, they need to understand what clicks with the audience. When we are discussing the latest social media trends in 2023, we cannot ignore the importance of ephemeral content either. It can simply be referred to as short-duration content that's spreading online. YouTube Shorts and Instagram Reels are two of the best examples of short-duration content. If you want to increase the engagement of your content, you need to focus on ephemeral content. If you can promote your business activities with the help of short-duration content, you should take that route as it will bring you more engagement.
AR And VR Technology
Since we are talking about the latest social media trends in 2023, we cannot ignore AR and VR technology by any means. It's about offering an exciting experience to all kinds of users. If your business can focus on the latest technology, the experience of users will be enhanced. Suppose you're in the business of creating games. You can make VR technology available to users at an affordable price. It will help the users to enjoy an immersive gaming experience. Facebook offers a feature called "Facebook Spaces," where up to three people can interact using a VR device. As long as you focus on AR and VR technologies correctly, users are bound to get attracted to your services.
Target Local Audience
If your business caters to a particular locality, you need to target it specifically to bring the best results. You can use social media platforms to target the local audience with the assistance of a specialised social media agency like Zeal Digital. Generally, it would be difficult to promote your local business. But with social media platforms, you can promote your business locally as well as internationally. In case the scope of your business is still limited, you should reach out to local people to build your brand awareness and gain popularity before targeting people from further away.
You should focus on all these latest social media trends in 2023. When you have a social media agency in Sydney, you will be able to succeed in using social media for the growth of your business. We will ensure that all these trends are focused upon for maximum value!
FAQs
Most people around the world are using social media in this day and age. If you want to attract the majority of the audience, you have to focus on social media platforms effectively. That's why you should focus on the latest social media trends in 2023 for the growth of your business.
No, it's not very costly to promote your business with the help of social media platforms. It will be the most cost-effective solution for your business. Moreover, the reach of your content is going to be maximum as well.
No, it's not very difficult to promote your content through social media. Most of these platforms have been developed in a unique yet simple manner. But you can still take the help of a social media agency in Sydney like Zeal Digital to promote the content in the best manner!