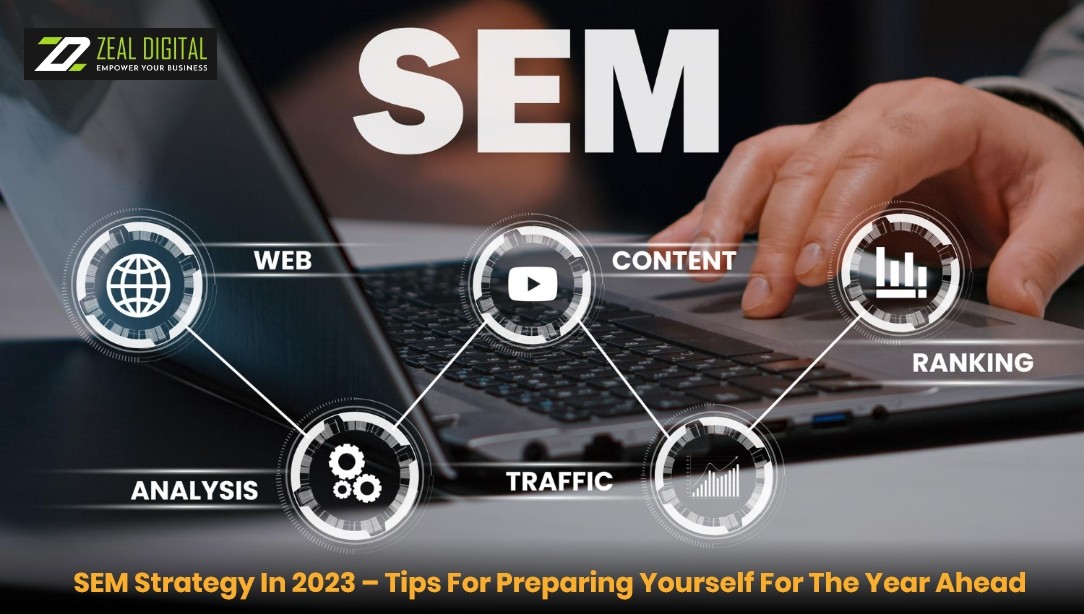 SEM Strategy In 2023 – Tips for preparing yourself for the Year ahead
SEM is one of the most effective forms of paid marketing for business houses online. Since 2023 has just begun, you need to come up with an effective strategy to use search engine marketing as an efficient marketing tool. You would need a PPC company like Zeal Digital to handle this job, we are ready to help you in all the ways possible. But in case you desire to get some help regarding SEM strategy in 2023, we will share some tips here below. We are hopeful that these tips are going to help you sail through with your SEM strategy for the rest of this year:
Tip #1: Forecasting A 2023 Budget
You can plan the best SEM strategy in the world. However, all that won't mean too much if you're unsuccessful at the execution part. You can think of the best way to make your SEM strategy in 2023 grand. But you have to set the right budget at the same point in time to get the job done as per the plan. You might have considered an SEM strategy in the past too but you cannot estimate the same cost this year too. The start of this decade was dominated by the pandemic era, most businesses restricted themselves in spending on search engine marketing. But in 2022, the budgets have surely increased as things went back to normal. It can be difficult to forecast the budget for 2023 on your own. There are two things that you can keep in mind here:
First, you have to look at Google's recommendation tool. You can take its help for the growth required on the budget. Since it will let you know about the maximum growth that might be required, you can consider it a safe bet for the estimation. Anything between 15 to 25% is going to work.
Secondly, you can hike the current budget on your own by 5 to 10%. It can go up and down depending on the season. You can hire a PPC company in your area to do the research work for the cause.
Tip #2: Leverage Automation And AI
As you know, automation and AI have taken over the world of technology in recent times. They are becoming increasingly popular in search engine marketing as well. So if you need to make an SEM strategy in 2023, leveraging automation and AI can only be to your advantage. There's no certainty that search engine marketing will become completely automated in the times to come. But if you use this advanced technology for your business, it is bound to help you in various ways. It will help you to avoid general mistakes in search engine marketing. It will also derive greater efficiency and cost savings for you. Keyword research, auto-generated ad copy and creative, automated ad scheduling and automated bid management will all be possible when you leverage automation and AI for search engine marketing.
Tip #3: Creating A Content Calendar
When you're thinking about making an SEM strategy in 2023, you don't need to make it a week or a couple of weeks early on. You want to implement that strategy for the rest of the year as well. Therefore, it would be better if you created a content calendar for the entire year on your own. If you've set up a new business, it might be difficult to set up a content calendar. In such a case, you can avoid this tip. But if it has been many years since you set up your business for the first time, creating a content calendar is going to be necessary. It allows you to get all of your assets built way in advance, approved, and scheduled for deployment. Therefore, you won't face any issues at the last minute while executing your plans for search engine marketing.
Tip #4: Begin Your First-Party Data Journey
First-party data is an important aspect to work on while creating a search engine marketing campaign. In simple terms, it can be referred to as the data about your users. This will help you to understand your target audience in a better way. When you're creating an SEM strategy in 2023, it becomes a must for you to focus on your target audience. When you get such data, you would know what you need to do and what you should avoid regarding your customers. In doing so, you have to respect the privacy of the users. You can offer incentives and be transparent about the data that you need to collect about them. In that way, you will get the data that you need about your customers and they won't feel the breach of privacy either.
Tip #5: Assessing What You Didn't Do
You have to take a look into previous years and see how you went about search engine marketing back then. You don't have to go long back, you can collect the data from last year for example. It needs to be seen what you didn't do right about search engine marketing last year. When you're creating an SEM strategy in 2023, you have to overcome the flaws that you might have had the previous year. So all of the builds, testing, flighting plans, etc. that you never got around last year should be looked upon once again. They need to be reprioritized, as long as they will provide you with good results this year.
Tip #6: Diversify
When you need your business to have a long run, you have to continuously search for opportunities to grow. Diversifying your search engine marketing is going to be one way of doing so. It means that you don't have to rely on just one platform to do such marketing. There are various other search engines available too such as Amazon and Bing. So when you're creating an SEM strategy in 2023, it's a good idea to cover all your bases to maximise your exposure. This will make it possible to expand your reach to a wider audience and make your website more popular.
We, at Zeal Digital, are one of the finest PPC companies in Sydney. We will help you to achieve success with search engine marketing this year. This will boost the traffic to your website and drive sales.
FAQs
A whole new strategy doesn't have to be made for 2023. But you should look to fix the concerns that you found with search engine marketing last year. If you do so, you will achieve more effectiveness with search engine marketing in 2023.
Yes, it's very important to evaluate the SEM strategy each year. A business should evaluate its SEM strategy multiple times a year. Once you feel that the changes are required in it, you shouldn't wait too long to implement them.
It is a great tool to promote your business activities. It allows you to target ads based on location. It will also become easier to target the audience that you want as well!