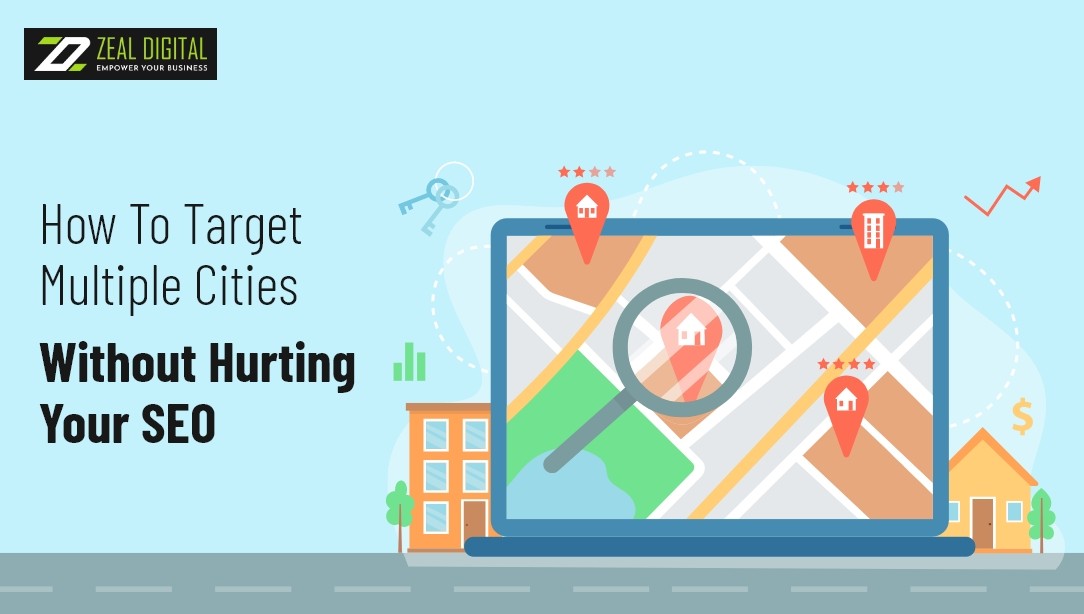 How To Target Multiple Cities Without Hurting Your SEO
In case you want to reach out to a wider audience, you have to promote your business activities properly. Creating a nice SEO strategy that appeals to more people is always going to come out well. But there are quite a few problems associated with it. When you come up with an SEO strategy for a particular area, it would be easier to target that audience individually. But when you have to reach out to people from different cities, the same SEO strategy won't work for everyone. This is where you need to focus on Multiple cities' SEO. This is the type of SEO that's going to target various cities without hampering the quality of search engine optimisation.
You should know exactly how different cities should be targeted with the help of a sound SEO strategy. You can hire us, at Zeal Digital, one of the finest SEO consultants around to do the job. We will discuss how the whole thing can be executed here below:
Focusing On Local SEO
When you have to target different cities for search engine optimisation, you need to target local SEO as much as possible. It means that you have to understand the locality of each city and build an SEO strategy accordingly. There are various reasons why you should make a local multiple cities SEO strategy. We will take a look at some of these reasons here below:
This type of SEO attracts foot traffic. Suppose you're dealing in the cab business. Now if people want to search for a cab in a particular city, they will search for the name of the area in the search engine. Therefore, you should always use the name of different cities in your content. It will increase foot traffic and benefit your business.
It will help you rank higher on Google. There might be various businesses across the world dealing in the same business as you. But there is a high chance that you're the only firm dealing in a particular business in a particular city. This is where multiple cities' SEO is going to help you. You need to target those cities where you want to spread your business through SEO. Naming them in your content is going to help. So every time a person searches for the services that you offer in a particular city, your website has a high chance of showing up in the search results.
City Pages
Different web pages for different cities are always going to help. Dropping the name of the city on a particular page won't help you in impressing your audience. You have to customise the content and make sure it reflects legitimate knowledge of the city you're referencing. Therefore, making different city pages will be very helpful. Some business houses copy and paste the same content on different web pages by altering the name of the city in each one of them. This type of content is not accepted by Google as the developers flag and penalize sites that are doing it. Therefore, each city page you create has to be unique. The focus on multiple cities' SEO should be such that people of each city can connect with your content. It can take some time and effort to do the research work properly. But if you have an SEO consultant like Zeal Digital around, you will make city pages in a quality manner.
Using Google Business Profile
Google Business Profile is a great platform to optimise your SEO strategy in multiple cities. As you know, Google is meant to give the most reliable and trustworthy information to its users. The developers want to make sure that the people get the most meaningful search results and find the information trustworthy. This means if they can verify your business, you'll have a higher chance of ranking on the SERPs. Registering your Google Business Profile is going to be quite helpful in multiple cities' SEO. When you make such a profile, you're confirming to Google exactly what you offer and where you're located. Thus, Google is going to find your information trustworthy and share the content with searchers. Since Google Business is free to use, you shouldn't hesitate before signing up for this platform.
Building Internal Linking Structure
You need to get in touch with an SEO consultant to build an internal linking structure as well. There's no doubt that external links can boost your business in a great way. But when you tweak your internal linking structure, you will have full control over how you would like to optimise multiple cities' SEO. Internal linking is beneficial to your website in many ways. The biggest reason why you should focus on this aspect is that it will improve your website navigation. With its help, you can also let Google know about the most important pages on your website. Thirdly, the architecture of your website is also going to be improved. All these aspects are going to help you in ranking higher on Google. When you rank higher, people from all across the world are going to find it easier to discover your website.
Getting Into Google's Local Map Pack
If you search for a particular service in your area, Google generally shows all the firms that are providing you with such services. The amazing thing is that they would also let you know about the location of such firms. So if you want to do multiple cities' SEO efficiently, you will also have to get into Google's local map pack. You will have to take the help of a Google Business profile here too. Fill in all the little details about your business that can be useful to the clients. On top of that, you have to leverage the reviews as well. In case people have good reviews to give to your business activities, it will benefit your business in the long run.
If you're finding an SEO consultant in Sydney, you can reach out to Zeal Digital. We have years of experience to make sure that your SEO strategy for multiple cities is successful.
FAQs
Various things are very important to execute the best SEO strategy for various cities. You have to focus on local search as much as possible. Creating a Google Business profile and filling out all the little details will be beneficial too when we talk about multiple cities' SEO.
In the case where you utilise local SEO efficiently, it will benefit you in two ways majorly. It will increase the number of clicks on your website and the keyword ranking is going to increase as well. No matter which city it is, you can hit both of these birds with one stone.
Yes, it's important to execute different web pages for different cities. You have to ensure that the content is modified according to the city. By hiring an SEO consultant in your area, one like Zeal Digital, you can make these web pages for different cities in an effective manner!