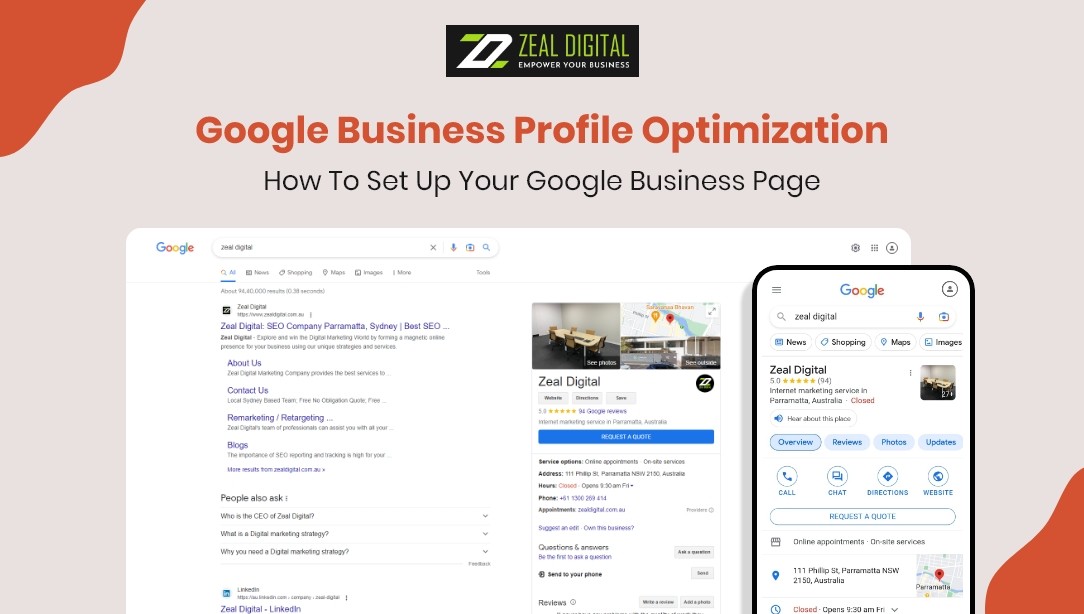 Google Business Profile Optimization – How To Set Up Your Google Business Page
Google Business is a great way to promote your business. As a business house, you would like to grow as much as possible. For that purpose, you will have to do marketing to the greatest extent. If you set up GMB for home improvement, you can reach out to the local audience quite comfortably. There are various ways of promoting your content in the local market. But in the current day and age, you would need to focus on methods that work online. By setting up a Google Business Profile for your organisation, you're going to get recognised more easily in your area.
To set up the Google Business Page, you can hire us, at Zeal Digital, to provide you with the best SEO services. Let's discuss a few important points in setting up a Google Business Page:
Completing The Page
The first and the most simple thing that you can do to set up your Google Business Profile is to complete the entire page. You cannot be casual about anything as any information can prove to be effective in attracting customers. When your goal is to set up GBP for home improvement, you will have to fill in all the details to complete the page. Make sure that you've entered the correct business information so customers know every little detail about your business. In case they want to reach out to you personally or make a phone call, the details should be given out precisely. There's a chance that you change your phone number or location in the times to come. When you bring such changes, you need to alter the Google Business profile as well. It won't take long for you to set up the profile as long as you have hired quality SEO services in your area.
Listing Hours Accurately
Another aspect that you need to focus on is listing hours precisely. There is a high chance that your customers and clients want to visit your office at a certain time of the day. Suppose you're open from 9 to 5 a day, you need to put that information accurately. In case someone wants to reach out to you, they would come to your office during those hours. In case you don't provide the information, the clients may visit you at a time when the office is closed. This will set a bad impression in their mind, something that you would like to avoid as much as possible. Therefore, for GMB for home improvement, you need to list your opening hours accurately. In case you change your office hours over some time, you should alter the information in your Google Business Profile as well.
Verify Your Location
You should verify your location too. It is a very important part of setting up your Google Business Profile. It doesn't take much to verify it either. Once you do so, you will give these locations the best opportunity to appear in all Google products like Maps and Search. There are various ways with which you can verify your location. Most business houses use postcards to do so. But you can also use email, phone, or Search Console to do so. When you hire us, at Zeal Digital, we will make sure that your location is verified comfortably through our amazing SEO services. All you have to do is search for your business in Google Maps App. When you find it, you can claim the business too.
Adding Images
If you live in a locality where it's difficult to find places, reaching out to your office might cause some confusion. If you're running a retail store, you might miss out on plenty of potential customers based on this confusion. To make sure this doesn't happen, you should add images to your Google Business Profile. Making it more complete is a matter of adding some images of your office and locality so that people can find it easier to reach out to your office. This is a crucial aspect to work on for GMB for home improvement. Just make sure that these images are quality and that your office is visible in them.
Managing Your Reviews
Reviews are a very important part of your Google Business Profile. You can say all the nice things about your business but people will be satisfied only when the customer reviews are available as well. Not just that, you also have to respond to these reviews. Interact and engage by responding to reviews that leave your business. If you keep ignoring these reviews, it may cause a bad impression to form among both existing and potential customers. They need to be valued and replying to their reviews is one way of making sure of it. You can hire a quality firm providing SEO services in your area. Such a firm will give quality replies to these reviews and handle them properly. When you look into more and more reviews, you also know exactly how people feel about your services.
How Google Business Profile Will Help You
A Google Business Profile can help you in plenty of ways. We will look into some of its top advantages here below:
Managing your business profile is both quite easy and very practical.
You get premium options on Google Business Profile to manage the information regarding your business. The amazing part is that it doesn't cost too much.
When you have to expand your presence on Google, you can do so through the business profile.
By editing your listings, you can give out all the information regarding your business. You don't have to be very loud with what you do with your business, filling out the little details in Google Business Profile itself is going to be effective.
By reaching out to us, at Zeal Digital, you can comfortably set up your Google Business Page. We will provide you with quality Parramatta SEO Services to handle the job. We have the skill set to make sure of providing those little details.
FAQs
If you're sure about all the information that you need to give, it won't take much time. But in case you don't know the details that are needed to be provided, you will have to hire quality SEO services in your area. In case you're not clear in your mind, it can take you forever to set up the profile.
If people want to find out about a business today, they just search for it on Google. If you don't set up your profile there, you might be missing out on a major chunk of your audience. This is why it is important to set up a Google Business Profile.
You need to talk about your services and the location where your office is set. You also have to give details such as your phone number and email account. Lastly, add pictures too so that people don't find it confusing to reach out to your place!