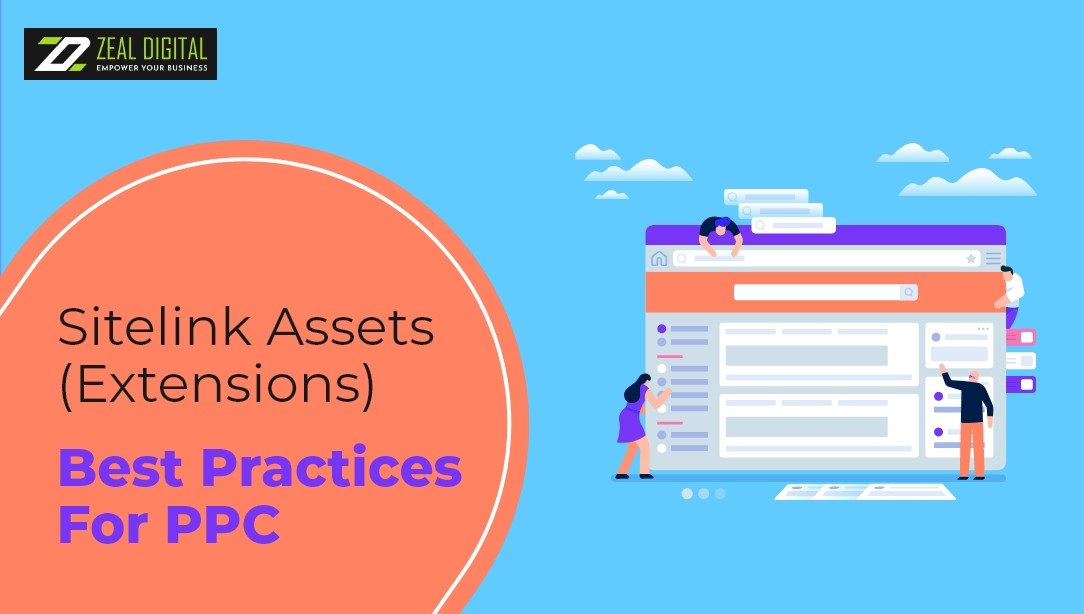 Sitelink Assets (Extensions) Best Practices For PPC
To promote your business online, you will have to look at multiple factors that can give the needed boost to your promotional tactics. Google Ads provides you with a ton of features that are sure to help you in this regard. One such aspect that you can work on is site link assets. Formerly known as site link extensions, this feature is a great & versatile addition to Google Ads. When you use the right site link extensions for PPC, it can be advantageous to you in different ways. Promoting low search volume themes, maximising hot sellers, answering common questions and handling PR problems are all possible with site link assets.
Pay-per-click advertising is a job that needs to be handled by experts. That's why it would be best to hire someone like Zeal Digital to do the job for this type of advertising. Site link assets have a variety of merits. But it's only if you use the best practices for PPC. Let's take a look at the practices that you can use to do site link extensions for PPC:
Get Clear On Your Objectives
The first aspect that you can work on here is to be clear on your objectives completely. What do you want to achieve with site link extensions? First of all, you have to see if you want to promote your products or services. Will the asset work well with both branded and non-branded keywords? You have to look into the matter on your own. There's always that choice to hire quality services to pay for click advertising, something that's necessary when you have little to no clue about PPC. The task is to provide information that's useful to the searcher. Therefore, you have to be clear on your objectives.
Mix Of Sitelinks
Different site links can serve different purposes. You need to be sure about what site link serves which purpose. Then again, you don't need to serve just one purpose with your pay-for-click advertising. Since there are multiple objectives to be achieved, you also have to use a mix of site links as well. One site link can be used to promote an on-sale product, and one could generate leads. You may also need to use a site link to highlight a new product category as well. When the scope of your business activities is wide, the mix of site links is going to be important to promote your business. As we have already discussed, you would need professional services to handle the job. A company like Zeal Digital will add the right mix of site links to give a nice boost to your PPC campaign.
Sitelinks For A Larger Strategy
It's not a small-term objective that you need to achieve with pay-per-click advertising. You have to look at the larger picture. Therefore, using site links as part of your larger strategy is essential. You don't have to look at it in isolation. The accompanying ad, landing page, and other assets need to be considered in the process too. So when you use site link extensions for PPC, you have to keep all these things in mind. The people will find it easier to reach out to your website and get the product of their needs too. Linking two advertisements together is going to be a good move, especially when they become more meaningful when they are brought together.
Tracking Sitelink Performance
It is one aspect to use site link extensions for PPC. But you also have to track them at the same time. In case you just put them out and don't think about how they are performing, it is going to be a waste. Even if a site link asset is doing well, you should know about it beforehand. In that way, you can also use the same site link extension for the times to come. When you're using a bunch of site links at once, you would have to hire a firm like Zeal Digital to track the performance of these site links. Each site link doesn't need to perform to the same extent. As long as each site link is serving its purpose, it's doing the job that you need it to.
Creating Landing Pages
To derive the best out of the site link extensions for PPC, you will have to create landing pages for them as well. The landing page that you create is going to depend upon the advertisement that you have created. If it is an advertisement that provides details about all your services, the home page is going to work wonders as the landing page. But in case you have used pay-for-click advertising for a specific service of your organisation, you need to create a landing page for the web page regarding that service. As you know, every content strategy should include landing pages to convert more traffic and increase conversions. The same would be the case when you're using site link assets for PPC.
Things To Keep In Mind Regarding Sitelink Extensions For PPC
There are a few aspects that you need to consider regarding site link assets for PPC. Let's discuss those aspects here below:
You should keep them short and sweet. A maximum of 25 characters is going to be enough here.
In case you're running big ad campaigns, creating site links is going to be necessary.
Enhanced site links are going to be worthy as well. They help in making your ads more prominent, thanks to the fact that they allow you to consume considerably more real estate on the SERP.
You should keep checking the site link extensions for PPC from time to time. The 404 error page can occur at any time and you don't want your clients to land on such a page.
You should look into ad policy guidelines too. If you don't follow such procedures, you can get into trouble later on.
Contact us at Zeal Digital to pay for click advertising in Sydney. We have experience in this field and we will ensure that site link assets are effective for your business. Hire us for the job and you won't be disappointed with our services.
FAQs
Also referred to as site link assets, they take people to specific pages on your site. When you need to create more links to your ads, you can use site links for that purpose. You can also promote four specific site links within one PPC ad.
You should generally keep them short and sweet. While you can add 25 characters there, you should keep a much smaller description. You can use 18-20 characters for desktop links and 12-15 for mobile.
Skillset assets require little to no maintenance. But it never hurts to check in on them from time to time. You should review the ad extensions periodically.