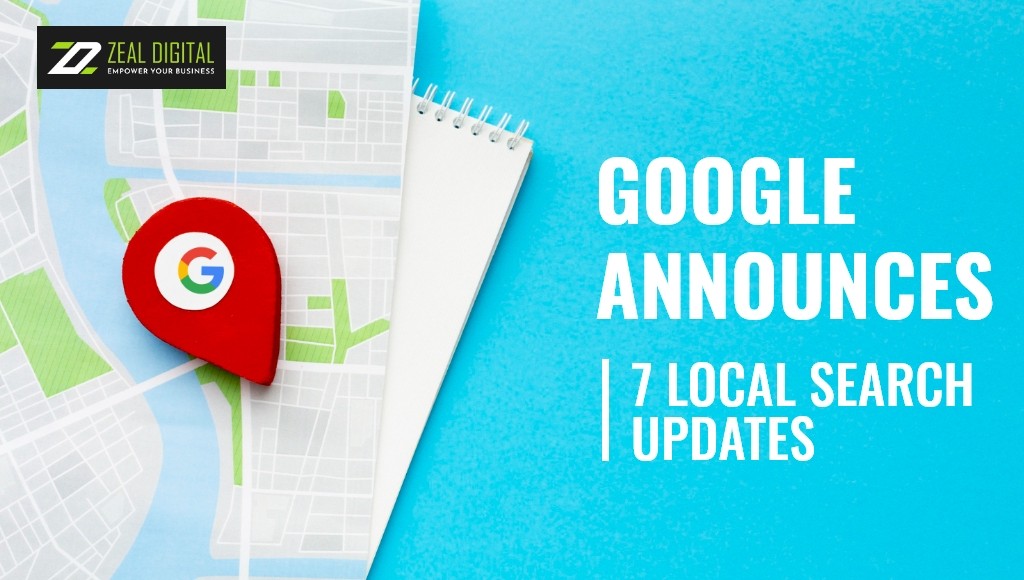 Google Announces 7 Local Search Updates
Google keeps on updating its search algorithms and it has done it once again. Every time they introduce updates, there is a brief announcement about what the update is and how it works. This time around too, Google has announced seven of its local search updates and spoke about them in detail. All these updates have been introduced keeping in mind the ease with which the users can search exactly what they are looking for.
For example, if someone is looking for a cool place to hang out, they can now get an aerial view of some famous landmarks to explore. Similarly, if you are a foodie, now you can search for restaurant specialities. You can also look for specific dishes that are available in a restaurant. All in all, these new local search updates not only help you explore more but also lets you pinpoint exactly what you are looking for. Let's take a look at each of these updates in detail, and if you need help with local search updates, contact a leading SEO agency in Sydney like Zeal Digital.
1. Search For Restaurants By Dish
In the recent local search updates, the first thing that makes an impactful change is the algorithm for restaurant businesses. People often like to know where to find the exact dish they are looking for. With this update, they can now directly search for the dish and find out a list of local places that serve that particular dish. If you want to look for "Hakka noodles near me" you can directly hit the search button and get relevant suggestions. Google will enlist restaurants that serve the dish in question and will also give you a rating so that you can choose the best of all. Moreover, you can also set filters such as vegetarian or non-vegetarian according to your preferences.
2. Discover Restaurant Specialties
As already mentioned in the previous header, you can now discover more about restaurants near you. In these local search updates, Google has included an algorithm which will return results if you want to search for restaurant specialities. Many of the local restaurants near you may have a dish which they are especially known for. Even if it is a cuisine, a particular restaurant can be the master of it. If you want to discover that particular dish or cuisine, Google can help you with it. In the menu highlights section, you can view a list of popular dishes from the local restaurant for better insight.
3. More Support For Digital Menus
With the recent times of digitalisation, Google is constantly trying to keep up the pace. Therefore, it is also looking out for more ways to support digital menus. Without needing much work from the owners of the local restaurant business, Google is trying to diversify the menus of its business cards.While announcing these local search updates, Google mentioned that they are going to use their Multitask Unified Model to collect data from different sources of information and curate a better digital menu for the restaurant lists. Also based on the ratings of the dishes, they will be able to display them in categories like popular, vegan, vegetarian, non-vegetarian, and more.
4. Enhancements To Google Maps' Live View
Almost three years ago, Google introduced one of its very interesting features, Google Maps' Live View. Through this feature, you can locate and pinpoint your destination with the help of your phone camera. The viewfinder helps you navigate through live feeds and spots the places you are looking for. In the announcement, Google used the example of finding ATMs. If you are looking for one in the marketplace near you, you can easily look it up on Google maps' live view and locate it within seconds. It will also mention the duration and the distance of the search so that you can do your estimations easily.
5. Aerial Views Of Famous Landmarks
In recent local search updates, Google has introduced yet another interesting feature called the aerial view of famous landmarks. This feature makes your Google search experience even more fascinating as you can now look at the landmarks through a bird's eye view. So if you want to visit a very famous landmark, you can explore it beforehand with the help of this new feature of Google local search.
6. Immersive View
This new feature will be available soon in San Francisco, Los Angeles, New York, London, and Tokyo. With the help of the immersive view, you can easily navigate through a building with the help of your phone camera. It can also give you insights into how crowded the place is and what is the condition of the building from the inside. If you are planning a short trip to a place where you want to explore all the famous places, this feature can help you plan out a valuable trip. You can save a lot more time by using an immersive view to find out the interior condition of the place. This feature will soon be available for both Android and iOS devices.
7. Neighbourhood Vibe Checks
Last but not the least, Google has introduced a "Neighborhood Vibe" feature in its maps. With this amazing feature, you can explore the "vibe" of a neighbourhood before you decide to visit it. The local eateries, new places to explore and other information are all available in this feature. Google local search updates have been introduced keeping in mind the ease of the users with which they can explore the places around them. Therefore, this "Neighborhood Vibe" feature is surely one of the best ones of all.
Google also looks for displaying quality content above everything else. If you want your business to rank higher up in Google search results, you need to curate your webpage and online content accurately and efficiently. Using SEO tools is the best way to do that. Also, make sure the keywords that you are using are relevant to the content. You can always hire an SEO agency in Sydney like Zeal Digital to do the job much more efficiently and effectively!