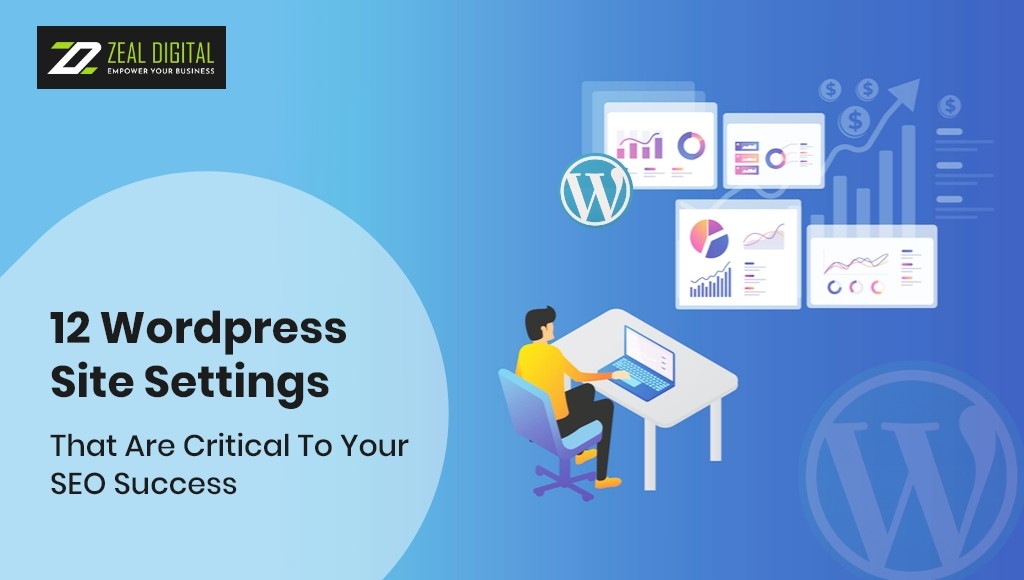 12 WordPress Site Settings That Are Critical To Your SEO Success
WordPress is one of the most trusted content management systems all across the globe. It is also very critical to optimise your SEO content efficiently. There are various layers to the settings of this platform that you need to understand properly. It can be too difficult to deal with these settings on your own. You need to choose a specialised web design agency like Zeal Digital to make the most out of these settings.
We will discuss the 12 most important WordPress site critical settings for SEO here. If you use these settings efficiently, the chances of creating a successful SEO strategy will be higher. Let's take a look at them:
Homepage And Blog Settings
Homepage and blog settings play a crucial role in creating a good SEO strategy. You might have several web pages on your site that are important for your business. But you need to pay most of your attention to homepage and blog settings, at least when you're first trying to understand these settings to create an effective SEO strategy. The same can be said about your blogs as well. When you create an engaging blog, viewers are bound to visit your website consistently. You will have to distinguish between your blog and homepage well since WordPress has your latest posts page as the home page.
Dynamic Sitemap
This is another crucial WordPress site setting for SEO. With its help, search engines are going to index your website. The users are going to find it much easier to reach out to your website and get the information that they want. It is bound to increase the traffic on your website as well. Plenty of plugins offer dynamic sitemap options with various customisations. When you hire Zeal Digital as a web design agency in Sydney, your website's SEO is going to improve by a landslide with Dynamic Sitemap.
Default Title And Meta Descriptions
There are certain SEO plugins meant for default settings of title and meta descriptions. These plugins can ensure that all new pages are optimised for search. When all the new pages are going to be optimised nicely, you won't have to worry if the viewers are going to find such content or not. This is another crucial WordPress site setting for SEO that you need to work on for an effective SEO strategy.
Optimise Permalinks
Structuring the URLs of your web pages well can solve half your SEO-related issues. Search engines crawl and index such content that comes with well structured URLs. This will help your blog in the times to come too. You may choose whichever structure works best for your site as per the recommendations of a web design agency in Sydney like Zeal Digital.
Automated Image Optimiser
Optimising images is going to increase your chances of ranking high on search engines. So setting up an automated image optimiser is going to be an important WordPress site setting for SEO to work on. Several plugins will automatically optimise images as you upload them. Some of them are available for free while others cost a fee.
Deactivate Comments
Comment sections of the majority of websites include spammers. Some of these comments may include malicious codes and you need to keep such stuff far away from your website. So, deactivating comments will be a handy website setting, something that you can apply very comfortably.
Setting User Permissions
You have to make sure that the site is running smoothly at all levels. There are times when errors on your website can deny access to stakeholders, a situation that you need to avoid clearly. Setting user permissions allows you to give each stakeholder access to only the sections they need. If you're confused about how to use this setting properly, choosing Zeal Digital for the job will be a great call as we are a leading web design agency in Sydney!
Deactivate And Remove XML-RPC
The security concerns of the XML-RPC file are quite evident on WordPress. Thus deactivating and removing XML-RPC files is going to be a crucial WordPress site setting for SEO. This file can give access to hackers and once they get the needed access, the website can be ruined. You need to search the plugin directory for "remove xmlrpc" and get rid of it!
Limit Log-In Attempts
You also have to limit login attempts through WordPress site settings for SEO. A brute force attack takes place when a user is repeatedly trying to login into the account. Once you have configured the attempts through settings by limiting them, the danger of brute force attack is going to decrease to a great extent.
All Users Having Secure Passwords With 2FA
As your website starts getting popular, the hackers will try their hardest to make it through. It is about how you can build a system that's difficult for hackers to crack. Having secure passwords and enabling two-factor authentication (2FA) are effective ways to make a WordPress site more difficult to hack. You need to come up with a password that's very uncommon as hackers will use all the combinations that are possible to make it through. You can use the help of a web design agency in Sydney like Zeal Digital to prepare such a password.
Set Up Recurring Backups
It is about securing your website in as many ways as possible to you. Daily backups are going to be a great way to have that security. The WordPress site settings for SEO can help you in setting up recurring backups nicely. Instead of going for plugins, you can use WordPress host to manage backups.
Auto-Update Plugins
There are times when your plugins will become outdated. Keeping up with plugins manually can be a very difficult task. Auto-update plugins are going to be a very helpful WordPress site setting for SEO. You won't have to keep up with plugins manually and they will be updated whenever it's the need of the hour!
By including these settings on WordPress, you will make sure that your SEO strategy is effective and efficient. Zeal Digital is one web design agency in Sydney that will help you in making the most out of these settings for successful changes to your website!