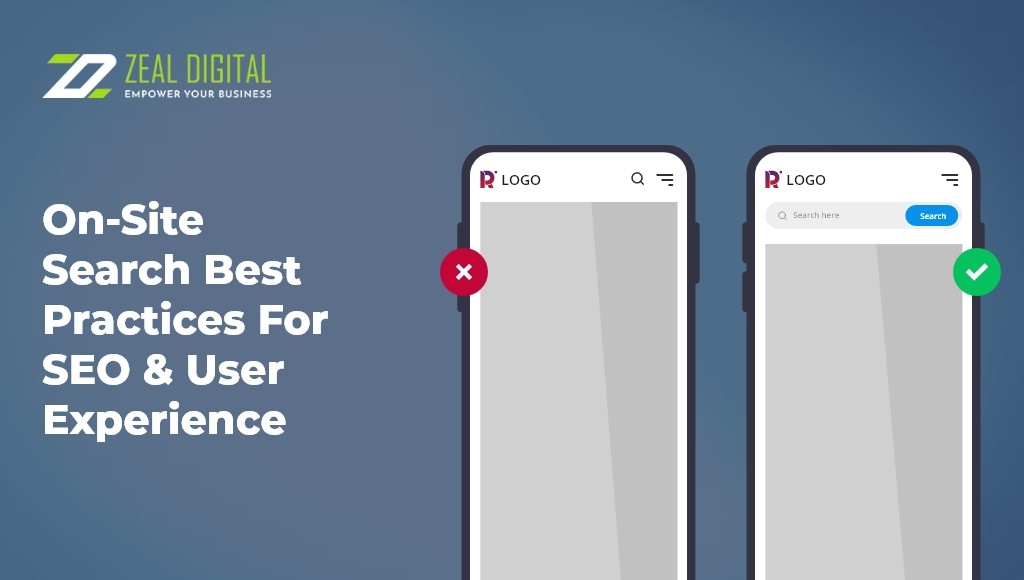 On-Site Search Best Practices For SEO & User Experience
On-site search bars can be beneficial for your customers. They provide easy navigation, a general overview and form a good impression. No matter how easy it is to navigate your website, it is always a clever idea to have a search widget here. Not only does an on-site search bar solve the matter, but it also needs to be correctly placed on your website.
Since Google has greatly increased users' expectations, having an on-site search bar and maintaining it properly has become a vital task. How should you make your search bar unique? Here is a list of best practices for SEO & user experience:
1. Search Box Placement
The most vital factor for an excellent on-site search practice is placing your search bar correctly. If the search bar is located in an odd corner, your customers may not be able to find it and miss out. That can affect your website's traffic negatively. Before you add the widget to your website, look for a corner that can be very easily accessible to your customers. It should be visible from the get-go so that customers can directly go to the on-site search bar for any of their queries. The colour contrast of the search bar concerning your website should also be kept in mind. For expert support, contact us at https://www.zealdigital.com.au/web-design-agency-sydney/.
2. Search Box and website design
The design of the search box is equally important as its placement on your website. The design should be eye-catching yet not overly decorative. The best way to attract your users is to have a contrasting search bar that goes well with your website. Try using a minimalistic approach for your on-site search bar design. That will have a good impression on your users. The three basic elements of a search bar are a magnifying search icon, a search box, and a search button. All these three parameters should be user-friendly and appropriate. Therefore, make sure you address all these factors while placing and designing your On-site search bar. You can contact us if you are looking to hire a website design agency in Parramatta to get you started or improve your site.
3. Placeholder text
Another important factor that plays an important role is a placeholder text. Your search bar should instantly be visible to your customers. For that purpose, you can design your on-site search bar in such a way that it contains placeholder text. Placeholder text is usually the "example text" in the search box area. This helps users to understand what type of searches can be performed through your on-site search bar. It lets your user know what they should type in the search bar to get appropriate results. While you are designing your search bar, make sure to add a placeholder text for on-site search best practices for SEO & user experience.
4. Auto-complete with SEO
Auto-complete is yet another vital feature that should be a part of your on-site search best practices. As Google has raised the bar with its flawless auto-complete feature, having one for your website can give you an upper hand. The auto-complete feature helps your users or customers to easily navigate through their desirable searches without entering the whole idea. It makes searching convenient and easy since your customers do not have to type complete sentences. Auto-complete also helps in aiding the SEO functions of your website. You can reach us if you want to hire an SEO agency in Sydney to help you get these important things installed or improved.
5. Simplified search results and no results page
One of the most effective on-site search practices is to display simplified and easy-to-read search results. If your customers easily get what they are looking for, they will engage more and more on your website which could translate to money spent here. Similarly, a "no results" page also affects your website a lot. If your customers somehow land on a "no results" page, your website should be designed in such a way that they get similar suggestions that are related to their search.
6. Option for Custom Ranking
Custom ranking your search results is yet another feature you can add on your on-site search bar. It is a feature that lets you put the pages, articles or products that have been added recently on top. This can help your users or customers know about the latest offers, products or news without having to search for them. This feature also gives you a control on what is to be displayed and boosts up the SEO of your page.
Why is it important to have on-site search best practices?
Having good on-site search practices not only helps you with your website's SEO but also lets your user have a better experience. By giving your users the option of an on-site search bar, you do not have to worry about what your users might do while navigating through your website. They can simply use the search bar to look for exactly what they want. Since, you as a developer can control what they are looking for, you can carve out the search results according to the needs of your website. Some of the advantages of having a on-site search bar are:
Improved SEO
Better user experience
Good navigation
Lucrative interface
Increased traffic
Conclusion
These on-site search practices are considered to be some of the most effective ones for a website. They are also very basic and can be easily altered according to your needs. You can control your website and search bar so that your users get the best use out of it. Therefore, while you are designing your website, you also need to focus on your on-site search design as it can give your website the edge that it needs! If you are looking for the ideal support, contact us at https://www.zealdigital.com.au/seo-agency-sydney/.