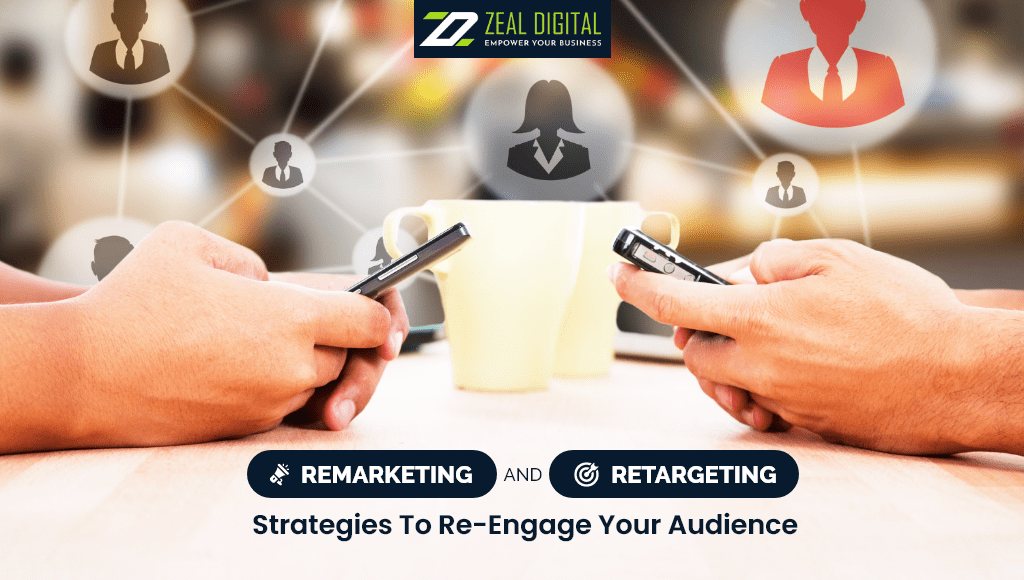 Remarketing And Retargeting: Strategies To Re-Engage Your Audience
Remarketing And Retargeting: Strategies To Re-Engage Your Audience
In the ever-evolving world of digital marketing, staying ahead of the curve is essential for success. One of the most effective tools in a marketer's arsenal is remarketing and retargeting. These strategies allow you to re-engage your audience, remind them of your products or services, and ultimately drive conversions. Let us see the intricacies of remarketing and retargeting, exploring strategies to help you achieve your marketing goals.
Understanding Remarketing and Retargeting
Before diving into the strategies, let's clarify what remarketing and retargeting means. While the terms are often used interchangeably, they have slightly different nuances:
Remarketing: This term is primarily associated with Google Ads. Remarketing involves displaying targeted ads to users who have previously visited your website or engaged with your app. These ads appear on various Google partner sites and across Google's advertising network.
Retargeting: This broader term encompasses various channels, not just Google Ads. Retargeting involves re-engaging users interacting with your brand across different online touchpoints, including your website, social media, email, and more.
In essence, both remarketing and retargeting aim to bring back potential customers who showed interest but didn't convert during their initial visit.
The Power of Remarketing and Retargeting
Now that we've established the definitions, let's explore why these strategies are crucial in the digital marketing landscape:
Maximising ROI
Remarketing and retargeting campaigns can be highly cost-effective. Since you're targeting users who have already expressed interest in your brand, the likelihood of conversion is higher. This means you're getting more value out of your advertising budget.
Personalisation
Both remarketing and retargeting allow for highly personalised marketing messages. You can tailor your ads to specific user segments based on their past interactions, preferences, and behaviour. This personal touch increases the chances of engagement and conversion of your audience.
Rebuilding Trust
In today's digital world, consumers have countless options at their fingertips. Building trust and credibility with your audience is important. Remarketing and retargeting allow you to reinforce your brand message, reminding users why they should choose you over competitors.
Overcoming Cart Abandonment
Cart abandonment is a common challenge for an e-commerce business. Remarketing and retargeting can help recover abandoned carts by sending targeted messages to users who left items in their online shopping carts without completing the purchase.
Upselling and Cross-Selling
These strategies are not limited to attracting new customers. They can also be used to upsell or cross-sell to existing customers. You can offer relevant products or services to increase the average order value by analysing their previous purchases or interactions.
Effective Strategies for Remarketing and Retargeting
Now that we understand the importance of remarketing and retargeting, let's explore some effective strategies to implement these tactics successfully:
1. Segment Your Audience
Not all visitors or users are the same. Segment your audience based on their behaviour and preferences. For instance, you can create segments for users who abandoned their carts, browsed specific product categories, or haven't visited your site in a while. This segmentation allows for highly-targeted messaging.
2. Dynamic Remarketing
Dynamic remarketing takes personalisation to the next level. It involves showing users the exact products or services they viewed on your site and related items. This strategy can significantly increase the chances of conversion since users see what they were initially interested in.
3. A/B Testing
Just like any other marketing strategy, A/B testing is crucial for remarketing and retargeting campaigns. Test different ad copy, creatives and calls to action to identify what resonates best with your audience. Continuous optimisation is key to improving performance over time.
4. Frequency Capping
While remarketing and retargeting can be highly effective, bombarding users with ads can have the opposite effect. Implement frequency capping to limit the number of times a user sees your ad in a given time frame. This helps avoid ad fatigue and annoyance.
5. Cross-Channel Retargeting
Don't limit your retargeting efforts to a single channel. Utilise multiple touchpoints, including social media, email, and display ads, to re-engage your audience. This holistic approach ensures that you reach users where they spend their time online.
6. Create Compelling Content
Your remarketing and retargeting ads should offer value to users. Whether it's a special promotion, informative content, or a solution to their problem, ensure your ads address their needs and desires.
7. Monitor and Analyse
Regularly monitor the performance of your marketing campaigns. Track metrics such as click-through rates (CTR), conversion rates, and return on ad spend (ROAS). Use these insights to make data-driven adjustments and refine your strategies.
Conclusion
In the ever-competitive digital marketing landscape, remarketing and retargeting strategies offer a powerful way to re-engage your audience and drive conversions. These techniques allow you to maximise your marketing budget, personalise your messaging, and rebuild trust with potential customers. By implementing effective strategies such as audience segmentation, dynamic remarketing, and A/B testing, you can harness the full potential of remarketing and retargeting to achieve your marketing goals.
Staying ahead of the curve is essential in today's digital marketing landscape. If you're feeling overwhelmed by the complexities of remarketing and retargeting, consider seeking the expertise of a digital marketing consultant. Their experience and insights can help you navigate the nuances of these strategies and drive exceptional results for your brand. Don't miss out on the incredible opportunities that remarketing and retargeting can offer in the ever-evolving world of digital marketing.
Frequently Asked Questions (FAQs)