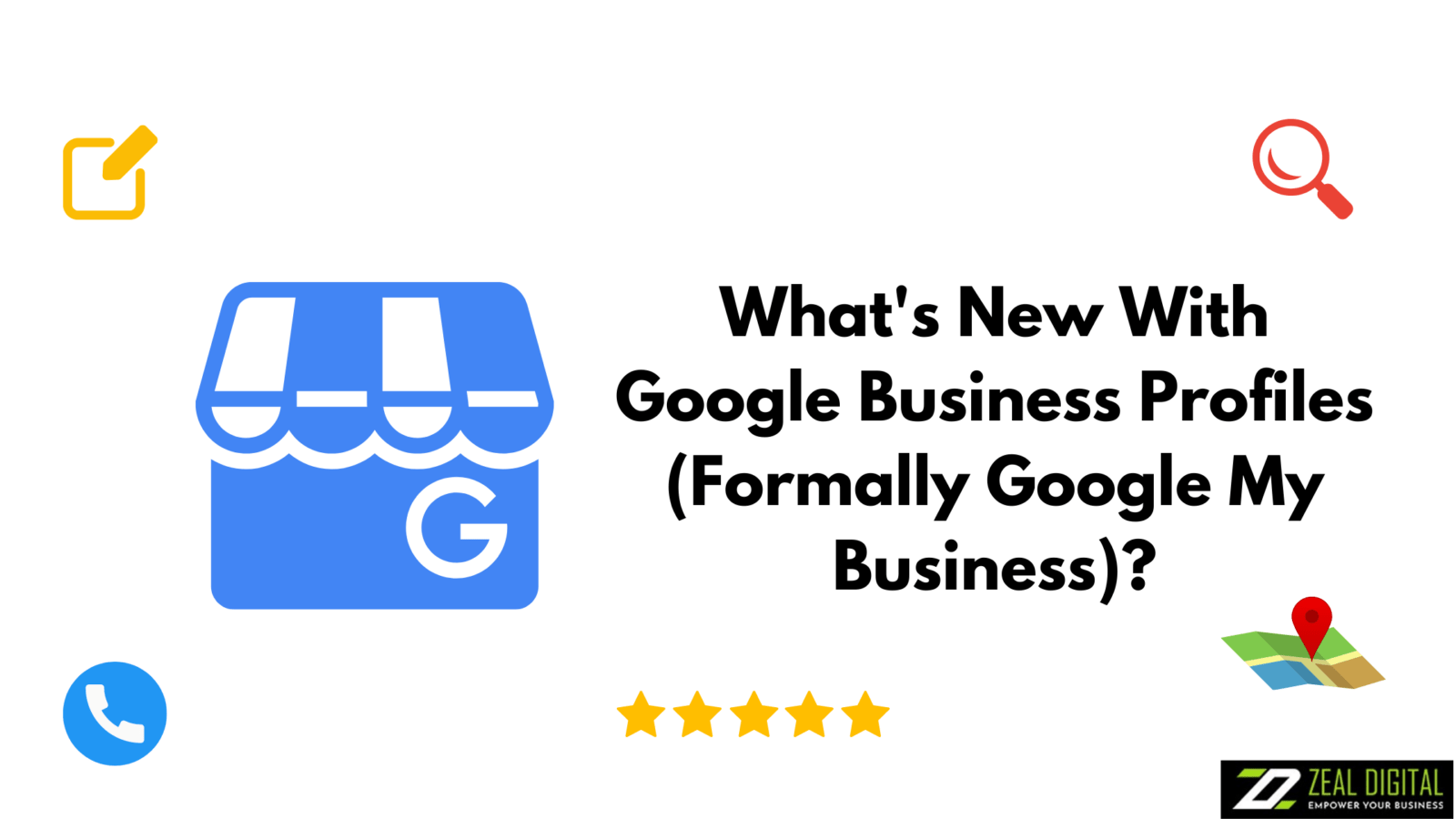 What's new with Google Business Profiles (Formally Google My Business)?
In November 2021, Google had stated they were going to give Google My Business a makeover. This included getting the name of the local business search tool changed to Google Business Profile. The main point is to give businesses a more straightforward way to claim, verify and update their profiles. Let's dive into the fundamental changes added to the Google Business Profile.
Now, Easily Claim and Manage your Business Profile in Google Search and Maps!
This is easily the best feature as it can small local businesses readily claim, verify, and manage their business profile using Google Search or Maps. Though it's no secret that Google had allowed companies to claim a business through the search results directly, Google wants it to make it more convenient for all the small businesses to now get verified from the Search and Map method.
 So how does the process work?
Suppose you have a store called "Imaginary Shop" and want people to know about your store; the first thing is to type your business name in the Google Search or Map, and then you will probably get a prompt stating to verify the business. Once the verification of your "Imaginary Shop" is completed, you can add further details like your store's business hours, address, type of service you offer, images, videos, etc., all using Google Search or Map. This way, the local business store owner doesn't have to use the Google My Business website and get things covered. It's also important to note that if you had previously got your store verified in the Google My Business Account, you can still directly edit your store details using the Search and Map method.
Engagement With Your Customers Was Never Easier!
While claiming your business was made more accessible, Google also allowed companies to chat with customers directly from the Search section. Better engagements with customers have led to improved business opportunities in modern times. One needs to activate the chat feature to let customers chat with the business. You can view and respond to clients' messages, manage reviews, and get FAQs in one place. You can be assured to get better results for your business using the Chat strategy than just placing your mobile or email id. When placing the chat feature, ensure you have someone covered answering the questions within 10-15 minutes of the questions being posed. Google has also added the read recipient feature, which tells both parties that their message has been read, adding to the human touch.
End of the road for Google My Business App:
With Google's aggressive tactics to get more people to manage their business profile through Search or Maps, by the end of 2022, Google My Business would ultimately be removed from the app and web pages. However, larger businesses with multiple profiles can be assured that their Google My Business will remain intact for now, but the name used would be Google Business Profile. It's encouraged large businesses to start using Google Search and Maps for overall development.
How To Update Your Google Business Profile?
It's essential to keep the information about your business updated. This will help build the trust amongst users that the store cares about its customers. Especially in times of Pandemic, information about your store openings, exact location, valid contact number all play a crucial role. Try adding high-quality photos and videos to your Google Business Profile to ensure more significant clicks to your business. Some key figures indicate that you can get an almost 35% increase in people visiting your profile if you have an excellent picture posted in your Business Profile. There has been a 60% increase in people calling to check the store's operation. Edit the following pointers in your Google Business Profile
The exact name of your business
Proper Store Address
Store Operating Hours
Business Type/ Category
Mobile Number
Website URL
Description About the website and service offered.
Ensure you cross-check your contact information and other details to avoid confusion. You can also add your social media links to help customers redirect to your Instagram, Facebook, or other social media sites.
Conclusion:
Google My Business has ensured people quickly connect with local stores for many years. With the launch of Google Business Profile, it has become much easier to locate and communicate with your stores. Zeal Digital has been helping multiple businesses help expand and reach out to a larger audience using SEO, SEM, AdWords, Web Design, and Retargeting. Our experts will accurately fill in all your information to help your business flourish. Contact our experts on 1300 269 414 for free consultation and quotes.