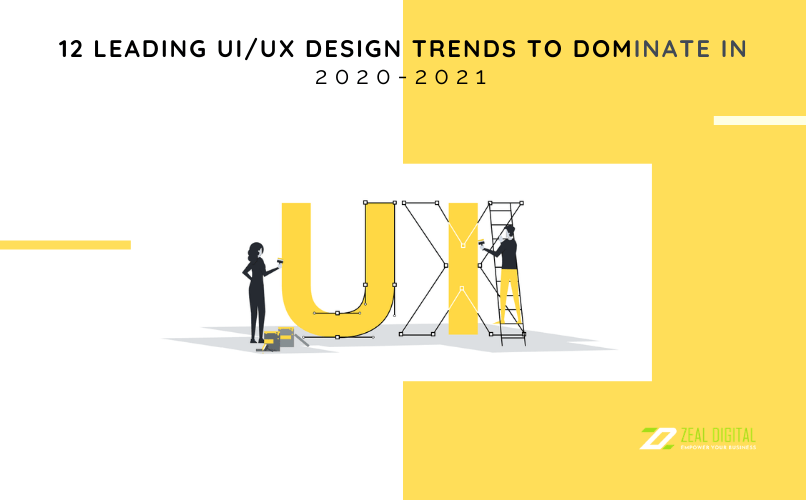 12 Leading UI/UX Design Trends to Dominate in 2020-2021!
UI/UX design trends are now changing more than they ever did before. They keep altering to fit the tastes and capture the renewed interest of users. As business entrepreneurs, you need to adhere to the latest UI UX web design trends in Sydney, to stay ahead of your competition. 
Wondering why this step is so important? Many business sites are blooming daily, so potential clients are quick to find one that provides the solution to their needs. Thus, the online platform which grabs their audience's attention will win the game. 
So, if you wish to redesign your business, then ensure that you follow the latest user experienced designing trends of 2020-2021. Following these tips will help you ensure that your web platform is updated and visually appealing. It is the power of UI/UX designing. So, then what are user interface website design trends in 2021? No worries, here we will explore all those in this blog.
The User Experience/User Interface designing trends to follow in 2020-2021!
Previously, user experience and marketing were known to be separate study streams. But later, business minded people have begun to understand the way both UI and UX design trends impact consumer behaviour. The influence achieved is beyond one's imagination. So professional website designing agency in Parramatta are continually updating their design and content. As the experts, they can help you create the best web design for your business to grab more audience and web engagement. Take with you, your knowledge of your brand's flavour and target market, as well as new packages to suit the trends of the times and watch them do the rest.
Login without any password!
Forgetting a password is an important error which the majority of users make when dealing with online web platforms, slowing down their experience and making it all the more tempting to quit. Resetting the password option to get into these accounts after all can take long, or just prove to be a bother. Normally, passwords are a combination of alphabets, numbers, and special characters. So, this makes it more difficult for the users to remember. For solving such issues, the latest UI design trends have started to offer different options for users to log in to their accounts. Few things can replace the password-less login that involves face authentication, PIN code, existing social media accounts or even a fingerprint.
UX writing is the popular UX trend to dominate in the year 2020-2021. What is the meaning of this? Previously, it was popular to fill the UI UX design platform with creatively decorated words. But this is losing its value. Instead of beating around the bush, only important information should be shown. Consumers are preferring information that is very clear to the point. This strategy has proved to keep the clients involved and thus leads to more conversions to leads. Many web designing companies in Sydney are using such techniques.
The dark mode facility option is gaining popularity among the latest UI UX design trends in Parramatta. This is usually activated when the daylight turns off and the night turns on. It has been found that prolonged exposure to bright blue light is not good for the eyes. It is one of the ideas behind the shift that UI UX designers are making to a dark theme or optional dark mode.
And there are few other additional advantages for including a Dark mode. They are as below – 
It provides an attractive look different from existing themes. 

Highlights the various designing elements.

Saves the battery usage of the monitors to its highest extents.

Reduces eye strain.
Air gesture controls is another UI UX trend which is said to dominate in 2021 and very popular amongst professional web designers in Sydney. It reacts as an important source to improve your user experience. With touch screens advent, different gesture control procedures have controlled how the user moves through and selects content. However, all this was done with the requirement of touching the screen. Now with new technology this has been replaced by air gestures. Air movement control will soon be possible on mobile phones. Isn't that interesting?
3D based design elements are a great way to keep your users interested and involved. Now they are built with the latest technologies such as VR and AR – Virtual reality and Augmented Reality. It enables the UI UX designer to produce hyper-realistic 3D visuals and to keeps users engaged as well as curious. This can be very important to communicate visually crucial information during the current pandemic. For example, some real estate firms are already using VR property tours to let potential buyers see the beauty and function of a potential future home. Such graphical elements can also decrease the site speed, so ensure that you optimise it for this purpose. 
Voice-based user interfaces can be built into your UI UX procedure. If you wish to become a good UI UX designer, then try to adopt the latest UI trends. This is a very helpful tool for the visitors of your business when they are searching for information, that it is getting increasingly used with new technology such as Google Home.
Custom navigation is expected to dominate the UI UX design trends in 2020-2021. With the proper usage of navigation and visuals, it helps attract users and keep them engaged. There are commonly two types of navigation elements – visible navigation elements and hidden navigation elements. The navigation menu must be designed in the way that the information flow is smooth and easy.
Full-screen visuals grab the attention of the visitors of your site faster. It has been found out that things present in the page centre attract the user's attention. But still, it is advantageous if you use the complete page or show different information. These UI web designing trends in Sydney have started to get more popularity and will be the one that will be involved in the year 2020-2021.
Social media platforms such as Facebook execute these strategies very well. The option for 'Like' is the best example of micro-interaction. The micro-interaction word itself is self-explanatory. It enables all the users to communicate with the UI UX for a special moment. Examples for few features involve small animation effects or short videos. This way is the perfect example of the human-centred design approach. It concerns users mainly.
The use of bold fonts in the UI UX website design is not a recent trend. But this practice will profit momentum in the upcoming year also. The fonts' importance in the UI interfaces is very much important. Bold fonts are helpful to grab the clients' attention. It makes the user interface as well as content more attractive.
Augmented reality is another latest UI UX web design trend that will dominate in the upcoming year. It is not only defined for the gaming world. It has its implications in other sectors too. A huge example is in the medical area. This technology can be built into telemedicine and online doctor consultation uses.
Proper colour combination
Select the right colour combination as it is always the necessity whether now or later on. The role of combo colours is beyond explanation. Colours attract the attention of viewers. Give the correct combo according to the needs of the business, various genres of the business sector demand various colour combinations. This trend will dominate in the UI UX designing sector in the year 2020-2021.
Conclusion – The end
This is it. This blog has tried to find out a few latest UI UX website designs trending in Sydney and Parramatta and likely to dominate in 2021. Ensure that you adhere to all the latest trends to reach out to the million clients out there and look for a specialist web designing company in Sydney to help you in creating an engaging website.