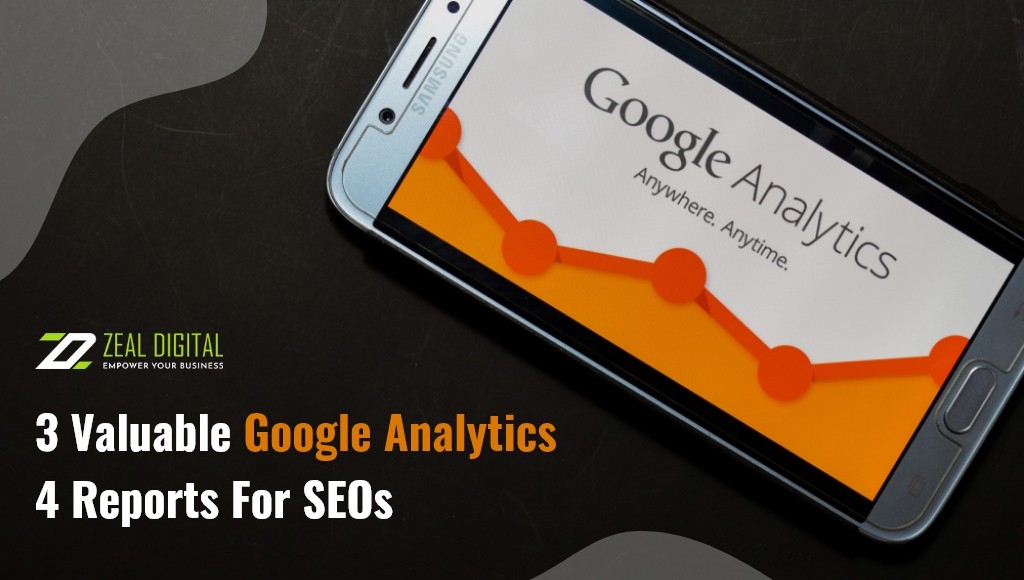 3 Valuable Google Analytics 4 Reports For SEOs
In recent times when SEO plays a major role in the dynamics of website content and its ranking, it is essential for you to have a proper understanding of the what and how of things. If you want to analyse your website traffic and other aspects of your overall website, then Google Analytics 4 reports are something that can help you do it.
Google Analytics 4 lets you create different reports for different analytical techniques. Out of them, the three most valuable ones can help your website grow and give you an edge with search engine optimisation. However, before we get started, let us first discuss what Google Analytics 4 is and how it works.
Google Analytics 4 – What is it and How It Works
Google Analytics is a web analytics service which collects and uses the data from sites to make analysis reports for SEO marketing. It is a free service provided by Google and is available for anyone with a Google account. It can be used to monitor insights on visitors to your website with the help of different Google analytics 4 reports. It also helps you understand the traffic and where the maximum traffic is coming from. With the help of these tools and insights, you can develop and tweak your website accordingly. If you are a small website, you can also use Google Analytics to understand the behaviour of your customers and use it to improve your marketing campaigns.
It is interesting to see how Google Analytics works. It collects data from each website visitor and builds various types of reports based on the collected data. The data is acquired through JavaScript page tags which run in each of your visitor's web browsers. Google Analytics uses this data to calculate several users, page views, sessions by channel, average session durations, bounce rates, goal completions and others. However, if the visitors of your website have disabled their cookies, Google Analytics cannot collect user data for these reports. Therefore, cookies for each browsing session must be turned on.
1. Google Search Console reports
As the name suggests, Google search console reports help you understand how search results work with the help of statistical information. It uses four different metrics to identify and understand the Google Web Search data.
Impressions: Impressions are the number of times the URL of your website appears in Google Search Results. However, impressions via ads are not included in this data.
Clicks: Clicks are the number of times a user clicks on your website URL when it appears in the search results. Again, clicks via ads are not included in this data.
CTR: The full form of CTR is the click-through rate. It is calculated by the formula Clicks / Impressions * 100.
Average Position: This is an insight into where your website appears during a search result. For example, if your website ranked in the second position for one search result and the fourth position for the next, the average position will be calculated by adding the position numbers and then dividing the sum by "2".
2. Traffic Acquisition Reports
Traffic Acquisition Report is one of the most widely used Google Analytics 4 reports. This is because it gives you essential information about where your page visitors are coming from. In other words, traffic acquisition reports help you understand where the traffic to your website is entering from. Once you know this, you can improve the rest of your website gateways so that equal traffic enters from all of the sources.
Traffic Acquisition Report can be easily accessed if you have set up your Google Analytics 4 account. All you have to do is go on your GA4 dashboard and click on "Acquisition" which appears on the left menu. A drop-down menu will open and an option called "Traffic Acquisition" will appear. Once you click on it, your traffic acquisition report will be displayed. You can customise and compare the data to gain a full insight into your website.
3. SEO Landing Page Reports
The Google Analytics 4 Landing Page Report is the most useful of all. It helps you analyse the traffic on your website and gives you an insight into how to improve your website's content. It also helps you with better search engine optimisation of your website.
By following these quick steps, you can create a Google Analytics 4 Landing Page Report for your website.
Step 1: Create a GA4 account. If you already have one, you can log in to it before starting.
Step 2: Find the 'Explore' tab and click on it.
Step 3: Look for the 'blank report' option and click on it. You can rename your report title as per your convenience.
Step 4: Locate the '+' button next to "dimensions" and click on it.
Step 5: Look for the "landing page" dimension and click on the checkbox located next to it. Once this is done, click on 'import'.
Step 6: For automatically adding it to the "Rows Section", you can double click on "landing page"
Note: After you follow this step, there will not be any visible change on the canvas. However, the dimensions will have been added to it.
Step 7: Locate the '+' button beside "Metrics" and click on it.
Note: After this step, you can now see the dimension(s) that you have added to the canvas.
Step 8: Add the following metrics by searching, selecting and then clicking on "import":

Views
Sessions
Engaged sessions
New users
Returning users
Total users
Average engagement time
Conversions
Total revenue

All these metrics will be now added to your report after this step is completed.

Step 9: Now double-click on each of the above-mentioned metrics to add them to your report canvas.
Step 10: Your Google Analytics 4 landing page report is now ready and can be seen on the canvas.

Google Analytics 4 can be a very useful tool to improve your website, its contents and the SEO marketing tactics. Even if you are just a beginner, you can easily understand and use the data from Google Analytics 4 reports and implement them on your website. You can also hire a Sydney SEO specialist to do the job!