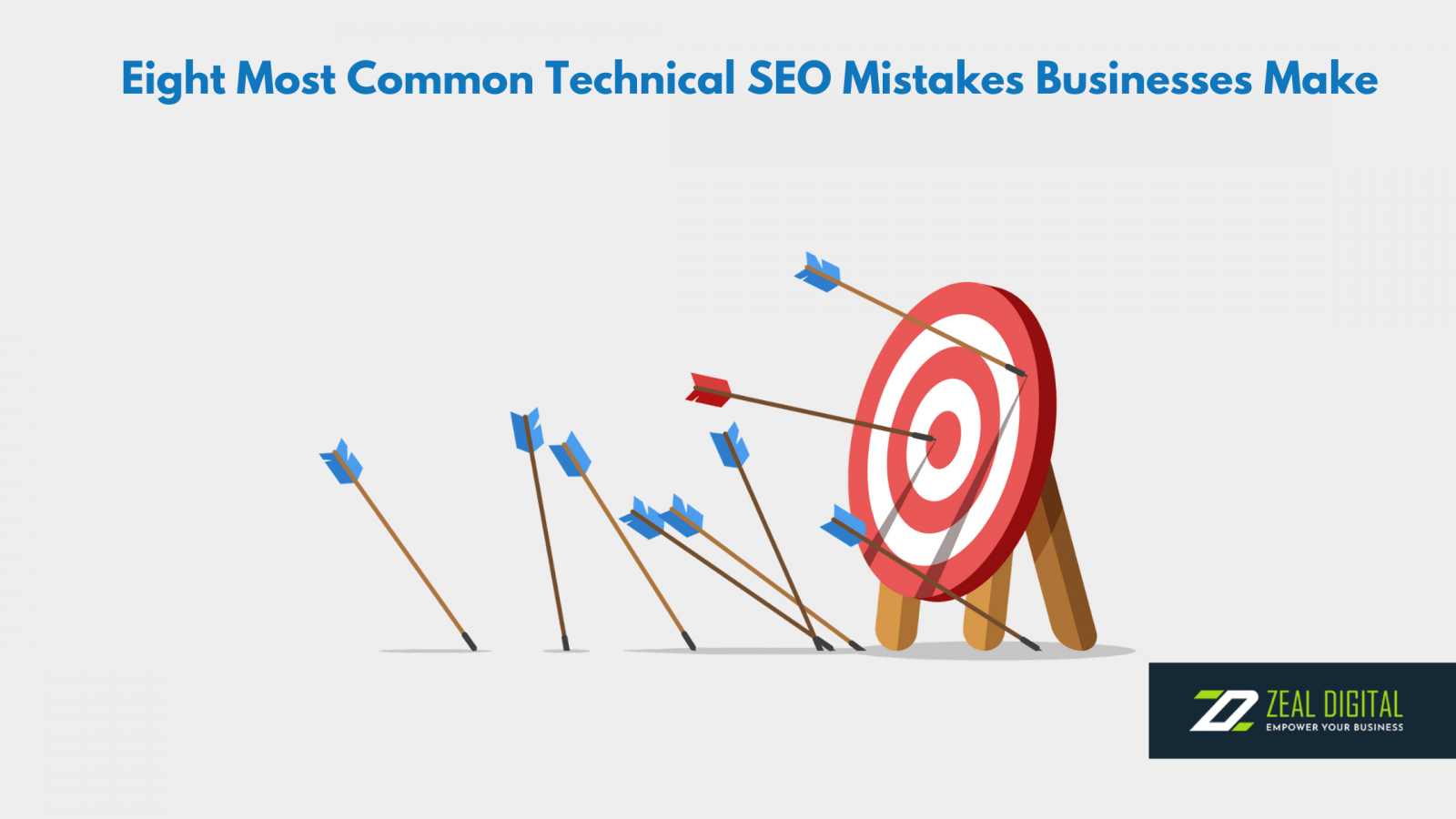 Eight Most Common Technical SEO Mistakes Businesses Make
Hey you! Are you working day and night to grow your business on the digital platform in Sydney! Even after providing a complete description, convenient language, contact info, and polite tone of language on the webpage, are they still not getting good organic growth? Well, the chances are that you are making some of the most common technical SEO mistakes.
SEO or search engine optimization is a practice to optimize the quality and quantity of your content in the search engine. A good SEO in your webpage will help you genuinely to grow more in Sydney.
If your content follows the SEO practices, then the search engine will show your content on the top list when it is searched. Thus, the SEO services engage more traffic on the digital planform organically.
Let me explain this in layman's language. Search engines are just like the virtual version of a book library. It contains tons and tons of web pages and databases within it. When one types a query, it looks through all the web pages and takes out the most relevant results. 
For this, your engine uses a computer application called an algorithm. But nobody is quite clear on the concept of how these algorithms work. SEO takes your content in favour of the algorithm so that while checking through the contents, search engines can pick up your content easily.
There are tons of search engines like Google that are available on the internet. These engines are constantly developing along with their algorithms. The SEO methods are also constantly evolving with this.
Marketers always need to stay on top of all the changes like shifting in the marketing patterns, the difference in consumers' taste, and even in the change in SEO methods. Now you must understand that SEO services are so important for your business in Sydney. Little mistakes in SEO may lag your business in this competitive market.
Here we will discuss the major eight SEO mistakes that commonly hinder the growth of businesses.
First Mistake: Not Knowing Your Audience
One of the significant points in SEO is to know who your target audiences are.
Some people will go through your webpage just out of curiosity. But some will visit it for their purposes. You need to identify them and try to imagine their exact queries at the minute or granular level.
Many marketers think that they know their audience. Still, they don't understand the psychology of the consumers at the micro-level.
To get rid of these mistakes, focus on using keywords, especially long-tail keywords. Keywords are the most miniature version of the consumer's approach. Chalk out the consumer's intent to select the keywords, or you may use Google keyword planning tools.
Second Mistake: Not Having SEO Plan And RoadMap
Roadmaps are the blueprints of your success. It would be best if you made it to reach your goal. SEO strategy gives a right and compact pathway to that success. so having a proper SEO plan and roadmap is crucial. 
Make your plan or strategy right now and try your best to execute that in your business model. Many businesses fail to execute an SEO plan as it relies on multiple stakeholders- PR, Content, IT, Product, etc.
Break your task and focus on every key stakeholder to grow them. Work hard and find the technology and tools which can help with your workflow and roadmap.
Third Mistake: Creating the Wrong Type Of Content
The following common mistake is creating content which is not targeting the audience. While focusing on the keywords, we often fail to make dedicated content. This leaves your audience unsatisfied and decreases the relevance of your webpage in the engine's algorithm.
These mistakes result from making low-quality content by adding all keywords, compiling multiple topics in a single one, or optimizing many keywords in one article. Keep these points in your mind while creating your business content from next time to have good traffic.
Fourth Mistake: Publishing Non-Original Content
This mistake affects the quality of the content dramatically. Copying and plagiarizing content from another website is a spammy practice and is highly discouraged by SEO services sydney. Moreover, the duplicate content or thin content does not even work on the search engine.
Try to create strong headings which relate to your topic and attract consumers. Make sure that your content can give all the answers with examples. Increase the readability of your topic and add photos and videos to make it creative.
Fifth mistake: Missing Quality Links
To grow your business in Sydney on the digital platform, you must know that the quality of the external links is more important than the volume of the content.
Link your content with relevant, well-ranking websites with solid traffic. Monitor and check your webpage for broken links and fix them. 
Link back those who have linked your website. Use a variety of anchor text as using the same may be seen as spammy. Build quality contents that genuinely attract links.
Sixth Mistake: Going Astray With Your Internal Links
It is crucial to attach the link of your top viewed pages with your current one. Internal links give the content more visibility and additional attraction.
But don't add a link to an unmatched topic to increase traffic. Balance the number of internal links and fix them in case of broken links.
Seventh Mistake: Not Understanding How SEO works
SEO is nowadays an integral component of digital and social media marketing. To maximize the potential of your business, you must avoid the mistake of overlooking how SEO works on your content.
You must ensure that your SEO roadmap takes account from all digital platforms and channels. Bring everyone in your team to the SEO roadmap to grow more on the pathway of success. Always keep constant contact internally and externally with digital counterparts.
Build a symbiotic relationship on measuring your success across all the digital channels- Gmail, social, PR, etc. as a part of modern-day SEO.
Eighth Mistake: Not Utilizing Analytics
Researching a lot of keywords and other components on SEO and then using them is not everything. To know how SEO is helping in your growth, you need to visit regular analytics. Google analytics and search console give you an overview of the growth of your webpage.
Use several available tools and technologies to avoid mistakes. Keyword research, Automation, link management are the range of solutions to optimize your business growth in Sydney.
Conclusion
Search engine optimization is a must thing to know. From researching the right keywords to linking content with all channels, one needs to do all these carefully. Follow the tips and avoid mistakes in SEO and get good organic growth for your business.