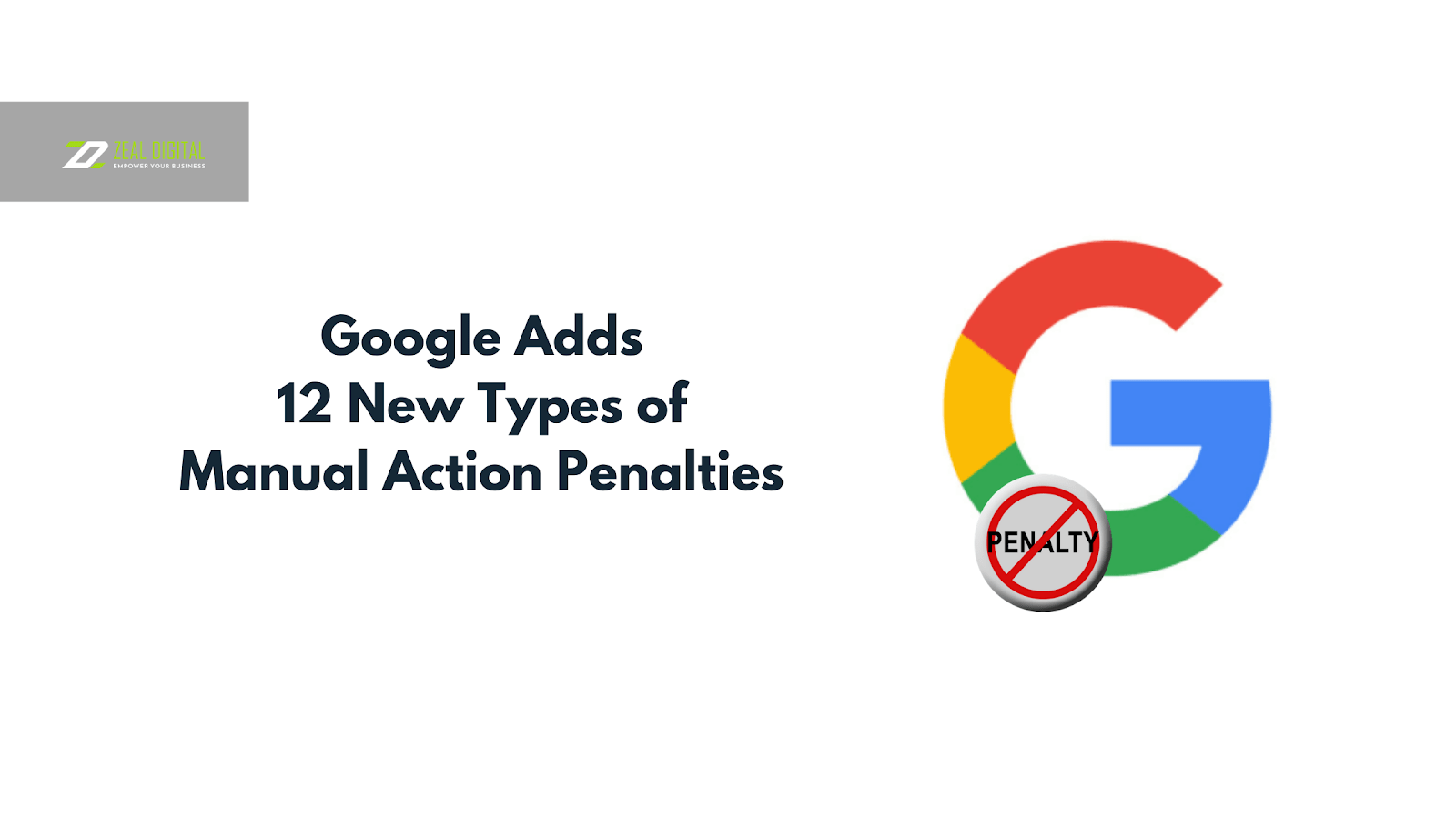 Google Adds 12 New Types of Manual Action Penalties
Google, being the most trusted search engine in today's time, has upgraded its security policy to ensure the best service to the users. As the cybercrime rate soared up, it has become a necessity to reform policies and implement penalties. Though the penalty system must be different from the traditional punishments, it is possible to punish sites that violate the rules and regulations. 
The common punishment is to lower the rank of the website in the SERP. Even, your website may disappear suddenly if you infringe the rules and policies. However, these punishments were implemented virtually and automatically in previous times. But the reformation of the terms in the usage of Google states that from now on, the activity will be monitored, and a penalty will be given by an employee of Google. This means the process will be done manually. 
Manual penalty sounds more authentic as the person will deeply analyze the matter before punishing. This would not occur if it happened automatically. When a human handle it, he decides after examining the situation profoundly. This provides more security to Google users. Previously, penalties were given for violating Google search policies. Now, Google has extended the penalties for violating Google News and Discover policies. Thus, security measures become reliable and extensive.
Let us know about the 12 new add ups in the manual action penalty.
VIOLATION OF TRANSPARENCY- Google says that the information on the website should be complete. It comes under Google News penalties when the website lacks information like the author of an article, byline, dates, publication name, company that assisted, and similar other information. Google states it as a violation of transparency as the whole information is not provided.

ADULT-THEMED CONTENT- This comes under Google discover penalties. It covers content that promotes nudity, sexual acts, aggressive sex, and sexually express content. Such content that promotes vulgar sexual material should not be disseminated. 

MISLEADING CONTENT- This also comes under Google discover penalties where it restricts the promotion of misleading content. Content that promises something and serves something different is stated as misleading content. Website content must not exaggerate the context that they may fail to serve. 

DANGEROUS CONTENT- These are content that is threatening and somewhat harmful to the people and the animal. Also, the content that triggers a clash is dangerous. Content that may instantly and critically attack folks and animals are stated as dangerous too. Websites must not promote such content.

HARASSING CONTENT- Bullying, and harassment have become common in digital media. To stop the practice, Google has now penalties against harassment, bullying, or content that may hurt a user. This may help in creating a healthy digital realm for all.

HATEFUL CONTENT- Content that promotes hatred comes under this section. You can be penalized if you spread hatred against a community, race, animal, person, or any other beings through your website.

MANIPULATED MEDIA- Google now detects all forms of content that are designed to misguide, deceive, and cheat the users. Any manipulated content that can confuse the user should be avoided. This is a measure to ensure transparency and accountability.

MEDICAL CONTENT- As medical practices have shifted online too, Google introduced the policy to control the content regarding medical suggestions, medicine recommendations, and similar medical activities. This is a step to stop non-professionals from practising online. 

SEXUALLY EXPRESS CONTENT- Google restricts the dissemination of sexual content that provokes sexual arousal. Mainly the vulgar and obscene images and videos are restricted in this section. 

TERRORIST CONTENT- Google prohibits the spread of any content that promotes or portrays terrorist acts and triggers terrorist activities. Any violence can't be displayed through the content that may maybe provoke to go into terrorism.

VIOLENCE AND GORE CONTENT- This includes any content (images, graphics, videos, or animation) that may promote violence. Any content that disrupts and disturbs the audience is considered violent. Google strictly prohibits the usage of such content.

VULGAR LANGUAGE AND PROFANITY- Websites may not use language consciously. Being casual and informal are okay. But using indecent and vulgar language is strictly restricted by Google now. You can't use language that may sound abusive, insulting, or obscene. 
All these new add ups were essential as the rate of cybercrime kept increasing over the past few years. It is needless to say that digital media has provided a platform for all, but the users do not behave responsibly. The terms and rules by Google can help in making the digital realm more genuine, safe, and healthy for all if implemented. 
As all the activities on Google will be monitored manually from now on, it is predicted that Google users would become more responsible, cautious, and accountable. The ultimate target is to create an online world that is safe and secure for all. Manual penalties can contribute to creating a reliable digital world.