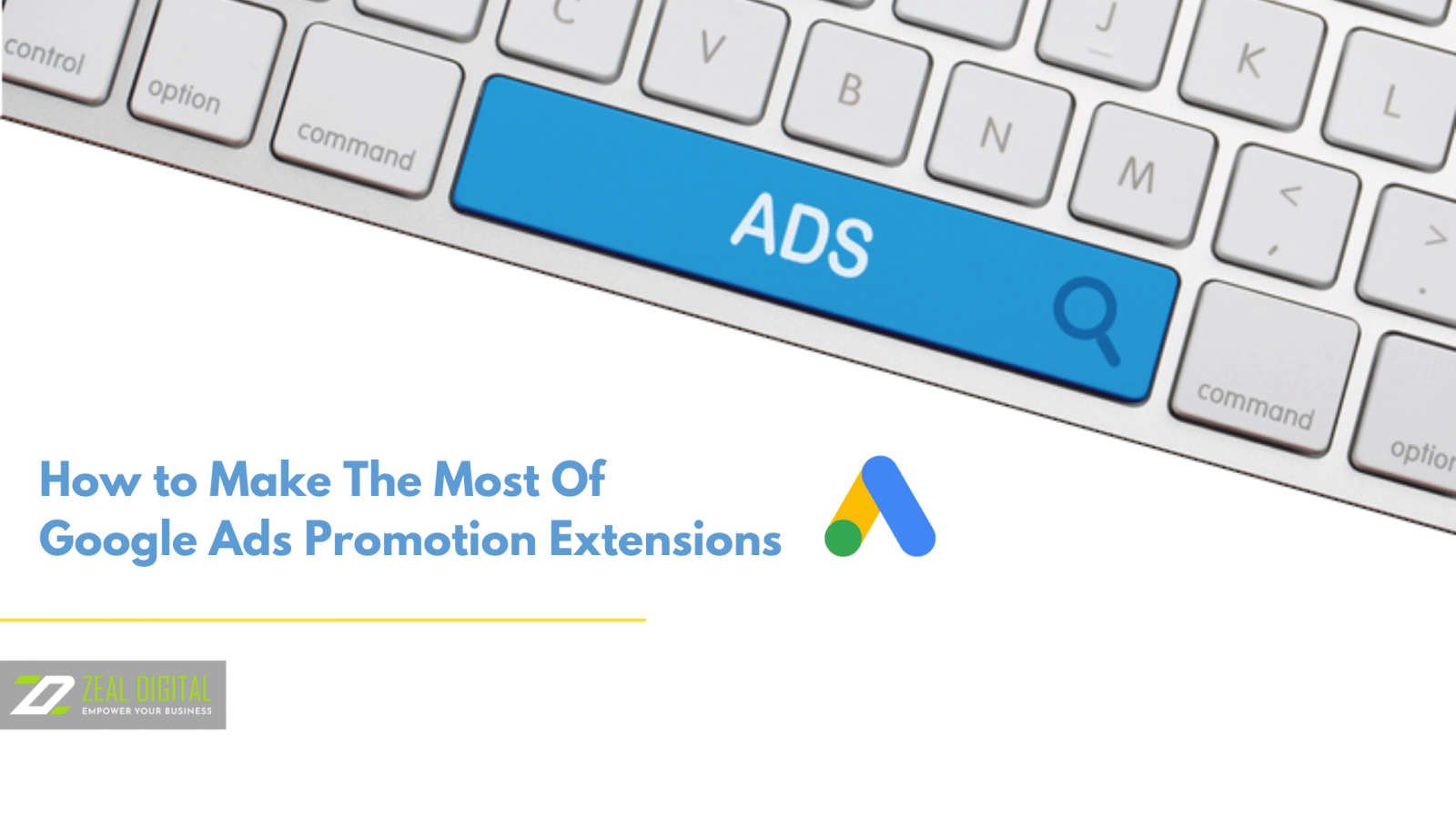 How to Make The Most Of Google Ads Promotion Extensions
Most businesses run their promotional offers during the holiday seasons and special occasions only. And since the earlier days of marketing, people have been creating ad copies to promote their offers to their specific clientele. However, in today's vastly competitive & digitalised world, it's not enough to just upload any engaging piece of ad copy on the internet. You can rake in benefits from Google and attract a much broader customer base using the latest digital marketing techniques. 
We believe that many business owners are familiar with Google Ad extensions. And most of you must have some form of practical experience running ad campaigns for your business. But have you heard about the Google Ads Promotion Extension? If not, you have come to the right place. Whether you run a Pay Per Click agency or handle a few client's ad campaigns on your own, the following knowledge will benefit you. 
Ready To Get Started?
With Google Promotion Extension, you can pitch your special sale events and offers to the right target audience. However, many people, even those working in a pay per click agency, often overlook this potent tool at their disposal. 
So, how do you run these extensions in a way that boosts your sales conversion? We will answer this question comprehensively in this blog. But before that, let's see the power of Google Promotion Extensions. 
Extra Space For Your Ad: Every service provider or a business website gets specific bandwidth and character limit to place their ads on the SERP. However, when you use a promotion extension, you get a little bit of extra space below your ad. 

Giving You An Edge Over Your Competition: You can stand out from your competitors on the Google SERP using this promotional extension.   

High Surge In Conversions: Various research has shown that ads with promotion extensions convert better than those without one. 
Mostly, this happens due to a lucrative deal or offer on your product or services. And thus, it's important to utilise Google Promotional Extensions whenever you have a great offer to display! 
How To Optimise Your Ads With Promotional Extension
Now that you have learned about this extension's benefits, let's see how to bring the best out of it. After all, you are in the business of getting business leads and conversions. So, whether you run a pay per click agency or work part on your website, you should read the following points thoroughly!
Redirect The Clicks To Your Landing Page
Every pay per click and digital marketing agency puts tremendous efforts into carving out the perfect landing page for their ad campaigns. It will make sense to bring your customers directly to these pages whenever they click on the promotional extension link. Not only does it boost your conversion rates, but it also satisfies Google's conditions. 
In case you do not redirect your customer to the sales landing page, Google may disapprove of your ad altogether. The extension is designed to bring customers to your sales pitch and offers available on your landing page. Therefore, make sure to redirect the link straight to your website's relevant landing page. And one more thing, the offer that occurs on the SERP must reflect on the landing page itself. 
Specify Dates Beforehand
As mentioned earlier, a special sale exists only for a limited period. And for this, you will find the start date and end date on the promotion extension interface. If you have a special holiday offer, you can specify the date for the period accordingly. However, make sure to update the landing page as well when you set these dates. 
After all, this method is designed to help you promote short-term offers and promotions. Whether you are working at a pay per click agency or handling a website in Sydney, you should always keep this point in the back of your mind.    
Push The Urgency Factor
In every business, urgency plays a big part to attract customers to the services. Just imagine that your local baker has put an excellent offer on your favourite cake and pastries, but only for a limited period. You can only avail of this great offer till midnight. You will immediately rush to the baker in the hope of buying these products on a discount offer. 
In the same manner, you can induce this factor in your ad as well. With the help of Google Promotion Extension, you can add a countdown just beside your promotional offer. So, let's say you are running a promotional offer of 50% off. You can add a countdown just beside it. This will compel your customers to take immediate actions, and thus, you will see a much better CTR with your ad campaign. 
Don't Forget Other Extensions.
It's important to note that Google Promotion Extension is just one of the many extensions available to you. Therefore, you can use a combination of these extensions to boost your CTRs drastically. For example, you can add a site link extension with your promotion extension. With this, you will have a much higher rate of conversions. 
Similarly, you can toggle on the option for callouts extension in your ad-campaign interface. With this extension, you can list your businesses USPs in front of your customers. For instance, you can display "sale ends", "60% off", etc. 
So, remember, Google Promotion Extension is just one of the tools at your disposal. And you need to utilise it along with the rest of the extensions such as site links, callouts, attractive headlines, etc., to lure customers in. 
So, are you searching for a pay per click agency that knows how to run Google promotion extension effectively? You should then contact Zeal Digital as we are amongst the leading digital marketing agencies for your company's growth over the internet. Whether it's organic results or paid advertisements, our team knows how to run every campaign and deliver you the best leads possible. 
So, put your trust in the best pay per click agency in Sydney and see your business touching new heights in the industry.