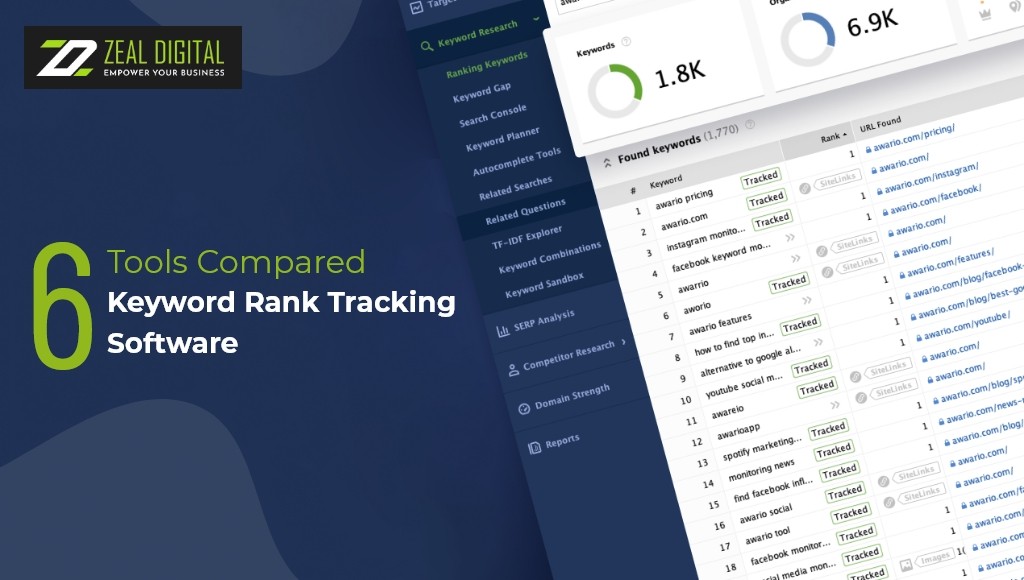 Keyword Rank Tracking Software – 6 Tools Compared
When it comes to the tactics of search engine optimisation, keywords are the most important thing that one needs to consider. Without keywords, your website content cannot be optimised. If you are a content creator, you need to have certain keywords in your articles and website blogs so that when your users search on the web, your website ranks up. Even among relatable keywords, some rank up higher than others.
To know which keywords are ranked higher, there are various keyword rank tracking software available on the internet. With the help of this software, you can know the score of each keyword and how crucially they should be used in your website's content. However, there are a lot of tools involved in this software. So, the question stands — which tools should you choose as per your requirement?
To answer this, here are six of the tools that can help you with conducting the best SEO practices:
1. SEO PowerSuite Rank Tracker
SEO PowerSuite is a complete package with various SEO tools. One such tool that it has is the keyword rank tracker software. This essential softer tells you the volume for each keyword and also ranks them accordingly. You can use the information to decide which keywords should be the main ones in your content. It also helps in analysing SERPs, researching keywords, and exploring your competitors.
Some of the main features of PowerSuite Keyword Rank Tracking Software are as follows:
The software collects data from over 500 search engines before ranking the keywords.
It constantly checks your keywords positions and gives your reports.
The analytical techniques are associated with Google Analytics and Keyword Planner.
The accuracy of the software makes it a good competitor in the SEO market.
The free version of the software allows you to compare your content with one competitor whereas the premium version gives you access to a lot of features.
2. Mangools Rank Tracker
Mangools Rank Tracker is also one of the most widely used tools for keyword rank tracking. It is equipped with essential keyword research tools and other SEO tools for your convenience. The most important feature of mangools Rank Tracker is that it directly links your results with the search engines.
Some of the essential features of Mangools Rank Tracker are as follows:
Mangools is best known for its proprietary Performance Index score calculator. This lets you know the scores of the keywords so that you can decide which ones you can use.
The SERPWatcher tool helps you monitor the changes in the keywords rankings whereas the SERPСhecker monitors the search engine dynamics.
The user-friendly interface of the software helps you with easy analysis of everything.
Both free and premium versions of this software are available. The cost of the premium version depends on the number of lookups you can perform in a day.
3. Rank Tracker by Semrush
Semrush is very popular for its SEO tools and keyword rank tracking software. It can help you track keywords and search engine trends in various languages and locations. The stats included in the keyword ranking data are from search engines used all over the world. Some of the features of Semrush keyword rank tracking software are mentioned below:
It gives you accurate statistics on keyword rankings and helps you analyse traffic fluctuations in the past 12 months. Traffic costs can also be analysed with the help of the Semrush rank tracker.
You can easily look for branded or non-branded trends of website traffic as well as organic keywords that have ranked top.
Graphical representations of these stats can help you analyse the ranking of the keywords conveniently.
The free version of the software limits 10 lookups in a day whereas the premium version of Semrush rank tracker gives you access to more lookups.
4. Ahrefs Keyword Rank Tracker
Ahrefs Keyword Rank Tracker is yet another thing keyword rank tracking software. Besides using SERPs to rank the keywords, Ahrefs is known for its efficiency in building good analytical information on keyword rankings.
Here are some of the main features of the software:
It is an SEO software that has all-in-one features for various SEO practices.
Ahrefs Keyword Rank Tracker helps you analyse the top-ranked keywords and SERPs simultaneously so that you can have a better idea about SEO techniques.
The most well-known feature of Ahrefs is its Domain Rating (DR) metric which gives you an insight into backlinking scores. You can use these scores to decide which domains you want to add to your backlinking.
You can have the premium version of the software to completely use the various tools of Ahrefs Keyword Rank Tracker.
5. Keyword Rank Tracker by Wincher plugin
For all WordPress users, this is one of the best keyword rank trackers. The best feature of the Wincher plugin is that you can plugin the software directly to your WordPress dashboard. It then gives you instant analysis of keyword rankings and other SEO tools. The working of this software is quite similar to that of Yoast SEO.
Some of the features of the Wincher plugin are as follows:
You can track up to five keywords per blog post. This is a premium feature.
As for the free version of the software, you can look for one key phrase or keyword per five blog posts
The features of the Wincher plugin are usually used with the assistance of Yoast SEO.
The keyword trends can be viewed over time.
6. SEO Ranking Rank Tracker
The name SEO Ranking itself suggests what the software can be popularly used for. As with any other keyword rank tracking software, SEO ranking also uses various tools to help.
Some of the main features are:
Local and mobile keyword rankings can both be done through this software.
Data from various search engines are collected for ranking the keywords or key phrases.
A 14-day free trial is provided so that you can evaluate the usage and convenience of the software.
Keyword ranking traffic software can help you in various SEO practices and enhance the quality of your website content. For this, you can either learn how to use this software on your own or hire a reputed SEO agency in Sydney like Zeal Digital to do the job. All in all, you can get a lot out of such keyword rank tracking software!