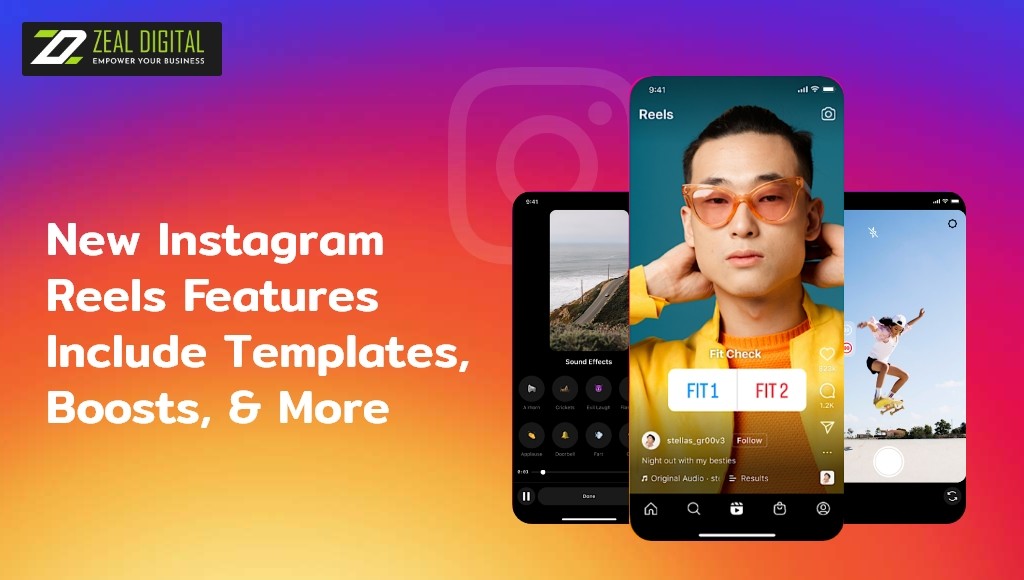 New Instagram Reels Features Include Templates, Boosts, & More
Instagram keeps adding innovative features to its popular app. The updates are almost monthly and give great opportunities to users. From a business point of view, Instagram is one of the best platforms for social media marketing. So let's look at the new Instagram reel features, including templates, boost, and more.
New and enhanced templates
Instagram added this new feature in its update. You can manage and edit the template according to your choice. These templates include preloaded audio clips and clip placeholders. You can add photos and videos to the template placeholders.
More useful filters for reels
Filters can give your content a more aesthetic look. This, in turn, can attract many customers to your business. Especially if you own a clothing or accessories store, using the maximum of these filters in your reels can make your feed look creative and eye-catching. Reels are also super entertaining as the music plays in the background. Therefore along with a good filter, you can choose a song that matches your content perfectly.
Reels can be boosted as ads
Earlier it was not possible to boost your reels as ads on Instagram. However, in the latest version, you can quickly increase your reels as ads so that they reach a majority of the target audience. So, if you have a reel that has already gained numbers, you can easily boost it to promote your brand. There are some guidelines you must follow before your start boosting reels as ads:
The content should be hundred percent created.
The duration of the reel should be less than or equal to 60 seconds.
The aspect ratio of the reel should be 9:16, that is, vertical.
Video posts to reels
In the previous versions of Instagram, video posts and reels were separated and had different tabs. However, in the latest version of the app, all video posts are converted into reels. In short, both tabs have been merged. This change will only affect new posts. Any pre-existing videos that are less than 15 minutes long will remain as video posts. However, if you post a video that is longer than 15 minutes, it will be posted as a video post. In 15 minutes, you can sum up the features of your business comfortably. The new Instagram reels are packed with many features that will eventually add to your experience in a great manner. A couple of months back, you couldn't deliver a lengthy video as an Instagram reel. Since it's one of the platform's most popular features, the 15-minute length will be beneficial.
Interactive Stickers
Another fantastic aspect about using Instagram is that it has quite some amazing stickers. It is about how you can engage your customers better to create a more effective advertisement campaign. The great aspect of using the updated version of Instagram is that it is packed with all these amazing elements. You can use these stickers even more efficiently. So the use of interactive stickers is eventually going to be very beneficial. With the new updates coming around frequently, your business and reach will benefit from some great features.
Advantages Of Using Instagram To Promote Your Business
If you can use the new Instagram reels in the best way possible, your business will benefit greatly. Here are some of the significant advantages of using Instagram to promote your business:
First and foremost, you get knowledge of what your customers want. It is easy to get their feedback through various methods. In that way, you will eventually understand what your customers desire and provide them according to their needs.
You can create extraordinary customer relationships through Instagram. With new Instagram reels that can last 15 minutes, you can create an in-depth analysis of your business and what you'll eventually sell to the customers. By putting out exciting posts, stories and reels from time to time, you can build a relationship with the customers that lasts for an extended period.
If you want to reach new audiences, there is no better platform than Instagram. It is the most popular social media platform right now, and if you use it right, you can create a marketing strategy that benefits your business in the long run as well.
It will eventually boost your sales too. Instagram is the first step to making your customers feel interested; the rest of the things will eventually fall in place. Many e-commerce websites have taken huge strides and grown exponentially, thanks to how they promoted their business on Instagram.
As already mentioned, the recent updates of Instagram have opened many social media marketing avenues for businesses and sole traders. If you are looking for a top social media consultant in Sydney, you must keep in mind that they use these features as much as possible. Instagram reels have increased media visibility and are a great place to market your business, products, and much more. With the help of a social media consultant in Sydney, you're bound to get things right. The new Instagram reels feature will certainly boost your business!